Welcome to Stuff Cats Want! Stuff Cats Want is dedicated to providing you high quality information on stuff (food, toys, bedding, or anything else) that your cat will likely want or need throughout its life.  We might also make some recommendations on stuff cats don't want, like brushing their teeth or vacuuming.  The information provided is intended to help you provide a good & long life for your cat, but also to ensure that you enjoy your time with your cat and ensure he or she is behaving well!
I founded this site because as a cat owner I've often had questions about my cat that I can't easily find answers to. When I was a new cat owner I was admittedly clueless. I had grown up with dogs my entire life, and I still love dogs, but my job just doesn't allow for me to have one. A special someone mentioned that I should consider a cat and I started Googling local adoption information. In a matter of weeks we had our first cat!  So back to being clueless…Beyond a few short starter guides I found online I knew very little about our fine feline friends.  While the guides were helpful, they didn't prepare me for having my own cats, which my wife and I have two of.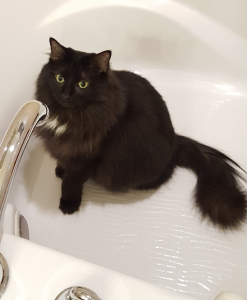 The one on the left is Beast. She is one of the mouthiest cats I've ever met, she absolutely insists on telling you she is around. She is also one of the most gentle cats I've ever met too. Beast is about 4 years old now and loves relaxing in her window bed.
The one on the right is Lexi. Lexi is the most food motivated cat I've ever met in my life and she will meow like crazy when she wants her breakfast or dinner.  Lexi gets startled easily by loud noises and then bolts down the hallway and comes to a skidding stop before she runs in under the bed to hide. Lexi also likes exploring showers and bath tubs though she runs from them as soon as you turn the water on!
I am a big proponent of adopting a cat whenever possible!  Beyond being owned by Beast and Lexi, I also help out the rest of fellow feline-kind by volunteering weekly at Chicago PAWS. I help with everything from assisting inexperienced people in choosing their first cat to socializing cats and all the way through to scooping up cat litter and cleaning up vomit. Volunteering is very humbling because you hear so many stories and see so many cats that are just looking for a place to call home, but it is incredibly rewarding when you help get a cat adopted.
If you have any questions please feel free to reach out directly through the Contact page.