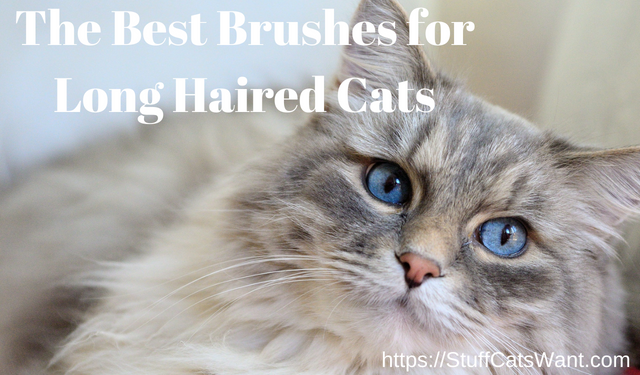 If you've got a cat your house is probably absolutely covered in cat fur. If you've got a long haired cat you're absolutely awash in cat fur. No surprise, they pretty much shed 24 hours a day. If you're looking to minimize the fur floating around your house you're going to need to brush your cat. Almost every day if possible.
Brushing your cat can be a tough exercise, especially if you've got a cat that doesn't particularly love to be brushed!  So you want to make the most of every stroke. To do this you'll need to find the best brush for long haired cats.
The Best Brush For Long Haired Cats Quick Guide

Cuts Through Tangles & Knots
---
DakPets Deshedding Brush for Long Haired Cats
DakPets developed this tool with pet grooming experts who specialize specifically in dog and cat care. The product reduces cat shedding by up to 95% for cats both young and old. No longer do you need to worry about cat fur all over everything in your home. This deshedding tool will help you minimize the amount of fur stuck to everything and floating all over. 
There's a reason this tool has OVER 10,000, yes, 10,000 reviews on Amazon and an average rating of 4.7 stars. Because it is the best brush on the market.
---
The Furminator is widely considered one of the best cat brushes out there, both for short and long haired cats. There are a couple of different versions of it for cats both large and small.  You really can't go wrong with it:
---
​Delomo Long Haired Cat Grooming Gloves
Delomo brings an excellent product to market with their pet grooming gloves.  This new enhanced model features a whopping 255 silicone grooming tips to help pull hair from your cat's coat, but it mimics the soft touch of your hand and feels like a relaxing massage.
These flexible, slip-on gloves allow you easily to brush away dirt, dander and loose hair from cats even if it as they just slip by quickly at your feet.
---
Pat Your Pet Cat Grooming Gloves
Pat Your Pet Grooming Gloves will ensure you can forget about shedding and the hassle that it is. Help minimize hairballs from your cats too be removing loose hair easily!
With a glove on each hand you'll quickly achieve more comprehensive grooming. And at the same time it gives your cat the love she wants too. No longer will you have to chase your poor cat around trying to comb out the loose hair.
These grooming gloves were designed to be extremely gentle and be functional too!
---
Miu Color Extra Large Cat Brush
This model by Miu Color is recommended by tons of Veterinarians & Groomers. It effectively reduces shedding by up to 90% when used on a consistent basis. 
While it can be used on cat hair of any length it is proven to do an excellent job on long haired cats in particular. No longer do you have to worry about unsightly and annoying hair stuck all over your couch, clothing and carpet.
---
Hertzko's Double Sided Dematting Comb is designed to work on cats with both short and long hair.  It gently removes loose hair from the top and undercoat, it eliminates tangles and knots, and it even pulls away dander and trapped dirt. Quite the multi tasker!
It is also designed with rounded "teeth" to ensure there's no chance of scratching or injuring your beloved cat! If anything it feels like a nice soft massage gliding over your kitty cat's skin!
---
GoPets Dematting Comb
Excessive hair and fur can be a huge hassle for us cat owners. It sticks to everything making your house seem dirty even when you just finished cleaning it. The GoPets dematting brush clears all sorts of matts and tangles, but more importantly it desheds your cat to minimize the amount of hair that goes everywhere.
This brush makes removing mats and combing out tangles simple. It is specially designed to work with pets that have double coats and long hair.
---
The Safari Cat Shedding Comb
With the Safari Cat Shedding Comb you'll not only be buying one of the best cat brushes on the market, particularly for long haired cats, but you'll also be buying a fine piece of art!
Featuring a contoured wooden handle it is comfortable to hold and the teeth are about an inch long on the big ones. This means you'll get plenty of purchase with a long haired cat and you'll be able to keep her coat clean and full of luster! 
---
The Andis Steel Grooming Comb
If you're looking for a no frills comb that will meet all the necessary needs then you're looking for an Andis Steel Grooming Comb. Not only is it incredibly durable, but it is also super lightweight and comes in multiple sizes.
---
The Hertzko Self Cleaning Slicker
This is the perfect brush for nasty mats in your long haired cat's fur. Hertzko's Slicker Brush gently removes loose hair, helps remove tangles and knots and even lifts dander and trapped dirt out of the coat.
The real claim to fame for this brush though is the retractable bristles. When done flip the switch and the hair is instantly available for easy disposal.
---
The Kong Zoom Groom
The Kong Zoom Groom is unique in this list in that it is the only completely rubber option available. Most stainless steel combs feature rounded edges, but some folks prefer rubber for that additional layer of safety.
Now this brush is meant to pick up stray and loose hair and help reduce hairballs. Keep in mind this brush is not specifically designed for matting and tangle removal.
---
Pat Your Pet 2 Sided Undercoat Rake
Pat Your Pet Brings another excellent model to the market, this one specifically designed for deep mat removal and for knots and tangles. This brush is not going to be a great dual use brush if you have short haired cats at home.
It is specifically designed to cut right through huge mats and tangles without injuring your feline friend.
---
​What Types of Brushes Are There?
​There are ​several major brush types on the market. Below you'll find a quick description of each as well as major pros and cons.  Most of the tools are purpose built to handle a specific problem, but you shouldn't ​approach ​your purchase assuming you'll need one of each.
My personal opinion is that ​a de-​shedding tool is probably your best all around followed by a de-matting tool.

De-Shedding Tools: 
These tools are specifically designed to remove loose hair from your cat and keep it from being both ingested and from floating around the house.
Most de-shedding tools ​also do a lightweight job of pulling out tangles and mats, though the blades aren't designed specifically for it so it can cause a bit of a 'yank' on your feline friend. Be careful if you encounter any resistance!
De-Shedding tools are the best all all around choice and every cat owner needs one.

De-Matting Tools: 
Just as the name implies, these are primarily geared toward removing mats, knots and tangles in your cat's coat. The blades are designed to slice through the problem area without injuring your cat. Large or unruly mats ​may require the use of some scissors to clip out a mat even with this tool at hand.
​Most de-matting tools available today also have two sides, one with wide teeth and one with fine teeth. The fine toothed side acts more like a traditional brush to simply remove loose hair.
A de-matting tool is a must have for any long haired cat owner.
Rubber Brushes (Including Gloves): ​
If you've got a sensitive cat​​​ then rubber brushes are often the best route to take. They are specifically designed to be very gentle on your cat and her skin.
This ensures you won't irritate the skin or pull on any tangled areas. But at the same time it also means that you won't be able to easily remove mats and tangles so you'll need to approach it another way. 
A rubber brush is a must have for anyone with an extra sensitive cat.
---
How Do I Choose ​The Best Brush For Me?