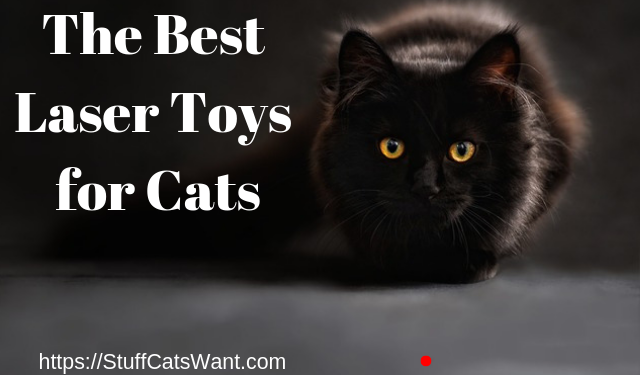 Cats absolutely love to play and one of their favorite ways to play is to hunt.
Laser toys for cats are flat out one of the easiest and most engaging toys available to keep your cat entertained and in shape.
Below we'll take a look at some of the best options to choose from and discuss the overall safety of laser toys for your cats.
---
The Best Laser Toys For Cats
---
Friends Forever Interactive Cat Laser 
​There are a bunch of different automated laser toys on the market that claim to entertain your cat and operate in a random pattern, but Friends Forever has the best in the business!
If you're looking to find a way to entertain your feline friend without having to manually interact then this is the option for you. A few of the key features worth noting:
"​All our cats love it. Our adult cats, our senior fosters and of course the kittens go absolutely bonkers for it!"
​The only key ​area for improvement worth noting is:
---
USB Laser Pointer 4 in 1 Pack
​If you're the hands on kind of ​gal or guy when it comes to playing with your cats then this is the best type of laser pointer available.  
It charges super easily with a USB cord, no more pesky battery change and making sure your AR41s or LR13s will work property in your laser pointer.
It is of course lightweight and easy to keep handy at any time as well which makes it great if your cat travels or changes locations often.
A few other items worth noting:
"​The laser remains very small and strong even when pointed all the way across the room. Makes it super easy to let my cats stalk around multiple pieces of furniture before they pounce!"
​It is worth noting the following before purchasing:
---
SereneLife Auto Rotating LED
​One of the toughest parts of many automated laser toys is getting them to display the laser on a surface of choice. Most you can only set on the floor and then let them spin in circles.
SereneLife developed this innovative cube based model to allow you to easily move and rotate the cube into any convenient place and then let it shine down.
You can easily set it on shelves, tables, couches, etc. and then flip it on to let your kitty play!
A few other items worth calling out:
"​

The ​cube type design ​means I can place the ​toy ​anywhere in the house and point the laser ​pretty much anywhere I want. ​It has worked great from my window sills and some of the small shelves we have. 

"
​The only real ​issue I have ​noticed with it is:
---
Frolicat Bolt Laser Cat Toy
​PetSafe has been in the cat toy space for a long time ​so they have a lot of experience making high quality toys to keep cats engaged.
The FroliCat Bolt is their version of an automated laser toy and you can read the full specs on the  ​FroliCat page on the PetSafe website.
A few major items worth calling out on the Bolt:
"​We recently fostered Jenevive and she was a very very play focused cat, she had a huge 'prey drive' as the shelter called it. She needed to play constantly or she'd get bored and then destructive! This toy helped a ton and kept her entertained easily!"
​There are two items worth noting on the PetSafe FloliCat bolt:
---
PetDroid Hanging Laser Toy
​If you've tried other automatic cat toys and you can't seem to get your cats to stop knocking the toy over then the PetDroid Boltz is ​the perfect solution.
The claim to fame with this option is you can ​mount it to a window or wall out of reach and then let it safely shine the laser down ​where your cats can play with it.
A few of the big things worth noting on this option:
"​After using tons of laser toys, my favorite thing about this one is how random the patterns seem compared to other ​major brands I've tried out. And if I mount it up high it easily covers a huge area instead of a tiny little spot."
​The biggest concern with the PetDroid Boltz is this:
​**PetDroid did release a new version in 2019 that has a 10 minute timer. The original version had a 5 minute timer. I have yet to try ​the new version.
---
PetSafe Auto Laser Tail
​Tired of stand still models where only the laser itself moves? The PetSafe Laser Tail shifts the paradigm of interactive laser cat toys!
This one actually moves itself around the floor and makes lots of random turns and patterns. Note that the laser is fixed. So you won't see the laser ​also​ moving in random patterns on top of the movement.
This toy is tons of fun for cats and not only will they chase the laser, the movement of the toy itself will also keep them engaged!
A few major items worth noting here:
"​One of the best purchases I've made in the past couple of years. It easily keeps all 3 of my 2-4 year old cats entertained either at the same time or at different times. They'll even start chasing each other around after I flip it on!"
​The biggest item worth noting before making a purchase is:
---
FroliCat Zip Laser Toy
​The FroliCat Zip is very similar to the PetSafe Tail model. It will drive around the house and a trailing laser will keep your cats engaged and in prowling and pouncing mode!
This is the perfect type of toy for a house with a lot of tile or hardwood floor, or even a 'cat room' with hardwood or tile floor where it can be set and let go.
A few key features worth noting on this model:
"​My cats are awe struck when I turn this on. They follow it around and pounce on the laser like they are in a trance. I always use a wand toy after ​to make sure they actually get a 'kill' like the vet says is important! "
​Similar to the Tail the key concern with this model is:
---
​PetSafe Zoom MultiCat Laser Toy
​Got multiple cats and want them each to have their own laser to chase? The PetSafe Zoom is specially designed to put two lasers out on the floor and walls together.
This is the perfect choice if you've got cats who don't really like to share, but both really like to go after that uncatchable red dot!
The Zoom has many similarities to other floor based models, but it is a bit bigger and more stable because of it.
A few other items worth noting on the Zoom:
"​We've got two cats in the house and not only do they sometimes hunt the same dot, but they often each choose a dot and hunt side by side. It is a riot to watch them go hunting together!"
​The biggest concern with this model is:
---
Types of Laser Toys For Cats
There are two core types of laser toys available for our feline friends. The manual kind and the automatic kind.  There's also the more unique overlap toy that has both manual capabilities and can be used in an auto mode too.
 Below you'll find a brief break down of each and the pros and cons.
Manual Laser Toys
Manual laser toys are most commonly known as laser pointers. You've probably seen them in use in the office or at school. They are typically easily held in the hand and they are about half the length of a pen.
The reason they are considered manual is because they require you to physically turn on the light, move it around and stay engaged to entertain your feline friend. There are several pros to this:
At the same time there are some things worth cautioning with manual laser toys:
Automatic Laser Toys
Automatic laser toys are as the title says, automatic. What this essentially means is that you can flip the toy on and it will start displaying a red laser dot on the floors and potentially the walls.
There are some significant benefits to this kind of toy, especially for busy folks that don't always have time to play with their cat on a dedicated basis. The key pros:
That being said, there are some things you'll definitely want to consider before purchasing any form of automated toy for your cat, but automated laser pointers in particular:
The Cross Over Laser Toy
There are a few laser toys out there that will bring you the best of both worlds. They will have an automatic mode that lets the laser run on its own, but you'll also be able to pick the toy up and manually control it.
The only major drawback of these toys is that when used in the manual mode the toy is pretty inconvenient to hold because it is significantly larger than a traditional hand held laser pointer.
---
​Which Features Are Important?
​Laser based toys usually have a couple of key features that you'll want to take into account. Below we'll break those down and call out what's worth paying attention to.
Speed Modes
​The speed of a laser can determine wither or not your cat is willing to interact with it. If it moves too slowly or too quickly it can be frustrating or boring.
Since every cat is different it is difficult to create a one size fits all speed and expect it to be successful. Purchasing a model with multiple speeds is ideal so you can switch it up to see what works best for your cat(s).
Some models feature: low, medium, high and even random.

​​Auto & Manual Use
Automatic laser toys are of course intended to be used as hands off toys. But getting your cat used to a new toy or joining in on the fun yourself will usually require an additional mode.
Several of these automatic toys feature a button to flip them into manual or paused mode where you can easily take control of the hunt yourself at a critical time!
​Location of Use
​Any automatic toy needs to be setup somewhere to shine the light down onto the floor or the play area.  You'll want to consider how rambunctious your cats are in your selection.
There are ​options that you can mount to walls and windows, those you can set on shelves or tables and there are of course the most traditional which you set right on the floor.
Keep in mind that many of the floor based tower models are easily knocked over by extra playful cats that get curious about the operational noises and the source of the light.
​Number of Cats
The bulk of automated toys are designed to project one laser at a time. There are a few models (like the Zoom) that will project multiple lasers.
Single laser models typically can keep multiple cats entertained at the same time. They will often trade off on hunting and pouncing or just watch the laser together.

It is worth noting however that ​if you have multiple cats ​it can in limited cases cause your cats to start wrestling with one another or even fighting over the dot. A multiple laser system is guaranteed to resolve this, but it does present more options to your cats.
Shape of the Laser
Laser pointers often come with attachments that will turn them into a mouse or a butterfly or a bug of some sort.  Mostly all this really does is make it seem like your cat is chasing around something different than a light. It doesn't make much difference to the cat at all since they are mostly after the light itself, not the shape of the light.
I would traditionally recommend you simply use the standard dot focused attachment. It keeps the light brighter and more centralized into a single spot so your cat can keep a closer eye on it.
---
Are Lasers Safe For Cats?
The biggest concern most pet owners have when it comes to laser pointers is whether or not the laser is safe for their cat.
They often wonder if it is dangerous for the laser to end up near their cat's eyes.
The short of it is that with a manual laser pointer you simply want to avoid both your own eyes and your cats eyes.
Shining it near your cats eyes for a split second shouldn't cause any harm, but do your best to avoid your cats face.
You can also look for the designation of a specific kind of light being used that is considered "pet safe."  ​PetSafe as a company  commonly touts their lights as pet safe (funny right?) ​and they use a "Class IIIA laser with a 5 mw Max power output."
​It is worth noting that pretty much any commerically available laser is probably safe to use so long as it isn't being shone directly into the eyes for any extended period of time.