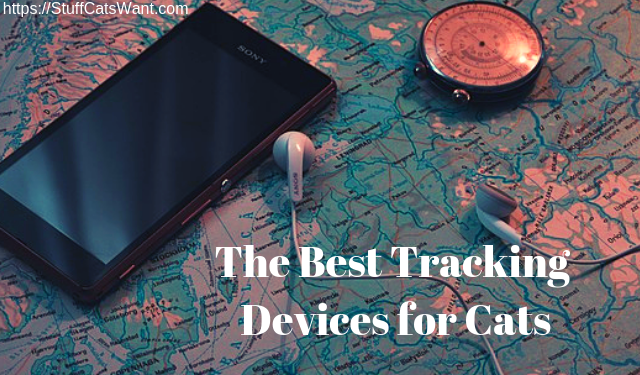 Does your cat love to roam the neighborhood or the fields and forests around your house? I bet sometimes they are gone for hours on end and you wonder where they are! Are they lost, has something happened to them?
Wonder no longer. Keep an eye on your cat from afar. Consider adding one of the best tracking devices for cats to your arsenal of cat stuff and you'll always know right where your cat is. No more late nights wondering if your pal is hurt in the woods or just across the way begging for treats from the neighbors.
I ​have included ​GPS trackers, ​RF/RFID driven devices and and Bluetooth trackers ​as they ​all have different benefits and drawbacks.
Table of Contents (click to expand)
---
The Best Tracking Devices for Cats
---
Whistle 3 Cat Tracker
Meet the Whistle 3 GPS driven Cat Tracker from Whistle.  If you're looking for a smarter way to keep track of your kitty cat then you've found it right here.  The Whistle 3 uses GPS to keep track of your pet and uses AT&Ts cellular network to communicate the location back to you on your mobile phone!
If you're looking for a reliable and well trusted tracker then Whistle 3 is the go to choice today. Whistle is compatible with both Android and iOS so as long you're not still hanging on to a Blackberry or a Windows phone you'll be in great shape!
A few other key features worth noting:

"​This GPS tracker followed my cat Mr. Fluff all through the neighborhood with pinpoint accuracy. I did an update while watching TV and realized he was at the front door and wanted in! What a relief after he got lost a few weeks ago!"
​It is also worth noting the following:
---
Findster Duo Cat Tracker
If you're set on a GPS based tracker, but you also don't like the idea of paying a recurring monthly fee, then Findster is the best option out there for you.  Not only does it have all of the major benefits of a GPS based tracker, but it doesn't have the one key drawback.
It is also an excellent option if you've got multiple pets as they have upgrade packages that will let you add additional trackers at a great cost. This means you can track up to three pets on the same account without paying any recurring monthly fees. That's a huge benefit since most GPS trackers require a separate subscription per tracker.
Let's take a look at a few other items worth noting:

"​Our cats love to roam over a ​large space and it used to take me hours to track them down. With Findster I can easily locate them both pretty quickly and bring them home if I need to!"
​It is worth noting the following before purchasing:
---
Pawfit Lightweight Tracker
If you're looking for a durable pet tracker that will take on pretty much any situation you throw at it then the Pawfit is an excellent model for consideration. The shell is waterproof and dustproof and it is specifically designed to withstand drops and bites too!
Pawfit utilizes GPS with a combination of WiFi and cell technology to give you some of the the fastest and most accurate location tracking services for your cats!  On top of location tracking it also features a ton of great activity tracking metrics to keep an eye on your cat's health!
A few other key items worth noting:
A few things worth considering before purchasing this model.
---
Tractive Cat Tracking Device
​Tractive is a lightweight & waterproof GPS tracking device, recommended for pets above 9 pounds, perfect for most house cats! You can use it to easily pinpoint the location of your pet and even easily share it with family and friends, great if your pet hops between households or if people are out looking for a lost animal!
It functions in over 150 different countries worldwide and you can access the location either through your mobile phone or the Tractive website. A few additional items worth calling out:
"The tracker is a little too large for our cat's collar, but it attaches well enough to his harness. He got used to it after a few days and is back to roaming and we are happy knowing where he is!"
A couple of key items worth considering before making a purchase:
---
TooGoo Pets Anti-Lost GPS Cat Locator
This tracker's claim to fame is really the fact that it is designed in the shape of a pawprint which makes it clear it is designed just for your pet!  That doesn't take anything away from the great job the product does though. As with any GPS tracker this is geared toward long range tracking in outdoor areas.
It is of course 100% waterproof and will continue to function even if your pet decides to go for a dip in the local pond or lake!  Another huge perk here is price. Though it does require a recurring subscription it is on the cheap side when it comes to the device investment.
A few other things worth noting:
---
Pod 3 Plus WiFi Cat Tracker
Pod trackers have been around for years now and they are now onto their third generation tracker. ​Pod trackers are amazing and feature several great capabilities, specifically around switching out rechargeable batteries and attaching them to your pet / pet's collar!
I did however want to include them in my list because they are one of the pioneers in the space and they have also had some great deals in the past where they don't charge a recurring subscription fee even though they are GPS driven.
A few other items worth noting on the POD related option:
"Our cat Peter Pan can now roam free and pretend he is flying with the lost boys! He absolutely loves it and the size doesn't seem to bother him one bit!"
It is definitely worth noting the following before making a purchase:
---
---
--Radio Frequency Devices--
---
Girafus Long Range Cat Tracker
If GPS doesn't sound like the right path for you because you know your cat likes to get in places that GPS doesn't work then RF is a great alternative.  This RF tracker has one of the longest ranges of RF based trackers on the market at about 1600 feet.
Do keep in mind that RF trackers do not show you your cat's location on a map, but instead use more of a hot and cold type system to point you in the right direction.
RF trackers are primarily known for working inside as well as outdoors. This means you can use it to locate your cat even in a busy house or if they've snuck into the garage of a neighboring household while running from a loud noise!
A few key items worth noting on this model:
"It has excellent range in open areas, it is fairly straight forward to use if you're even remotely technically savvy!"
It is worth noting the following on this model before considering it for purchase:
---
Eureka's MarcoPolo Pet Tracker
Eureka's MarcoPolo tracker is definitely one of the best pet trackers on the market. It works using tracking devices that can be attached to the included MarcoPolo collars or any other collar over 7 inches long. This works similar to radar systems you've seen in all the movies. 
When your cat goes outside simply flip on the base unit and you can follow her with ease! If you so happen to live above the areas your pets love to roam all the better as you'll have a better line of sight to your kitties.
A few other things worth noting:
"I've got 2 cats that love to roam the surrounding area. Sometimes they disappear for longer than expected and this unit has always helped us find them within just a few minutes."
It is worth considering this before making a purchase:
---
Cat Tailer Cat Tracker
This particular model is actually driven using Bluetooth technology. It works in a very similar fashion to an RF driven tracker in that it will have a much shorter range, but unlike most RF driven trackers it won't require a specialized base unit.
Cat Tailer broadcasts a very low power homing signal that is picked up by your smartphone when you download and install the app. Based on the strength of the signal the application determines how far you are from your pet. Cat Tailer is an effective method for finding your pet within your yard or neighborhood or even indoors!
A few other things worth noting on this option:
"My girlfriend's cat often manages to bolt out the door on me when I stop by to feed it. This has made it so much easier to track her down in the neighborhood. The app is super easy to use and immediately found the tracking device."
It is definitely worth noting the following before considering this for purchase:
---
TabCat Tracking System
TabCat is the go to option if you've got several cats and you want to be able to locate them with ease, but you don't want to pay for ongoing subscription fees!  TabCat is an RF driven option that comes with 2 tags and can easily pair with another two tags giving you an easy way to keep track of four cats at once!
TabCat is great for shorter distance tracking like in a neighborhood, around the house or even out in your larger backyard. It has a range of about 120 meters which is about the length of a football field and it'll track your kitty down with pinpoint accuracy!
A few additional items worth noting:
"It works quite well for exactly what it is designed to do, short range cat tracking. It helps me find my kitty when she goes out in the yard near our rural home."
It is worth noting the following before purchasing:
---