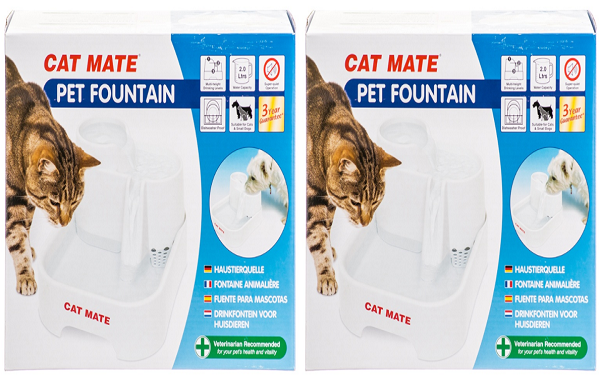 Product Name: Cat Mate Water Fountain
StuffCatsWant Rating: 4 Stars


---
Cat Mate Water Fountain Product Overview:
The Cat Mate Water Fountain is a great choice among the plastic fountains on the market.  It has a couple of key features that are really worth highlighting.
The product has a special pump design called the Isolated Pump System aimed at keeping the pump as quiet as possible so it won't scare your cats or keep you awake at night.  The IPS is the highlight of the model, it is so quiet it can be kept in your bedroom at night and not be a bother.
The second major design feature is focused on giving your cats multiple options for drinking. There are the three pools and slides between each of the pools, all fully accessible. This ensures that even if your cats have varying preferences they'll have options available.
There are a couple of items to note though.  While the fountain is well regarded it is definitely a little on the flimsy side.  This is true of most plastic fountains but worth noting if you have rambunctious cats or small children that could knock the fountain over.
Pump durability has also been called out as an area of concern by many other owners, but it is hard to see if they followed the recommended cleaning instructions.
---
The Pros:
The pump is one of the quietest on the market being an IPS (Isolated Pump System) – perfect for small homes or apartments
There are drinking areas for your cats at three different heights which means lots of options to get it right
The plastic bowls in this model are 100% dishwasher safe so you can fully disinfect them whenever you desire
The pump has an adjustable flow to slow things down or speed them up, perfect for picky cats
Very affordable, and replacement filters are affordable too meaning it is cheap to ensure your cat drinks lots of H20
It has an extra-long power cord compared to most models (10 ft) which can be a perk if you've got a specific spot you want to put it
If the pump happens to go (they all do eventually) you can buy a replacement without replacing the whole fountain
Uses a carbon filter to keep the water clean for your cat(s) and ensure they don't get sick
This is a nice short video overview of the benefits of the Cat Mate Water Fountain as well:

---
The Cons:
It seems to be a little flimsier than I would have expected, almost like it could fall over or collapse at any time
The fountain is relatively low capacity (70 oz) so it requires constant refills and isn't ideal for long trips away
The filter doesn't do a great job of blocking items from getting into the pump (perhaps the reason for pump durability issues)
---
Tips for Best Usage:
Be sure to top off the fountain with water on a daily basis or every other day at the least given the small capacity
Giving the fountain a deep clean every two weeks or so is highly recommended, I'd recommend a dish washer for the bowls
The pump itself will need to be deconstructed and cleaned out every other week or so to ensure it doesn't get moldy
You'll want to place a tray or mat under it to catch splashes from your furballs so your floor doesn't get soaked
---
Frequently Asked Questions:
How often do you have to refill it?

If possible I would suggest topping it off daily.
You wouldn't want to buy this assuming you can leave your cats at home for several days.

Is it noisy?

The product is not noisy at all, in fact this is one of the key differentiators of this specific model.

Is it dish washer safe?

Yes, the bowls are made of dishwasher safe plastic.

How often do you have to clean it?

I'd recommend pouring all the water out and replacing it once a week.
I'd recommend a deep clean every two weeks at the least including a deconstruction of the pump.
This will help maintain the integrity of the pump and also decrease the chances of anything nasty getting in the fountain.

How often do I have to replace the filters?

You'll need to replace the filters about ever 3-4 weeks. You can find the replacements here.

Is the pump replaceable?

Yes, you can find pump replacements here.
---
Wrapping it Up
The Cat Mate Water Fountain is well regarded fountain that is ideal for households that are primarily looking for a very quiet water fountain.  If you have a studio apartment or you want to keep water in the bedroom at night for your cats this is the perfect fit for you.
The fountain also does have numerous drinking heights/locations and an adjustable flow to find the right speed for your cats.  The key thing to keep in mind is you'll have to clean it often and that the construction seems a little bit flimsy.
Do you have a water fountain for your cats? If so, do you use the Cat Mate Pet Fountain? Do you have any tips to share on using it or reasons people should avoid it?
Please leave a comment below or email me directly at Craig@StuffCatsWant.com if you have any thoughts to add to this article.
StuffCatsWant.com is a participant in the Amazon Services LLC Associates Program, an affiliate advertising program designed to provide a means for sites to earn advertising fees by advertising and linking to Amazon.com.
References: Pet-Mate Website