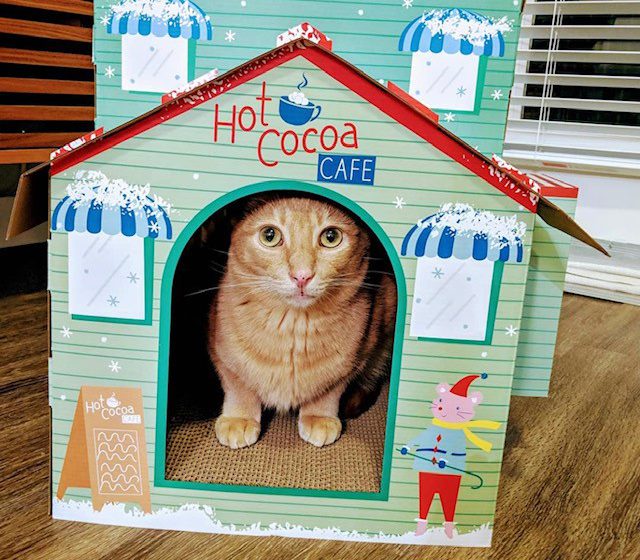 Welcome to the first Cat of the Week post in quite some time!  We are going to start taking a slightly different format to this to try and keep getting them posted!  As opposed to writing up detailed stories we're going to g with an interview style instead. So let's get to our first interview, Duke!
---
What is your name? How did your parents come up with/decide on your name?
Duke. I am from Orange County where the airport is named after John Wayne aka "The Duke"
Do you have any nicknames?
Dukeroni, Pepperoni, Peanut Butter, Butterscotch
How old are you?
Six
What breed are you?
RESCUE!
What is your favorite treat?
Chicken, I will murder you and eat your face off for some chicken.
How do you sit back and relax? / How do you like to spend your spare time? What is your favorite thing to do?
I love sleeping on my peoples, especially when they are trying to work. I have a squirrel friend, Stan, who I like to hang out with in the back yard.
What is your bad habit you just can't kick?
Howling to be let outside to spend time with my friend Stan. And stealing food.
What is your most redeeming quality?
I have a very sweet nature and have never bitten or scratched my people.

What is the naughtiest thing you have done?
One time I was let out back and I jumped on the fence and then on the roof of the house and hung out there until someone came and got me down. And I wasn't the least bit sorry.
What is your funniest memory?
When we were packing to move to Denver, I would hide in the boxes being packed and attack anyone who tried to pack the box. Over and over again.
Any last words of wisdom to share?
Things are crazy right now, stay home with your family and try to enjoy it. And steal chicken whenever you get the chance!
---
We at StuffCatsWant also thank Kristy for submitting Duke as Cat Of the Week!! Please submit your cat as cat of the week by emailing StuffCatsWant@gmail.com with 5 pictures of your cat(s) and a short description of him or her or them!
StuffCatsWant.com is a participant in the Amazon Services LLC Associates Program, an affiliate advertising program designed to provide a means for sites to earn advertising fees by advertising and linking to Amazon.com.