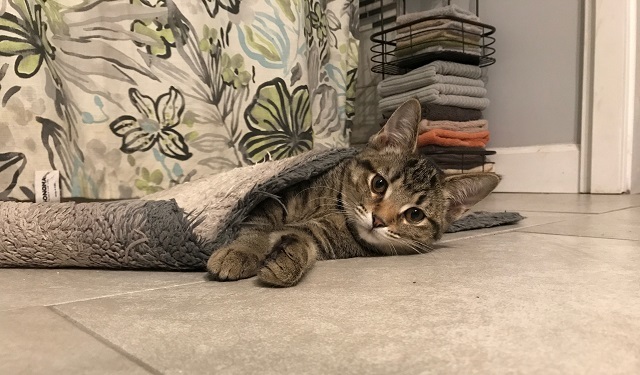 This week's cat of the week comes to us straight from the instagram account kittyorphanage! We really appreciate their submission to our weekly cat competition and are proud to feature their kitten Sprouts!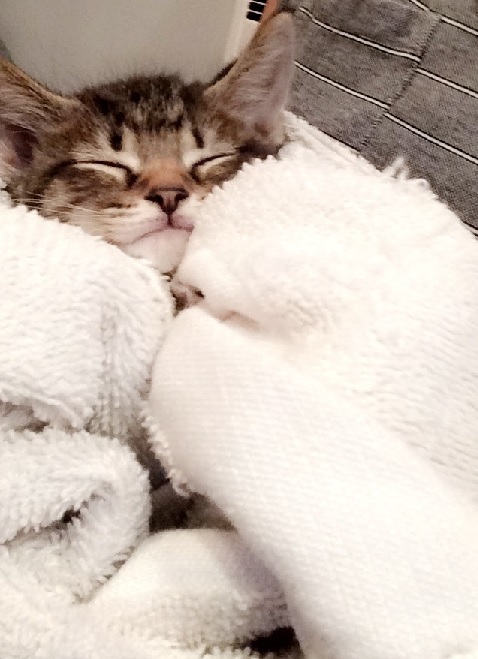 When the KittyOrphanage team first got Sprouts she was about two months old and she was absolutely covered in fleas. You can see in this first picture Sprouts has just taken likely her first ever bath, and better yet, it was a flea bath to get rid of those pesky little buggers. Right after the bath Sprouts was wrapped up in a nice warm blanket!
As soon as Sprouts was cleaned up a little bit her personality started to shine through right away. She always gives an inquisitive look before she tries to jump and climb up your pant leg. While it is adorable, kittens climbing your pant legs feels like tiny little razors dig in, be sure to wear jeans folks!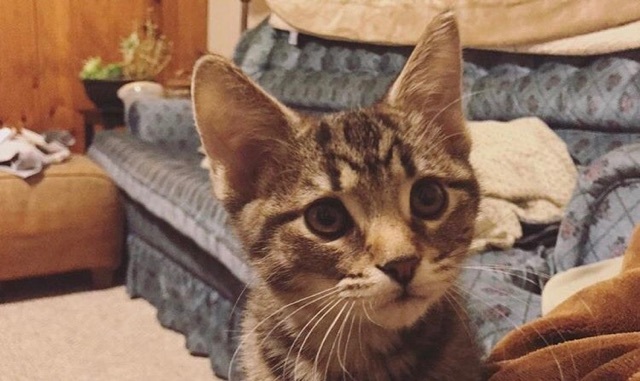 Sprouts is the epitome of a well mannered cat and gets along wonderfully with all of the other cats at KittyOrphanage's home. This makes even the old-timers feel young again which is great to see!
Sprouts has big ears, big eyes, and a big personality. She loves to play and will even reach out and swat at KittyOrphanage's beard when he holds her. No surprise here as kittens are so darn curious and love to chase and explore new things.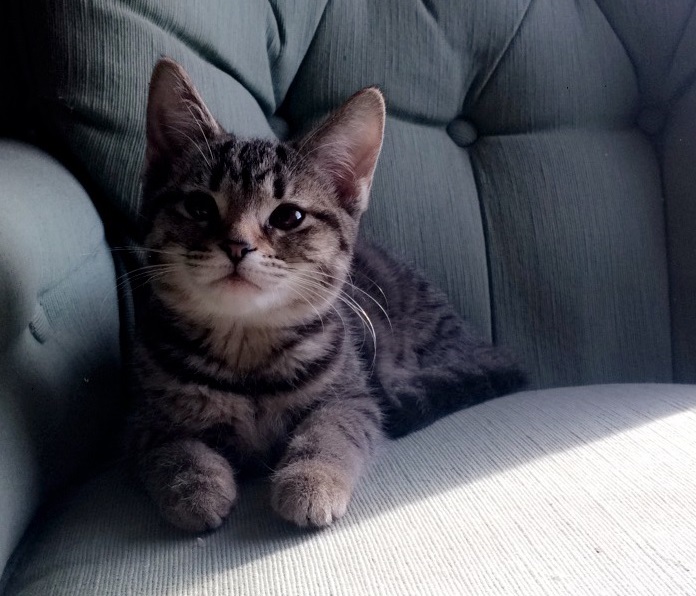 Sprouts is a total cuddle bug as well. She'll often cozy up right on a family member's neck when they're laying down. This of course leads to the human servants being stuck in that position until Sprouts wakes up. They wouldn't want to disturb such a beautiful kitty cat during a nap!
Sprouts is smart, she knows that the area under the rug in the bathroom with heated floors is the warmest spot in the house and will wrap herself up underneath the rug. Now that is one smart kitty, she makes sure she stays extra warm with minimum effort. No jogging to stay warm for Sprouts!
While Sprouts is of course a wonderful loving little fur ball she won't be with the family at KittyOrphanage for long. In fact she's just been adopted out to a new family that is her forever home! While she will be greatly missed at KittyOrphanage's home everyone knows she will flourish in her new environment.
To submit your cat for Cat of the Week please send at least 5 photos and a description of at least 400 words to Craig@StuffCatsWant.com.