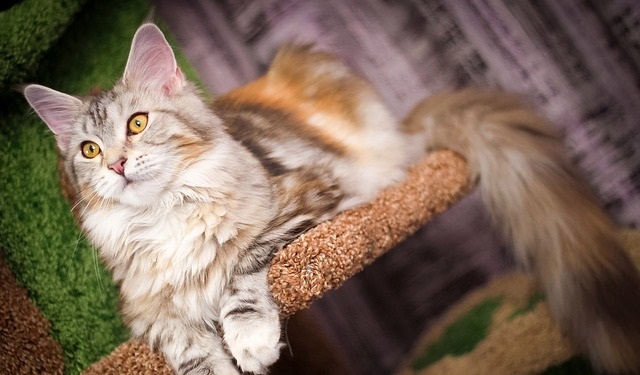 If your cats are anything like mine then they like to climb. A lot.  It is instinctual for all cats no matter their size.
So how do you keep them happy when you want them off things like your bookshelves and your furniture?
People might tell you to get a tree or get a condo. That's a good idea. But if your cat is extra fluffy or extra large then you may have had trouble finding the right fit.
You can't just go for any old furniture, you'll want to find yourself a cat tree for large cats. Cat trees go by a bunch of names these days: cat climbers, cat castles, cat furniture, cat towers and so on.
I've sifted through countless options to bring you the best 15 big cats can actually use. So let's get into them.
The best cat trees for large cats quick guide

Looks Like a Real Tree House
---
New Cat Condos Large Cat Tower with 4 Easy Access Perches
If you finish reading the entire article you'll probably think that New Cat Condos has paid me for plugging them so often, but they just make amazing products that deserve to be all over the list. I really couldn't find anything better so I'm sharing them with you!
It is almost like they are the Big and Tall of cat furniture! Who knew that existed? This particular model though is quite a bit taller than their other options at just over 5 feet. So what else is worth noting? Let's take a look:
uoted directly from other owners of this product:
"The ledges comfortably accommodate my Maine Coon giant cats."
Check out this short video for more a quick overview of the product as well:
---
Cat Tree King's Empire Tower
The Cat Tree King brings to the market by far one of the biggest and heaviest cat trees on the market with their empire tower. This is truly the cat tree for those of you that have cats like Maine Coons that are well over the 20 pound range.
You will have no problem with multiple extremely large cats using this tower all at the same time. It weighs in at over 140 pounds and is built like a Sherman Tank. It won't tip, wobble or even move when your big cats hop all over it.
"I have a Maine Coon who is a big big boy at 25 lbs...is perfect he loves it...the Hammocks and house fit him perfectly and it doesn't tip..."
"Sturdy, beautiful design, and the best part: the cats love it."
"The only cat tree I have ever had that they can jump on and it doesn't wobble!"
There are a bunch of key features worth noting:
The only other thing worth considering is the price. This definitely comes in on the more expensive side of cat trees.
---
CozyCatFurniture Carpet Cat Tower for Large Cats
CozyCatFurniture has a bunch of products specifically designed for larger than life cats.  If you're looking for a great piece of cat furniture then you should definitely consider something from CCF.
This particular model is a 3 tiered tower ideal for big kitties that want to climb and chill out. There are tons of positive references from other owners of extra fluffy cats:
"The beds are about 15″ wide and 5 1/2″ deep. My large cat(19 lb.) loves the beds."
"Sturdy, well made, my fat & large cats fit in it and LOVE it."
"Our very large cats love it and fit very comfortably in it."
There are a bunch of key features worth noting:
---
New Cat Condos Cat Playhouse
If you're looking for a cat tree that looks like a real tree then this is probably the closest you cant get without purchasing one covered in leaves.
New Cat Condo created this killer cat tree that is absolutely huge and looks just like a real tree with a tree house on top of it!  Hard to get much cooler than this if I do say so myself.
A few special items worth noting:
The last thing I'll call out is that this is by far one of the more pricey cat trees on the market. But it comes with unbeatable quality and is incredibly unique. It is up to you if you're up to invest in it!
---
Go Pet Club 72″ Tall Cat Tree With 3 Perches
Go Pet Club is a ringer in the space of Cat Condos. They make amazing products at affordable prices and this option is definitely no exception. This model is specifically designed for medium and large sized cats! No kittens allowed! Just kidding…
But in all seriousness this version is designed specifically for big cats and it shows. Key features include:
Specs for this model are:
Overall Size : 33″W x 22″L x 72″H
Base Board Size : 23.5″W x 21.5″L
Size of Big Condo : 18″W x 12.5″L x 11.75″H
Size of Top Condo : 12″W x 12″L x 10″H
Top 3 Perches : 12.75″W x 12.75″L x 2.25″H
---
SONGMICS Large Multi-level Cat Tower with Scratching Pad
This cat tower comes from SONGMICS and is one of the best options on the market for multiple cats, especially multiple large cats. It has a ton of ledges and a perch on the top that will support a cat of practically any size.
That top perch even has a raised edge to ensure your feline friend can rest their head and look down on their humans. Key features on this model include:
---
New Cat Condos Large Cat Tree Tower with Cat Scratching Posts and 4 Cat Perches
If you're looking for simplicity and you're a little bit lazy (like I am) then you're gonna love this option from New Cat Condos. They are bringing you a fully assembled product that's ready to use out of the box. Talk about convenience.
On top of this you're getting a very simple and straight forward cat condo that will have your cat lazing about the minute the box opens. They might even go exploring in the box after the box after their first nap.
Quoted from Amazon user Crazycatlady (I love the name):
"I have a 20 pound cat who can fit on the top comfortably!"
Key features worth noting:
---
Go Pet Club 80-Inch Cat Tower
Go Pet Club strikes again! So you've heard the phrase "Go big or go home" and decided to take it to heart huh?
Well this is definitely the cat tree for you. It is one of the biggest on the market and it has tons of awesome features for your feline friends.
Key features worth noting on this model:
Specs for this model are:
Overall Size : 45″W x 30″L x 80″H
Base Board Size : 24″W x 24″L

Size of Big Condo : 16W x 16″L x 14″H(tons of snoozing space!)

Size of Small Condo : 12″W x 10″H
Size of the Basket : 12″W
Top Paw Perch : 14″W x 16″L x 3″H (excellent for looking down on humans)

Top Round Perch : 14″W x 3″H
Top Perch : 13″W x 13″L
---
New Cat Condos Premier Triple Cat Perch
New Cat Condos specializes in making high quality cat furniture that requires zero work from your side.
This is a fully assembled product that's ready to use out of the box. You can't ask for much more than that when it comes to online ordering!
This model brings a level of simple luxury you just won't find elsewhere.
And you'll have your cat lazing about the minute the box opens. You won't even need to keep the box for your cat to be entertained.
Quotes directly from other owners:
"I was concerned about the size of this as my guy is nearly 20 pounds…but it hasn't seemed to stop him from enjoying it."
"We have two Maine Coon cats and both are typical large cats. The platforms takes their weight individually and together without any problems and with no stability issues."
Key features worth noting:
---
Go Pet Club Huge 87.5 in. Cat Tree Condo House Furniture
If what you're looking for is variety and space then you'll certainly get it with this model from Go Pet Club. It has so much variety it may need to be shipped your way in a couple of boxes!
This model has a total of 5 different enclosed places for your cats to sleep and 2 additional tubes they can use.
On top of this the number of levels that have large sleeping areas available provides even more space for your kitties!
Despite being huge it is also very stable for multiple cats. Quoted directly from other owners:
"My cats are large, and it does not wobble when all of them are on it at the same time"
Key items worth noting on this model:
---
Another amazing product from New Cat Condos is their 5 level cat playground.  If you've checked out the other items from New Cat Condos you'll notice some similarities to the Large Cat Tower.
The differences are small, but if your kitties don't like to stick their head off ledges while they sleep then this model will be a better choice.
It doesn't have the same dips in the edges of each perch meaning it is perfect for curling into a ball for a nice nap.
---