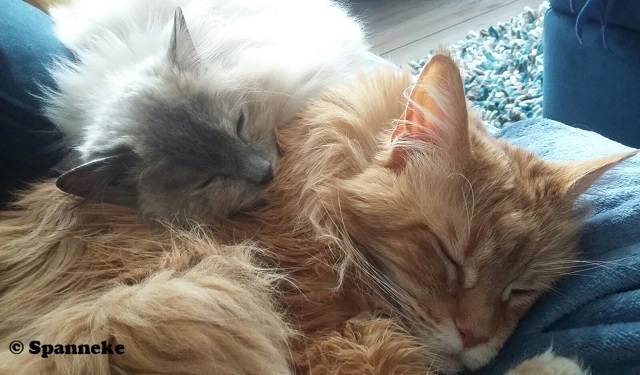 Since we didn't have a Cat of the Week last week we have two beautiful felines gracing our front page this week! Everyone meet Roxy and Bella, two gorgeous kitties submitted to us by reddit user Spanneke from the United Kingdom! Spanneke went to the trouble of writing out a wonderful story for us to read so this week's post will be told from Spanneke's point of view! Starting…Right Meow!
After recently moving to Oxford (UK) we wanted to adopt two adult cats, preferably of the ginger kind as we grew up with a ginger tom cat. We started following the Facebook pages of all our local cat rescues in order to keep an eye out for one or two ginger cats which needed re-homing.
But we didn't see much success for many months. Facebook started suggesting other shelters further away and one day a picture appeared on our feed of two fluffy cats asleep in each other's paws and one of them was a ginger: bingo!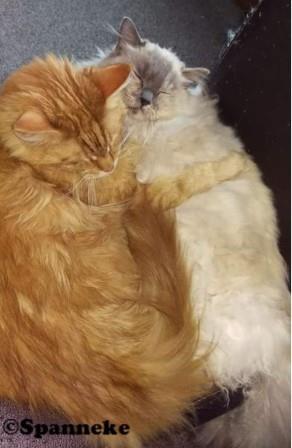 After a lot of phone calls and emails back and forth with Pauline from St Francis Persian Cat Rescue (Facebook Page) we were finally told that we were cleared for adoption. Hurray! A long four-hour drive from North Yorkshire later we could finally welcome Roxy Fennekin and Bella Meowth into their new home. Roxy's the ginger Maine Coon with heaps of attitude and Bella's the Ragdoll (blue colourpoint) with the most gorgeous eyes.
From the little information we received about them, we know that they are between 3 and 5 years old and that they grew up together. They clearly come from a loving home as they are the most affectionate and cuddliest furry creatures. From the moment they arrived in our home, they were very keen to explore all the rooms, especially Roxy.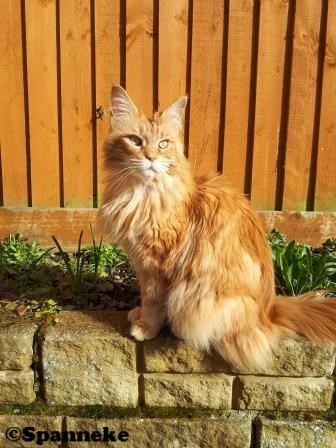 As a Maine Coon she loves to roam the house and watch the outside world from the window sill. Roxy is by far the chattiest cat we've ever met and she amuses us constantly with all the different sounds she makes: from sharp meows over trills and chirps to loud howling whenever she needs our attention.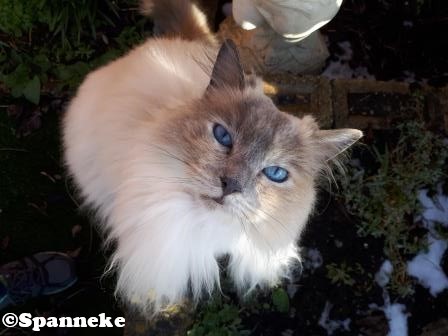 Bella, on the other hand, has the softest and cutest meow ever heard and is a very laid-back cat who loves to take naps.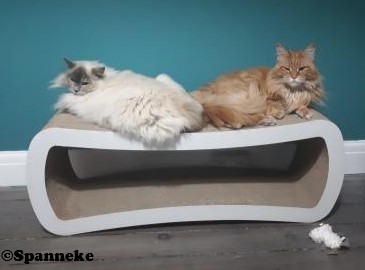 Sometimes she will even allow Roxy to join her on the scratcher for a joint nap. At feeding times the two of them always give an incredible concerto and we love listening to their harmonious voices. If you're curious which scratcher is in the photo it is the Pet Fusion Jumbo Lounge and both cats absolutely love it!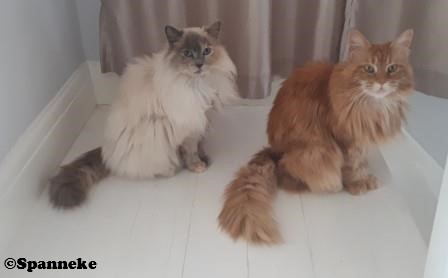 In the mornings they always wait for us on the landing in the hope that we'll rush down with them to feed them.
They both love to go outdoors in the garden and although Bella wasn't keen on the recent cold spell in the UK ("The Beast from the East"), Roxy loved strutting her paws in the snow looking very majestic. Bella, however, prefers the warmer days and as you can see the pictures, her sapphire blue eyes light up stunningly in the sunlight.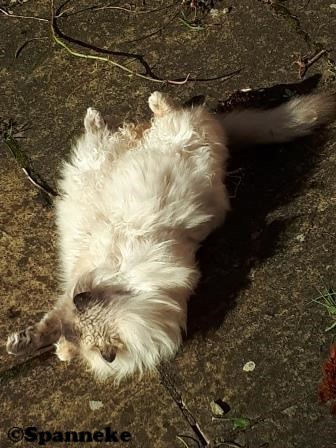 When she's not too busy sniffing all the plants and flowers, she loves to roll over to show us her curly belly.
But their favorite activity is to join us on the sofa in the evenings and take another nap (of course). They are the cuddliest cats who love to sit on our laps while we brush and stroke them under extremely loud purrs. Like all siblings they sometimes have a hissy fit but in the end they will always find each other to curl up to.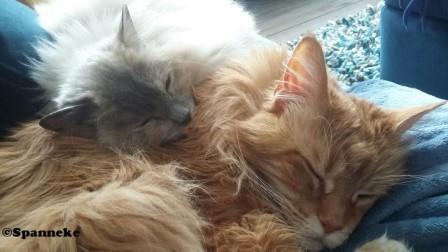 We at StuffCatsWant again thank reddit user Spanneke for submitting Roxy and Bella as Cats of the Week! To submit your cat for Cat of the Week please send at least 5 photos and a description of at least 400 words to Craig@StuffCatsWant.com.
StuffCatsWant.com is a participant in the Amazon Services LLC Associates Program, an affiliate advertising program designed to provide a means for sites to earn advertising fees by advertising and linking to Amazon.com.