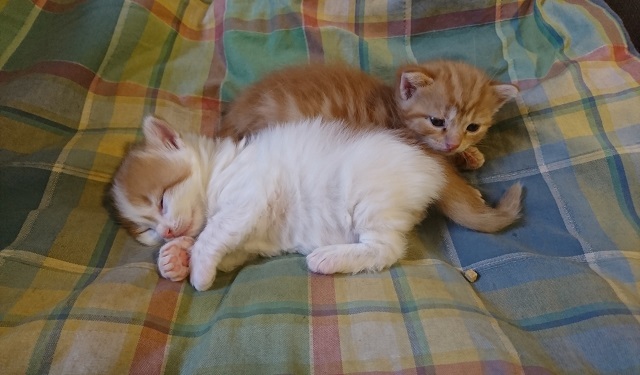 This weeks we have two kittens as our Cats of the Week. Everyone meet Rory and Briar! They were submitted to us by Matt through reddit! See the cutest video of them at the bottom of the post!
Theses kittens are 4 weeks old. They were born around the 22 of April. They were in a litter of 7 but unfortunately only 2 made it through.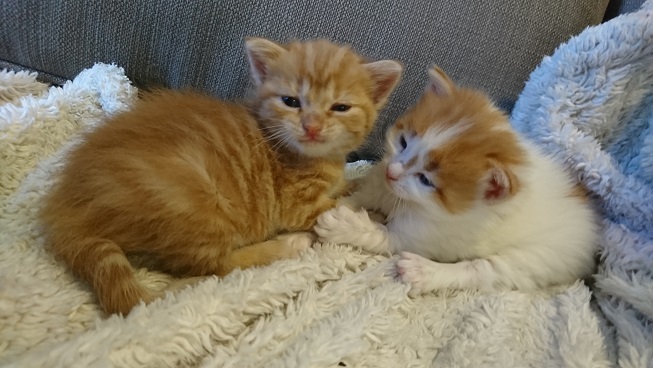 The mostly white boy is Briar. The mostly orange female is Rory. The mum is Rose. They were surrendered to
The Cat Rescue Network
based in Ottawa.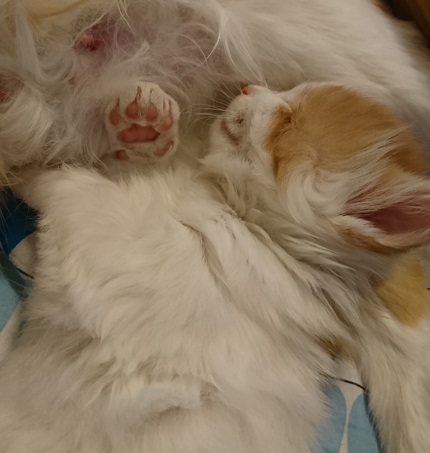 Matt is their foster. They were brought to him a couple of week ago. Rose was super skinny at first, but she's really starting to put on weight. She's a little shy and protective of her kittens. She has her own room with the kittens so she doesn't get stressed.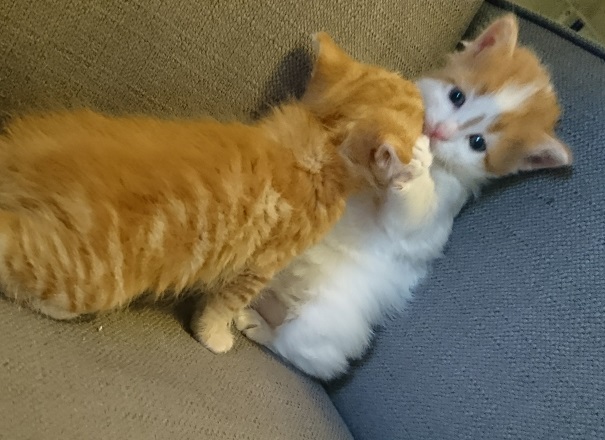 The kittens are lovely. They are starting to explore on their own and play with each other.  They've been getting along well with Matt's cat Pebbles and the two dogs who are boarded with them. The dogs a 12 year old boxer / lab mix and a 9 year old poodle / labradoodle.
Matt thinks that Rose will be best suited for a quieter home, but he think the kittens will grow up well adjusted to a busier home.
As with any rescued kittens they are very fortunate to have been snatched up and brought to safety.
They now have a roof over their head and food in their bellies after such a hard road.
Matt (and I) both look forward to the day when they go home to their new families. They'll be ready for visitors in just a few days now. Kittens get adopted quickly but Rose might be with Matt for a while longer.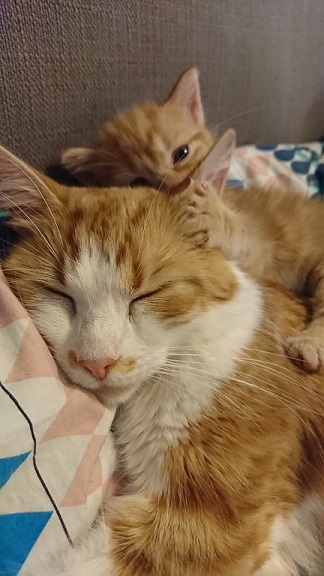 For everyone reading, please do keep in mind that rescues work really hard to keep their doors open. The
The Cat Rescue Network
works almost exclusively on donations and adoption fees for veterinary care.
They are made up on a series of foster homes and there's no building and so very little overhead. The money goes to care for the cats.  If you would like to donate to the Cat Rescue Network then check out this link: http://www.catrescuenetwork.org/donate2.html
We at StuffCatsWant want to thank Matt for submitting Rory and Briar as this week's Cats of the Week! To submit your cat for Cat of the Week please send at least 5 photos and a description of at least 400 words to Craig@StuffCatsWant.com.
StuffCatsWant.com is a participant in the Amazon Services LLC Associates Program, an affiliate advertising program designed to provide a means for sites to earn advertising fees by advertising and linking to Amazon.com.