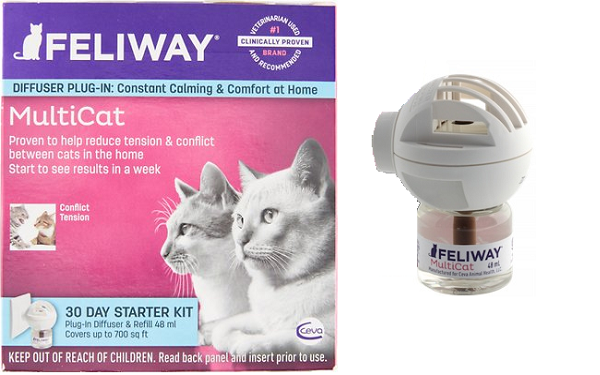 Cheapest Place to Buy: Find the Best Deal
StuffCatsWant Rating: 4 out of 5


---
Feliway Multicat Product Overview
This product is ideal for introducing new cats to one another or for reducing the amount of conflict between cats that have been living together for months or even years.
Feliway Multicat does this by emitting synthetic pheromones that make your cat feel calm and safe.  The product works similar to incense in that it comes in an oil and is heated to distribute it into the air.
I foster cats constantly and in most cases I introduce them to my resident cats. Feliway Multicat goes a long way in  reducing how much my resident cats meow/paw at the door where I keep the foster cats which is nice.
But most important is that when I introduce them it has a noticeable impact on how quickly they all come to an agreement to not hiss at or attack one another. It makes fostering cats much much easier, end of story. It made my now two resident cats come together much faster than I'd expected, days instead of weeks or months.
Using Feliway Multicat is super easy. You just insert the refill container into the diffuser and plug it in and you're good to go. It may take a week or two to see noticeable results given the pheremones need to distribute into the air. The diffuser will spread the pheremones over an area of about 500-700 square feet if you have a single open room. Homes with many doors or multiple levels will likely see decreased coverage and may need more diffusers to see an impact.
Note the diffuser is designed with a rotating plug head so if you have horizontal or vertical plugs you're still in good shape.
---
The Pros:
It uses pheromones to create a calming environment for multi cat households that experience fighting
It is great for introducing a cat to a new household or a new place (even with no other cats)
It is excellent for introducing new cats to one another, especially if you foster or recently adopted
It is hands off once you plug it in, just insert a new refill after about 4 weeks 

Feliway has been clinically proven unlike many other products on the market

It is drug free so it won't have any addictive impact on your cat
It is 100% scent free for us humans, we won't notice it a bit
---
The Cons:
It can take time to start having an impact, sometimes a week or more
The refills are rather expensive, especially if you need to use them over the long haul
Covers a limited range and may require multiple diffusers if you have a large or multi room household
---
How to Use It Best:
Place it in the room your cats will be spending the most time in together
Be sure to place it in a spot where it is unlikely to get dinged or run into on accident
Plug it in a week before you bring home a new cat to help calm your existing cats down
Replace the cartridge about once a month to ensure there aren't any breaks
---
Frequently Asked Questions:
How long does a single refill last?

Each refill should last about one month

How much space does it cover?

The package indicates about 500-700 square feet, but if you have doors you close often etc. then this will be far more limited

What's the difference between the Multi Cat Product and the standard Feliway Product?

The Multi Cat Product is intended to help reduce tension between multiple cats
The Standard Feliway Product is aimed at reducing spraying and scratching behavior

Will the Multi-Cat Plugins work with the standard Feliway Diffuser?

Yes, both types of refills work with the same diffuser.

How do I know it is working?

If the diffuser is warm to the touch that means it is working.
---
Wrapping It Up on Feliway Multicat:
Feliway Multicat is an ideal solution if you've got multiple cats that are fighting in your house or if you plan to introduce a new cat to the household in the near future. It is super easy to use, it doesn't take any skill or practice, and it has a scientifically proven impact on cats. I've had great experiences with Feliway and I'd highly recommend it to anyone having trouble introducing cats.
If you've used Feliway Multicat and have any addition experience or info you'd like to share please comment below or shoot me a note at Craig@StuffCatsWant.com so I can update this article to reflect your thoughts.
StuffCatsWant.com is a participant in the Amazon Services LLC Associates Program, an affiliate advertising program designed to provide a means for sites to earn advertising fees by advertising and linking to Amazon.com.
References: Feliway Multi Cat Site