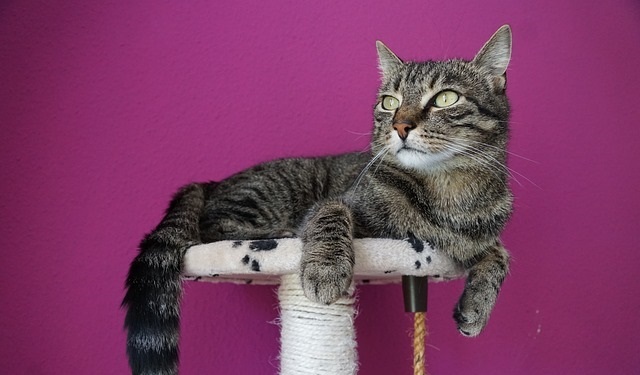 Product: Go Pet Club Cat Tree Review
Cheapest Place to Buy: Amazon
My Rating: 4 out of 5


---
Go Pet Club Cat Tree Product Overview
If you've ended up here you must be in the market for a cat tree or a cat castle of some sort. The Go Pet Club Cat Tree is a pretty standard cat tree. It is designed to provide your felines with entertainment, exercise, scratching places & of course many places to sleep. This cat tree does an admirable job in all of the above.
If you haven't already read my article on the reasons to buy a cat tree and the things you should consider when buying then definitely take a look at that before progressing any further. It'll help you make sure you actually need a cat tree before you pick one up.  So let's take a look at the Go Club Cat Tree in a bit more detail and whether or not it'll serve your purposes, or I guess more importantly the purposes of your resident felines.
---
My General Take:
I give this cat tree 4 stars.  This is a solid cat tree that will provide a great place for your fur balls to climb and sleep.  It is super easy from a construction standpoint and also very affordable from a cost standpoint. If you're looking for an entry level cat tree you probably don't need to look any further than this.
This cat tree isn't as large or glamorous as some of the enormous trees or castles that are out there, but if you've only got one or two cats in the house this is probably a great fit for you.  It also doesn't cost a ridiculous amount of money like some of the cat trees out there that are in the multi hundred dollar range.
That being said you should also be aware that a few aspects of this castle seem designed for incredibly small cats or even kittens. The key areas I'd call out with this problem are the small cylinder hanging near the top and the side extension basket which would probably only accommodate a very small cat.
I'd guess the cylinder would hold a kitten and the side basket maybe a 6-8 pound cat. If you have expectations that a medium sized cat of say 12 pounds or a large sized like a Maine Coon or a Ragdoll will be able to use all of the different areas you'll be in for an unpleasant surprise.
You'll see to the right a picture of my cat Lexi on the castle. She's very fluffy and about 12 pounds for a frame of reference. You'll also note I removed the hammock because neither of our cats were using it and it was making it hard for them to climb up through the hole in the second level.
---
The Pros:
The cats both love the multiple levels and are constantly climbing all over it, particularly to the top
The cats love all of the different scratching areas included in the design and use them constantly
This cat tree was super easy to put together
It is quite mobile on a wood floor, the carpet was wrapped around to the bottom so it slides easily
---
The Cons:
After a year or so of constant use the top lookout has gotten a little bit flimsy
Parts of the castle are definitely suited toward smaller cats or kittens so be aware of this
We made the mistake of choosing the cream color with two dark cats and it constantly looks dirty
Neither cat has ever used the hammock or the side extension basket, ever
---
What are the measurements:
Height: 62 inches
Width: 38 inches
Depth: 27 inches
---
What's In the Box:
3 major level boards that are all carpeted
All the support bars which are mostly covered in sisal rope for scratching
A small top location look out that is carpeted
A side extension basket
A hanging hammock & the hooks for hanging it
A small cave add on that is fully carpeted as well
---
Frequently Asked Questions:
What are the dimensions of the top perch?

Inside: 12.5 inches x 11.5 inches
Outside: 14.5 inches x 13.5 inches

My cat is about 10 pounds, will she be able to use the tree?

She'll be able to use most parts of the tree. I would say the small cylinder hanging from the top and the basket that sticks out the side will likely be too small for her, but the rest should be fine.

Was it difficult to put together?

It took me only about 30 minutes to put it together with the included hex wrench included and I'm certainly no construction specialist by any stretch of the word.

Is it easy to move?

If you have wood floors you're going to have zero issue moving this cat tree from location to location. If you have carpet instead then you might need to pull it instead of push it, but it isn't heavy by any means.

How does it hold up over time?

My cats use it daily and everything on it other than the top little tower area has held up without problem. The top tower is still workable as well, it has just become a little flimsy.

Will it accommodate multiple cats?

I have two cats at home and it easily works for both of them at the same time. I would guess that even a third cat would still be able to take advantage of the castle without any particular issues. There's plenty of space and plenty of levels to give them some privacy but also a couple of floors that would let them hang out right on top of each other if you have cats that are bonded.
---
Wrapping It up:
If you're looking for a great multi level cat tree at a nice affordable cost then the Go Pet Club Cat Tree is a great place to start. It'll keep your cats happy with nice high places to relax and look down on you while at the same time minimizing your overall investment. The tree is also incredibly easy to move around if you're likely to try it in multiple different locations before committing to one spot. All in all an excellent tree worth consideration.
If you've got this tree at home and have any experiences with it you'd like to share please comment below or shoot me a note at Craig@StuffCatsWant.com so I can update this article to reflect your thoughts.
StuffCatsWant.com is a participant in the Amazon Services LLC Associates Program, an affiliate advertising program designed to provide a means for sites to earn advertising fees by advertising and linking to Amazon.com.