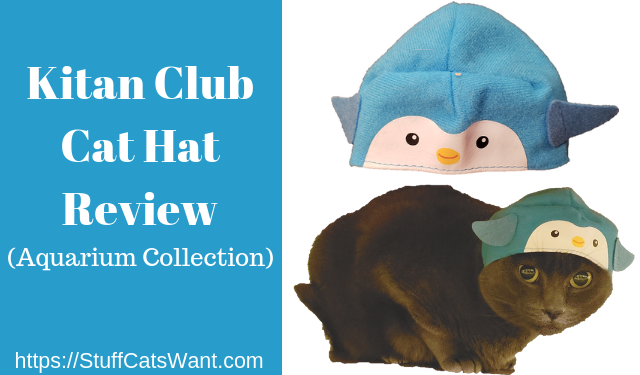 If you're in the market for a killer cat hat that comes in at a dirt cheap price then the Kitan Club Cat Hat should be your choice! I ran across this little hat at a small store in Seattle called KOBOSeattle that sold mostly Japanese items and I just had to get it to try it out on my fluff balls.
Now Lexi and Beast don't particularly love costumes of any form. We adopted both of them when they were already a couple of years old so we didn't get a chance to get them used to wearing costumes when they were kittens.
Despite this I've spent some time sticking cat hats, harnesses & all sorts of other costumes on them. They tolerate me only because I am their key food source and because they are both wimp fluffs.
---
Product Overview

You can see an orange hat there on the box, but if you look closely at the bottom you'll see 6 variations. I really wanted the shark! I seem to have gotten the far right one which I believe is a penguin. You can see a close up here.

To say the least, it is usually quite a battle to get anything on them and keep it on either of them for more than a few seconds. Beast loves to do the "cat army crawl" the second she ends up with a full body costume or a harness.
​Both of them have a typical safe spot ​under the bed. They'll stay there until I crawl under there and then remove the costume or harness.
Surprisingly they don't run off from under the bed...They've trained me to be a sucker and crawl under there to remove things they don't like. Perhaps I should add this to my article proving my cats have finished training me as their slave…
The reason I bring all this background to you is because it provides context. This hat has had a markedly different impact on Lexi and Beast. It hasn't had nearly the same response as other options have in the past. It is obvious they don't particularly love wearing the hat, but I never expected them to love it.
The key take away. ​They don't tear the hat off of their head immediately. So that's a huge bonus and says a lot to me, it must be a lot more comfortable than other options I've tried in the past!
---
​​A Few Photos of It In Use
So here you can see both Lexi and Beast adorned with this cute little hat. I was fortunate enough to have someone available to help me take pictures of them in the hat before I set them down.
Here's Beast wearing the hat. No surprise, I have a much bigger smile than Beast does at the moment.
​And Beast after she ran off under the bed with the hat on...
Here's Lexi wearing the hat. You can see that I look a lot happier than she does.
---
​The Full on Video Review
​I do my best to include a full video review of all the different products that I buy and use. You can check it out below. Please do subscribe if you find the review useful!
---
​The Best Features Worth Noting
---
Areas for Improvement & Consideration
​Pretty much every product I've ever used has a few areas that are worth considering or worth improving for a better experience. I wouldn't let any of the below deter me from buying this product.
I would definitely recommend prospective buyers consider them:
---
Frequently Asked Questions
Is there a way to choose the specific hat you want?

Right now there is no way to choose a specific hat, each package contains one random hat.

Is there a 6 pack of all the fish themed hats for sale?

Right now there is no complete package with all 6 of the different hats available.
I also haven't been able to find any information that would indicate they plan to release a package of all hats.

Are there any other hats like these?

Yes, Kitan actually has 3 different sets of collectible hats. This specific option is for all of their aquarium themed hats. The other collections they have are ​animal themed.

How do you put the hat on your cat?

The hat slips over your cats head and uses an elastic strap to stay on your cat's head. You can see a quick overview of this in the video above.

Is it easy for cats to pull the hat off themselves?

Yes, your cat can quite easily remove this hat on their own by shoving it over their head with their paw.
---
​Wrapping It Up on the Kitan Club Cat Hat
On the overall this is a great hat and it comes in at a nice price. There are also tons of options out there for you to collect if you're into finishing out collections!
Lexi and Beast can't tell me how many paws up they'd like to give the hat. Sadly I haven't yet trained them to rate products. But that doesn't stop me from making a best guess for them. To reiterate, Lexi and Beast dislike wearing anything other than their fur. But they both tolerate this hat quite well.
I'd estimate they give it a solid 4 paw prints! And as the cat owner/slave I personally give it 4 paw prints as well. Quite a good rating for a 6 dollar hat!
The only improvement I would really prefer to see is a Velcro neck strap in place of the elastic one for safely purposes. You should definitely consider getting one right meow!
If you've used this cat hat or another cat hat you like definitely let me below in the comments know so I can make a note of it and we can spread the word to others.
StuffCatsWant.com is a participant in the Amazon Services LLC Associates Program, an affiliate advertising program designed to provide a means for sites to earn advertising fees by advertising and linking to Amazon.com.

If you find this useful spread the meows...