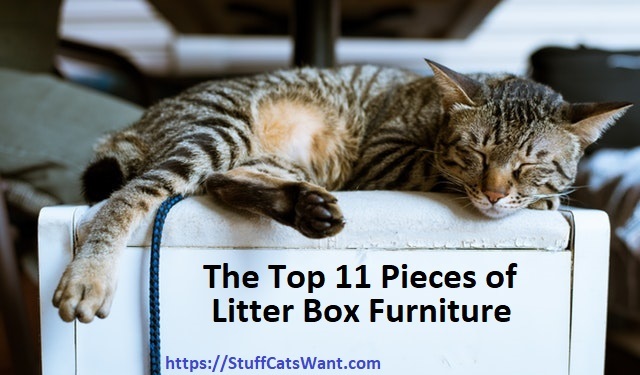 If you've arrived here you're looking for a way to cover up the typically not very good looking litter box that your cats use on a daily basis. Most litter boxes are designed to be functional at best and some of them don't even do that very well.
Those that are functionally effective still tend to leave a lot lacking from an aesthetics standpoint which can be frustrating, especially if you have a home with limited space where you can't hide the litter box off in a corner or in a closet.
Enter cat litter box furniture to the scene. Recently there have been several companies that have developed pieces of furniture that are geared toward giving you an aesthetically pleasing piece for your home that is dual designed to house a litter box for your cat.
They come in all shapes and sizes and a bunch of different colors and designs. It really depends on what you're looking for and the type of decor you are trying to match in your household.
So let's take a look at the best pieces of litter box furniture out there! Below are the 10 best pieces of litter box furniture.
The Best litter box furniture Quick Guide
---
Petsfit Double-Decker Pet House Litter Box Enclosure Night Stand

The Petsfit Double-Decker Pet House is a pretty cool piece of furniture that doubles as place for you to store your cat litter box or perhaps as a cat cave depending on your particular goals.
As you can see it has a small entry way on the second floor of the stand and through there is a drop down into the bottom floor where you can easily store your litter box.
This is really the Cadillac of places to store your litter box and let your cat do her business. It is totally secluded and on top of this it has multiple forms of cat litter control:
The whole base is enclosed so any litter that gets kicked up will stay inside the stand
The cat has to jump out from the box up to the second level which shakes off a good chunk of litter
The cat again has to jump out of the second level which should shake off the remainder of any litter
As with all pieces of litter box furniture you will need to buy a standard litter box to go inside of this enclosure. Be sure to measure before you purchase the litter box itself.
A few additional notes:
This is definitely on the pricier side of places you can store a litter box
Dimensions of the base are 21 inches by 23 inches and it is 35 inches tall
The inner shelf is 13 inches off the ground
The inner shelf is not removable in case you were wondering
Click Here To Find the Lowest Price
---
 Merry Products Cat Washroom Bench in White

The key thing that Merry Products brings to the table with this piece of litter box furniture is that it is designed to hold most litter boxes on the market.
The sizes gives it ample room to hold litter boxes large and small, automatic and manual, pretty much whatever you have will likely fit inside.
It also has a partition wall in the middle specifically designed to be removable which gives you tons of extra space to store all sorts of litter supplies or even a second litter box if you deem it necessary.
Another nice perk that not all pieces of furniture have is that the entry door can be moved to either side of the unit which is really helpful depending upon where you want to place it.
A few additional notes worth pointing out:
The Interior Dimensions are as follows (D x W x H) : 20.20 x 35.00 x 19.00 inches

The front doors swing open to the front and give you tons of room to access anything inside
There's a pre-cut hole in the back of the unit to run electrical cords inside for automatic units
It has a weight capacity of about 80 pounds which is quite a hefty amount for litter and other supplies
The material is a particle board with a solid laminate overlaid on top of it
As with any wood, it is worth noting that if you don't line the unit cat pee can soak into it
Click Here To Find the Lowest Price
---
Merry Products Nightstand Pet House/Cat Litter Box Cover

This is another winner from Merry Products, they clearly know how to make a solid piece of furniture that will hold up to daily use from cats!
This specific piece of furniture is designed as multi functional, it can serve as either a litter box cover or you can simply use it as a little house or sleeping spot for your kitty.
This unit comes in three different colors which is a nice perk: white, espresso & beige. It is made of fiberboard with a laminate covering to ensure it is strong/solid and looks nice.
The cabinet features wainscoting paneling and stainless steel hardware to keep it looking classy! You've also got a small magnet that keeps the door shut unless you pull it open manually. All in all a great unit!
A few other things worth pointing out:
The interior measures 18.5″H x 16″W x 18.5″D
The cat door measures about 8″H by 7″W
The space between the top and the small shelf under it is 4.5″
The top shelf has a weight capacity of 50lbs which is a lot for a nightstand
If you care about the towel rack it can easily be installed on either side
Some cats are a bit leery of using the door at first so you may need to leave it open for the first few uses
Click Here To Find the Lowest Price
---
The ecoFlex Litter Loo, Litter Box Cover/End Table

If you happen to have a cat that misses often when peeing then this is the product for you.
The biggest driving factor in going for the Litter Loo is the material it is made from. The ecoFlex in the title is the materials this product is made from and its claim to fame is that will never absorb any moisture!
If your cat "misses" it will never soak into the product, you can simply wipe away the urine. The floor is also completely sealed so nothing will leak out, though it may be worth caulking it for 100% assurance.
Similar to other pieces of litter box furniture this particular model is designed to double as an end table.
While it might not fit with your decor from a material standpoint, it does come in 4 different colors including espresso, white, grey and russet. This at least gives you some opportunity to match it up with your internal decor.
Other items worth noting for potential purchasers:
The exterior dimensions are: 23.6″ (L) x 18.5″ (W) x 22.0″ (H)

The interior dimensions are: 21.1″ (L) x 17.1″ (W) x 20.5″ (H)

The cat entry door is about 7.9″ (W) x 7.9″ (H)

The whole front flips down for easy access to the litter box to clean it
There are no tools required for the construction of this unit
Unlike wood models it is resistant to warping, cracking and splitting
This model has vents built in for light and air flow, but that means it doesn't control scent very well so be sure to scoop often
Click Here To Find the Lowest Price
---
Meow Town Concord Litter Box Cabinet Furniture for Cats and Kittens

The Meow Town Concord litter box is a piece that looks really nice in pretty much any room.  It has a wonderful looking mahogany finish and brass knobs to round it out.
The product it is made from is MDF, or medium density fiberboard and it is then finished for that great look.
On top of this it's made for cat convenience with a side opening for discreet entry and exit plus a roomy interior. Each litter box cabinet is finished with magnetic-closure doors to allow you to easily remove and clean the litter box as needed.
There's also a built in shelf inside that can be used to store all of the necessary equipment for scooping and cleaning as well as any other cat related items you might wish to keep nearby.
The drawer is also 100% removable if you don't wish to install it due to a desire for more vertical room or you simply don't want it.
A few other items worth noting on this particular model:
The exterior dimensions are: 28″ W by 19″ D by 24″ H
The interior dimensions (accounting for the the drawer being installed): 25.875″ W by 17.75″ D by 16″ H
The cat door opening is about 12″ W x 12″ H
The entry panel is not interchangeable, the cat door can only be placed on the right hand side
It may be worth caulking the bottom and laying down an absorbent pad if you have a cat that pees high
Click Here to Find the Lowest Price
---
Petsfit Odorless Litter Box Furniture with Latch Holding

This is another piece of furniture designed to serve as both a nightstand and a cat litter box. I will admit I find it odd that anyone would want their cat's litter box in their night stand.
I think if I could choose anywhere else I'd want it further from my head while I'm trying to sleep! But perhaps in the guest room? Anyway, back on track now, this is a nice solid piece of furniture that will serve as either a nice little house for your cat or as a litter box holder.
This model is made of good solid wood with a nice finish so it blends in with your decor. It also comes with a latch on the outside of it to keep the front door locked tight from getting knocked open.
Most other models use lightweight magnets for this purpose, so if you've had trouble with that before then this latching option might be a differentiator for you.
It also does come in two colors, white and espresso.
As this is a wood product it is not 100% waterproof
You will want to caulk and seal the lower edges if you have a cat that happens to pee high or has a lot of accidents
You may also wish to add in a pee absorbent pad or line the inside with a plastic covering to minimize spillage/leakage
You'll also note this model is not designed to contain scent very well so you'll want to use an odor controlling litter or scoop often
The Exterior Dimensions: 20″ L X 24″ D X 21″ H
The Interior Dimensions: 17.7″ L X 21.6″ D X 19.3″ H
The Cat Door measures 7.5″ L X 7.5″ H
Click Here To Find the Lowest Price
---
Designer Catbox Litter Box Enclosure

Designer Catbox brings to the market a nice two compartment litter box enclosure where it opens from the top as opposed to opening in the front. This is nice for those of you find it easier to scoop while standing instead of getting down on your knees.
There's a built in hydraulic hinge that will keep the top open for you while you scoop as well so you don't have to worry about it slamming shut on you.
The two compartment design ensures that your kitty has to zig zag to get into the litter box which means not only will it minimize any litter getting kicked out, but they'll also shake some litter off as they move through the multi compartment design.
Also note that you can put the entry point on either side of this particular model so you can hide it from view or if you just need it on one side you can move it there.
As an added bonus the two compartment design will stop any curious canines or children from easily reaching into the litter box and getting their hands or paws on things they shouldn't.
A few additional things worth noting:
The exterior dimensions are: 29.1″ length by 20.6″ width by 20.8″ height
The interior dimensions are: 26.4″ length by 18-1/2″ width by 14.2″ height
The cat entrance hole is 7-1/2″ wide by 8″ high to fit most any size cat
Do note that the interior height is somewhat shorter than other cat furniture so if you have tall cats be sure there's enough space for them before purchasing
You'll probably want to caulk and waterproof the interior if you have cats that pee erratically
You can leave out the interior divider if you desire more space on the inside for a larger litter box
While the piece looks like a bench it is not designed to hold a large amount of weight so don't count on this feature
It is designed to hold a litter box of the following size:

Traditional: 18.5″ L by 15.25 " W by 5.25″ H
High Sided" 18.5″ L by 15.25″ W by 9.8″ H (you'd need one with an entry way dip)
Click Here To Find the Lowest Price
---
Philociety Large Cat Litter Box Cabinet

The Philociety large cat litter box cabinet that is primarily designed with the expectation that you should be able to fit your current litter box inside of it, this even includes completely covered litter boxes that will help minimize litter kicking and urine spraying.
This particular cabinet is designed to open from the front so it leaves space on top of it to place items like a lamp or whatever else you'd like to consider. The weight capacity comes in at about 50 pounds for the top layer.
The cat entry door can easily be rotated to either side of the cabinet during construction given the unit is completely symmetrical, this means even down the road if you have to rotate it you can.
The two cabinet doors are easy to attach and open wide to make scooping inside simple and straight forward. If you do have a high spraying cat you'd definitely want to also caulk the interior and lay down a rubber mat that will not let the urine seep.
This unit is made of wood and as with any wood it will eventually get damaged by lingering liquids.
A few additional items worth noting for any potential purchasers:
If you bump your litter box right up against the entry point you'll probably have space to keep extra litter as well as your scoop inside, potentially even a litter genie might fit depending on the size of your litter box

Extra large door with the dimensions of: 13.4″ H x 11″ W

The exterior dimensions are: 29.8″ L x 23.6″ W x 23.6″ H

The interior dimensions are: 28.3″ L x 22″ W x 22″ H
Click Here To Find the Lowest Price
---
Refined Feline Refined Litter Box
Are you looking for the top of the line when it comes to a piece of litter furniture? If so, the Refined Feline is the choice for you. No one will suspect this beautiful wood cabinet contains an unsightly, odorous cat litter tray.
Both sturdy and functional, the Refined Litter Box from The Refined Feline keeps a cat litter pan out of sight all while matching your home's decor.
More than just a cabinet, the Refined Litter Box features an internal plastic liner to contain stray litter or urine accidents. There are also rear slots that allow for odor absorbing carbon sheets, and a drawer to store litter accessories.
This baby is constructed of solid wood and ply with poplar veneer, no particle board here. It also comes in multiple sizes so you can fit even large or jumbo litter pans inside of it.
A few things worth noting for anyone interested in this beautiful piece of furniture:
The entry panel can flip from right to left if you have a preferred entry point
There is an awesome hanging drawer inside to keep your scoop and any other supplies
The wonderful looking litter trip for outside the door is sold separately
You may want to place a fan near the slots on the back to drive air flow through the filters since the doorway doesn't have a flap
The external dimensions are: 27.5″ w x 28″ h x 20″ d
The internal dimensions are: 25″ w x 20″ h x 17″ d
There's also this excellent video that will give you a nice walk around the Refined Feline Litter Box Cabinet! Check it out!
Click Here To Find the Lowest Price
---
Good Pet Stuff Company Hidden Cat Litter Box

If you're looking to keep your cat litter box hidden out of the way, or maybe hidden in plain sight, this is definitely the right choice for you. Good Pet Stuff designed this litter box to fit right in with your home decor while holding a litter box inside of it.
Or more accurately, simply being a litter box. It is intended to look just like a normal clay terracotta pot and they've hit the nail right on the head.
That serves to make the product even more of a gem compared to other versions. You've got an ok (fake) plant on top that will stay green and clean all the time, you can quickly dust it off if it ever looks a little down.
But most importantly, you simply turn the litter box entry door away from view and voila you've got yourself a hidden litter box!
It is worth noting that you can replace the plant with any kind of decor you'd like and many people do this with great success. Arts and crafts stores like Michaels will have everything you need to remedy that particular problem!
Most folks use some form of silk flowers and love their results. There's a whole built into the top where you can slide most any kind of stem right into it in place of the included plant.
A few other things worth noting:
Dimensions: 19 inches in diameter & 20 inches tall without the plant
With the plant it becomes 42 inches tall
You don't need to put a liner in it, or another litter box, but some folks do this due to personal preference
There's plenty of room to scoop the litter box from right outside of it given the size of the entry
Some folks mention the top is difficult to get on, but if you start in one spot and slowly apply pressure all the way around it should snap right on
Click Here To Find the Lowest Price
---
Internet's Best Decorative Cat House
This is another option that you'll want to consider that is at a lower price point. This option looks great and is widely respected is a both a litter box enclosure or as a cat house for your cats to sleep or relax in.
The key thing you'll want to keep in mind with this option is you'll want to buy a litter box that has a dip in the front of it for the entrance. Given the way the entrance is designed it sits a little lower than you might desire.
But if you choose the right litter box your cats will make it in and out just fine!  Be sure you measure twice before you buy as the interior is a bit smaller than many litter boxes on the market.
A few other items worth noting on this model:
The entrance door is about 7″ wide by 8.5″ tall
The top is wide and can easily be used to put a cat bed on it or simply use it as an end table
There are two color options available, white and espresso

The dimensions are as follows:

External: 19" Width x 20" Depth x 20.25″ Height

Internal: 17.5" Width x 19" Depth x 18″ Height

Click Here To Find the Lowest Price
---
What About The Litter Box?
The other biggest thing worth noting is that only one of these items can actually directly be used as a litter box on its own and that is the Good Pet Stuff Company model.
The rest of these are all actual pieces of furniture that will require you to purchase a litter box that you'll then place inside of the furniture or find a piece that will accommodate your existing litter box.
The thing I want to point out is that before you make a purchase be sure you measure once, twice, thrice.  If you already have a litter box at home you're tied to using you should measure closely.
You're not going to want to get a piece of furniture and construct it only to find out your desired litter box will not fit inside of it.  Given this be sure you check all of the dimensions of each of these boxes thoroughly before clicking the buy button.
I'd also personally recommend aiming for a high sided or fully enclosed litter box inside these pieces of furniture if possible. The primarily reason is that they are mostly made of particle board which is highly absorbent and traps scents easily.
This means if your cat happens to spray or pee erratically then you're likely to get a piece of furniture that will start to smell pretty bad pretty quickly.
---
High Peeing Cats & Litter Box Furniture
Given that most of these products are made of some form of wood composite like fiber or particle board you'll likely want to take high peeing cats into account. If urine sits on particle board for any period of time it will absorb it and it will stink.
On top of this it may cause the laminate on top to bubble and break which is no good either.  And last but not least you don't want the urine leaking out onto your floor either.
There are a couple of things you can do to help solve this problem:
Be sure to caulk the interior corners of any of the units so that urine won't leak out of them
Find yourself a waterproof litter mat or manually line your new unit with a plastic covering
Use a high sided litter box or even a covered box inside the piece of furniture to minimize peeing accidents
---
What About Scent Control?
This section is intended for general scent control, not specifically from high peeing or missed peeing cats. The bulk of litter furniture (including every model I noted here) does not include any type of door flap which means that air flows freely in and out of the unit.
Several of the units also include built in ventilation for both air flow and light so your cat can see inside. While these are might look nice from a design standpoint or encourage your cat to use the piece they also tend to enable odors to sneak out.
There are many ways you can go about helping to deal with this, but here are the most common:
Be sure to use an odor controlling litter and scoop the box often, just because it is out of sight doesn't mean it should be out of mind
Aim to use a covered litter box inside the litter box furniture piece, these normally have their own built in flap to minimize odor
You can install your own flap on the interior of most of these units by buying pliable plastic or rubber and attaching it to the interior
---
Do Cats Have Trouble Using These Enclosed Spaces?
The larger portion of cats will have no trouble adjusting to using a litter box inside a piece of litter furniture. That being said if you do already have a cat that you know doesn't like using a litter box in an enclosed space then you'll definitely want to avoid a piece of litter box furniture, it'll likely only exacerbate the problem.
As for getting cats used to the litter box furniture there are a few steps you can take to help ensure the adjustment goes smoothly:
First and foremost, don't simply move everything inside the new piece of litter furniture on day one
If possible using a second litter box inside the piece of furniture is ideal to minimize the immediate change
You can leave the door / paneling open for the first few days while your kitty gets a chance to explore the new piece
Only after your cat has shown that he/she will use the litter box in the new environment should you remove the original box
---
Wrapping It Up On The Best Litter Box Furniture
Most people don't particularly love displaying their litter box for everyone to see. Given this there are a few options you can pursue including putting it in a closet or finding a piece of furniture to hide it inside.
I'm fortunate that I've got an empty closet that allows me to keep my litter box for my two resident cats, but outside that a piece of furniture fits nicely in my guest room where I keep my foster cats.
If you do decide to go down the road of purchasing a piece of litter box furniture I'd highly recommend you make any changes with the litter box gradually.
Be sure to leave your original litter box in place while you transition your cats to the new location inside of a piece of furniture. And always keep in mind that some cats might not terribly like adjusting to going inside of a completely enclosed environment.
If you've never had a fully closed in litter box you might want to try that before you purchase a piece of litter box furniture.  Check out my top 10 litter box recommendations here.
Which litter box furniture do you use? Do you have a favorite or a recommendation that I didn't include in my list ? If you have any other ideas for please leave a comment below or send me an email at Craig@StuffCatsWant.com so I can update this article.
StuffCatsWant.com is a participant in the Amazon Services LLC Associates Program, an affiliate advertising program designed to provide a means for sites to earn advertising fees by advertising and linking to Amazon.com.