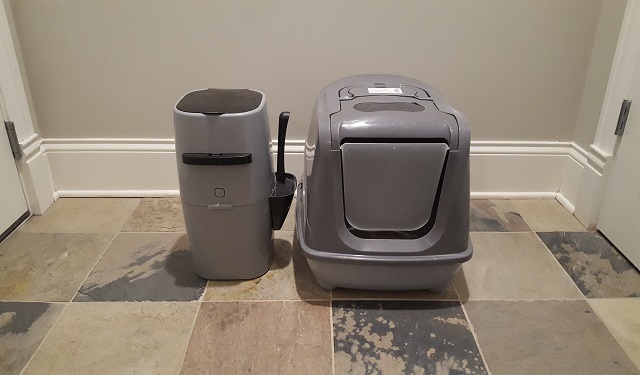 Product: Litter Genie Cat Litter System
Cheapest Place to Buy: Amazon
My Rating: 4.5 out of 5

---
Litter Genie Cat Litter System Product Overview
The Litter Genie is a great product dedicated to making the lives of cat owners easier. It does this in a couple of different ways. First and foremost it was designed to contain the smell that comes from scooped litter. It does this by using a great bagging system that essentially seals the used litter away. It is just like a Diaper Genie for those of you out there with kids!
The second major purpose was to minimize the number of trips you needed to make either with a garbage can to your litter box or from your litter box to your garbage can. The Litter Genie can easily hold about two weeks of used litter from a single cat and it is designed so that it can fit in a bunch of tight places to keep it within easy reach while not being in the way.
Scent Control: Since getting the litter genie we've had zero issue with scent from either of our two litter boxes.
Pricing: If Andrew Jackson owned cats, he would certainly endorse this product, especially at the cost of one of his bills.
Ease of Use: It doesn't get much easier. You open the top, scoop the poop (and pee), close the top and pull the release to let the poop fall down into the sealed space. When it is time to empty it you use the built in bag cutter and toss it.
Quality: The base product itself has taken quite a beating over the past two years with constant trips all over the place as we've moved our litter boxes, moved ourselves, etc. The only part that didn't stand up great is the side attachment for the scoop.
There is one additional bit that is in all of the materials, the plastic has added antimicrobial materials to inhibit odors caused by bacteria on the pail. While I of course can't comment on whether it is killing microbes, I can confirm that the pale doesn't smell!
---
How Was the Setup & Use?
The setup was extremely simple.  Given the parts that come with it there really isn't a ton to setup.  You most just take the following actions:
Drop in the first bag refill that comes included in the box
Pull the bag through and tie a knot in the bottom of it to seal it off
Attach the litter scoop holder & drop the scoop into it and you're done
Check out my video below for a full rundown on setup, use, and my general thoughts on the Litter Genie:
---
My General Take:
I give it a solid 4.5 stars, all in all it has made my life a heck of a lot easier as a cat owner. When I first got cats I was constantly dragging around a garbage can or using a boatload of shopping bags to get rid of litter and its associated smell ASAP.  With the Litter Genie you get to leave all that behind.
You can leave the Litter Genie Cat Litter System right next to your litter box and easily scoop litter into it in seconds. Not only does it take care of the smell, but it saves you numerous trips to the outside garbage by successfully capturing and covering the scent up.
The Pros:
It minimizes the number of trips you have to take to the garbage or the number of bags you have to use.
It helps contain the smell from a litter box way better than anything else I tried, especially scented litter.
It holds a solid amount of used litter. With two cats mine gets emptied about once a week.
The included scoop has lasted me nearly two years and still seems solid and durable.
It is super easy to change the bags out when necessary, they even indicate when they are almost used up with a black plastic stripe built into the bag.
It is really easy to clean as well. Since it is all plastic you can just spray it out with the hose every few weeks.
Room for Improvement
The side attachment isn't the most durable thing in the world. Mine had one of the two holding 'hooks' snap off after only a few months. Would love it if this was a bit more durable.
Refills do indeed get a little pricy over the long haul since with two cats each refill only lasts about 4-6 weeks. Buying them in bulk helps, but still pricy. I get it though, they are selling razors to sell blades.
Click here for the latest price on Amazon.
---
What's In the Box?
1 Litter Genie Plus Cat Litter Disposal System with Odor Free Pail
1 Scoop Holder Attachment
1 Kitty Litter Scoop
1 Litter Genie Refill
---
Frequently Asked Questions
How large is the opening at the top of the Litter Genie?

It's about 4-5 inches across. While your preferred scoop (if you don't use the included one) might not 'fit in' so to speak, it doesn't need to fit in to be able to drop litter into the required area. The only real concern would be the scoop might not fit in the holder on the side.

How long does each cartridge last?

While this will vary depending on how often you change it mine normally last a little over a month. This is with weekly emptying and two cats in the household.

How much will it weigh when 'full' of poop?

I checked mine the last time (the genie itself + the bag) it was full and it weighed just over 10 pounds when full. Note that you don't have to wait until it is full to empty it, you just might use the bags up a little faster by emptying it more often.

How sturdy are the bags?

The bags are very thick and solid. Even when full of litter there's no chance the bag will rip or break if you tied the knot propertly.
---
If you have any other thoughts on the Litter Genie Plus Cat Litter Disposal System please leave a comment below or send me an email at Craig@StuffCatsWant.com so I can update this article.
StuffCatsWant.com is a participant in the Amazon Services LLC Associates Program, an affiliate advertising program designed to provide a means for sites to earn advertising fees by advertising and linking to Amazon.com.