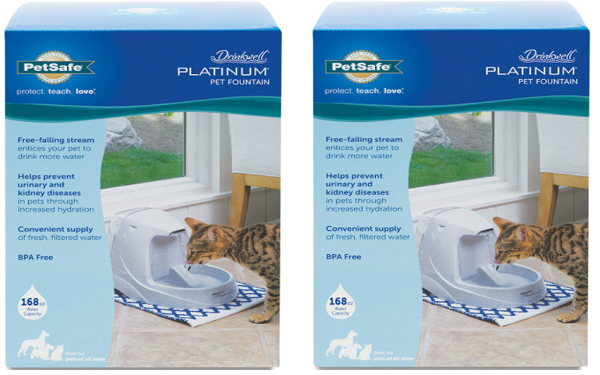 Product Name: Petsafe Drinkwell Platinum Pet Fountain
StuffCatsWant Rating: 4.5 Stars

---
Petsafe Drinkwell Platinum Pet Fountain Product Overview: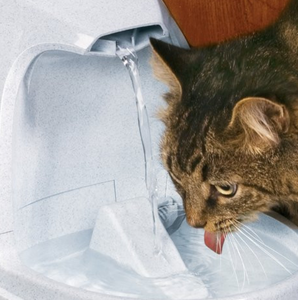 The Petsafe Drinkwell Platinum Pet Fountain is a great plastic fountain that is 100% BPA free & dishwasher safe.  It also has rubber feet to keep it from sliding around on a wood or tile floor which is a huge perk if you have rambunctious cats or another pet like a dog in the house.
The fountain features a huge built in reservoir at a total of 168 oz., it is more than double some other options out there like the Raindrop model.  This means if you want to leave it for a few days without refilling it you shouldn't have any problem at all.
Not only does it have a huge reservoir but it also has an adjustable flow pump so you can figure out the right speed to keep your cats interested in the fountain.
While in general this is a solid fountain, it is worth noting that replacement pumps are not something you can purchase separately. This means if the pump dies the whole unit is useless and you'll have to buy a new one.
This problem is exacerbated by the open nature of the fountain and the fact that it enables lots of stuff to get into the fountain and gum up the workings of the pump.  While experience shows that the pump will last a solid year so long as you care for it properly, it is somewhat wasteful to have to buy an entire new unit for the pump.
---
The Pros:
The plastic the fountain is made from is BPA Free
The fountain is 100% dishwasher safe
The pump has an adjustable flow to slow things down or speed them up
It has a huge reservoir size at 168 oz.
Has a built in pre-filter to help maintain the integrity of the pump
Uses a carbon filter to keep the water clean for your cat(s)
---
The Cons:
The fountain tends to get dirty/gunky easily (some owners have indicated avocado seeds in the water to help prevent this)
The pump is not replaceable, if it breaks/dies you need to replace the whole unit
Given the feature set it is a little bit pricy compared to other similar fountains
If you have the pump on high the splashing can definitely make a mess
---
Tips for Best Usage:
Be sure to top off the fountain with water every few days
Giving the fountain a deep clean every two weeks or so is highly recommended, I'd recommend a dish washer for the top
You'll want to place a tray or mat under it to catch splashes from your furballs so your floor doesn't get soaked
---
Frequently Asked Questions:
How often do you have to refill it?

It has a huge reservoir so every couple of days is fine. The pump will make a lot more noise if it desperately needs a refill.
If you need to leave town for the weekend this fountain should be just fine without a refill.

Is it noisy?

This pump has multiple settings, on the lowest setting the pump is whisper quiet.
There is also a built in "landing area" for the water to fall on to minimize the sound.

Is it dish washer safe?

Yes, the fountain is dishwasher safe.

How often do you have to clean it?

I'd recommend pouring all the water out and replacing it once a week.
I'd recommend a deep clean every two weeks at the least including a deep clean of the pump itself. There's a cleaning kit too if you want it.
This will help maintain the integrity of the pump and also decrease the chances of anything nasty getting in the fountain.

How often do I have to replace the filters?

You'll need to replace the filters about ever 3-4 weeks. You can find the replacements here.

Is the pump replaceable?

No, unfortunately you need to replace the whole unit if the pump fails.
---
Wrapping it Up
The Petsafe Drinkwell Platinum Pet Fountain fountain is a reputable fountain made of BPA free plastic which places it a step above many other plastic fountains.  It also has a very large water reservoir (168 oz) and an adjustable flow control to help find the right speed of water for your cats.
The key drawbacks of this model are that it only has a single level where water can pool and given its open flow nature it does tend to require constant cleaning and can end up making a mess by splashing.
Do you have a water fountain for your cats? If so, do you use the Petsafe Platinum? Do you have any tips to share on using it or reasons people should avoid it?
Please leave a comment below or email me directly at Craig@StuffCatsWant.com if you have any thoughts to add to this article.
StuffCatsWant.com is a participant in the Amazon Services LLC Associates Program, an affiliate advertising program designed to provide a means for sites to earn advertising fees by advertising and linking to Amazon.com.
References: PetSafe Website