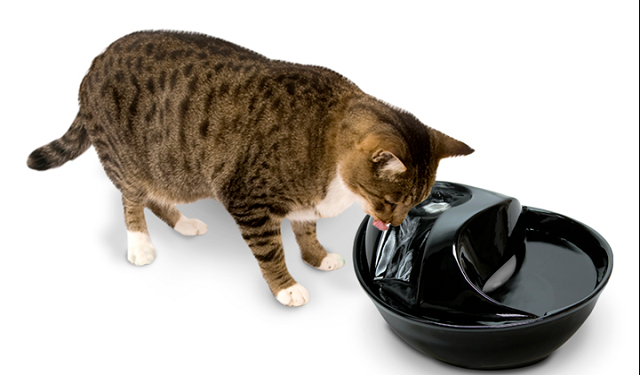 Product Name: Pioneer Pet Raindrop Ceramic Pet Drinking Fountain
Where to Buy It: Find the Best Deal
StuffCatsWant Rating: 4 Stars


---
Pioneer Pet Raindrop Ceramic Pet Drinking Fountain Product Overview:
The Pioneer Pet Raindrop Ceramic Pet Drinking Fountain is a high quality fountain designed with a couple of specific features in mind, beyond the basic one of ensuring your cat drinks more water.
This particular model is made of ceramic instead of plastic or even stainless steel like the other Pioneer Pet Product of an almost identical name. This is a huge benefit to folks who are against using plastic in anything related to their pets or themselves.
Ceramic is far safer material in that it is 100% dishwasher safe and also isn't porous as many forms of plastic are which ensures it doesn't stain as easy or harbor bacteria.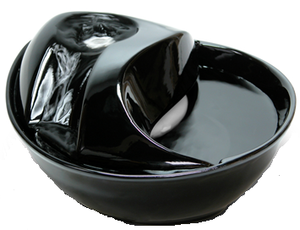 The second major feature to keep in mind is that this fountain is designed with more of a slide than what you might have seen with other fountains. The water does not drop over a fall or shoot out like a human drinking fountain which is another key difference from many fountains in the market place.  This means if you've got a cat that likes a gentle flow instead of splashing or falling water this is the fountain for you.
One last perk, this particular model comes in both black and white ceramic which is a nice perk for those of you looking to match decor.
There are a couple of things to keep in mind though, the fountain has a pretty low water capacity. While it won't run out of water quickly it will end up making a lot more noise as the amount of water in the fountain gets lower and lower.
It is also worth noting that the design doesn't do the best job of keeping hair and other things floating through the air out of the pump. If you clean the fountain consistently though this shouldn't be a huge problem. I've linked a video on cleaning the pump.
Note there is a stainless steel version of this fountain if you like the look of Stainless more than black or white ceramic. If you're interested in the stainless version you can also read my full review of it here.
---
The Pros:
Ceramic is 100% dishwasher safe & considered far more sanitary than plastic, a big perk compared to most pumps
It provides a nice gentle flow of water as opposed to falling water like many other pumps
It is a great looking water fountain given that it isn't traditional plastic, it has a sheen on it
There are two available drinking areas for your cats so they've got multiple options, cats love options
If the pump happens to go (they all do eventually) you can buy a replacement without replacing the whole fountain
Uses a charcoal filter to keep the water clean for your cat(s) to ensure they stay healthy and happy
---
The Cons:
The fountain is relatively low capacity (60oz) so it requires constant refills meaning you can't leave it for extended periods
If the water gets low it vibrates and makes a lot of noise (this is true for most pumps) which can be frustrating in a smaller home
There isn't an adjustable flow control built into the pump so what you get is what you get
---
Tips for Best Usage:
Be sure to top off the fountain with water on a daily basis or every other day at the least or it will start to vibrate
Giving the fountain a deep clean every two weeks or so is highly recommended, I'd recommend a dish washer if you have one
You'll want to place a tray or mat under it to catch splashes from your furballs so your floor doesn't get soaked
The pump itself will need to be deconstructed and cleaned out every other week to keep it working well
---
Frequently Asked Questions:
How often do you have to refill it?

This is hard to guess and depends on your environment & the number of cats you have. If possible I would suggest topping it off daily.
This is not a product you'd want to buy if you're assuming you can leave your cats at home for several days alone.

Is it noisy?

The product is not noisy if it is kept full, but it does have a low capacity and will start to vibrate as the water runs low.

Is it dish washer safe?

Yes, the product is made of Ceramicsl which is 100% dishwasher safe, a nice perk compared to plastic pumps.

How often do you have to clean it?

I'd recommend pouring all the water out and replacing it once a week.
I'd recommend a deep clean every two weeks at the least.
This will help maintain the integrity of the pump and also decrease the chances of anything nasty getting in the fountain.

How often do I have to replace the filters?

You'll need to replace the filters about ever 3-4 weeks. You can find the replacements here.

Is the pump replaceable?
---
Wrapping it Up
The Pioneer Pet Raindrop Ceramic Pet Drinking Fountain is one fountain among a huge playing field fountains. The key differentiator for this product is that it is made of ceramic as opposed to plastic like most of the fountains out there on the market today.
Not only does ceramic look nicer than traditional plastic, but it also does so while minimizing issues that come from plastic fountains like allergies & BPAs. If you're specifically against plastics being used for pets this is a wonderful choice to consider.
Do you have a water fountain for your cats? If so, do you prefer ceramic, stainless steel, or maybe plastic?
Please leave a comment below or email me directly at Craig@StuffCatsWant.com if you have any thoughts to add to this article.
StuffCatsWant.com is a participant in the Amazon Services LLC Associates Program, an affiliate advertising program designed to provide a means for sites to earn advertising fees by advertising and linking to Amazon.com.
References: Pioneer Pet Website