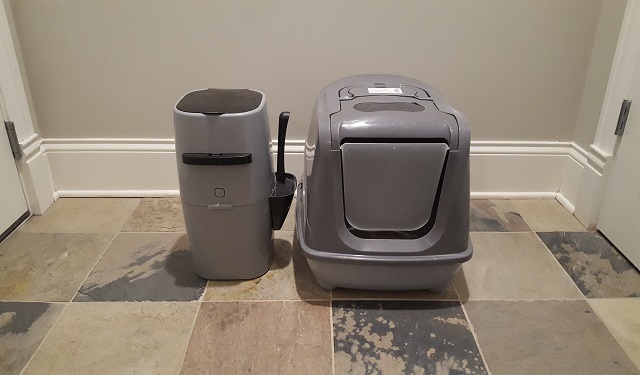 Product: Sophresh Litter Box – Flip Top Front Door Version
StuffCatsWant Rating: 5 Stars

Check out the video review right here or read on below!

For links to the product click here to scroll to the bottom!
---
Product Overview
We purchased this Sophresh litter box for our cats after a specific week of our cats kicking litter all over the darn place from our first traditional litter box with low sides.  We were looking to help minimize litter tracking more than anything and this litter box really fit the bill. The litter box is made up of two completely separate pieces that can be purchased distinctly, but they combine to make a far better product than either piece alone.  Kind of like Voltron, or perhaps the Power Rangers. Blue ranger anyone?
Anyhow, that aside, this litter box has been a total success for us on every front.  It has done wonders to help us control our previous litter kicking and tracking issues.  Both Lexi and Beast really like to scatter litter all over the place once they're finished going. Sometimes they'll stay in the litter box for 2 or 3 minutes just mucking around and making a mess. This being fully enclosed heavily reduces the amount of litter that gets booted out the sides.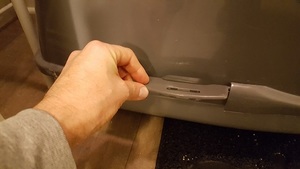 On top of this, once in a while Lexi has a really bad smelling trip to the litter box and even though she covers it we used to have problems with it causing everyone in the room to vacate the premises for the next 10 to 15 minutes. This litter box does a heck of a lot better job containing the nasty odors that once in a while waft out of the litter box from our feline friends. It also does have a built in air vent on the top that comes with a filter, but I'll freely admit I haven't changed the filter for an extended period of time and I've noticed little to no difference in its ability to contain/control scent.
As for construction, pretty straight forward. It has two simple plastic clips attached to the top section of the litter box. You simply set the top right on top of the bottom section and snap them closed. Voila! You've got yourself a fully covered litter box that is ready to go. Both pieces have held up incredibly well to the wear and tear of two cats entering and exiting consistently. The swinging front door still works great.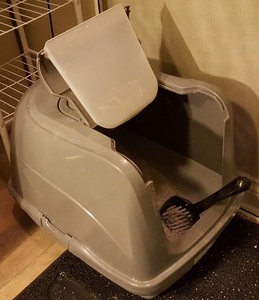 As for scooping, super simple. You don't even have to take the top off to scoop. The door is designed to flip up and stay in a "locked" position until you put it back down. This makes it a breeze to scoop quickly and then drop the door right back into place.
Cleaning has proven to be a really simple process as well. Given that the litter box top comes off so easily you can quickly remove it and take dump the litter then spray the whole thing down with a hose and a scrubbing brush with some strong bristles.
The only piece of the cleaning job that can be a bit of a hassle are the 4 little divets in the bottom section of the litter box. If your cat pees near this, which they inevitably will, the litter can get stuck in here pretty easily and cause a bit of a hassle. From looking at the newest model of this litter box it looks like their design team has removed these little spots which is a great choice as they were functionally useless anyway.
---
The Pros:
It does an excellent job of controlling litter tracking by enclosing all of the sides and the top.
The scent control is a significant upgrade over any open litter box.
Scooping is a breeze with the flip up and lock front door, it only takes a second and works great.
Durable construction that has lasted a ton of moves within the house and two cats constantly using it plus daily scooping.
It is super easy to construct, maintain, and clean when it needs a deep cleaning.
It is a very affordable litter box compared to a lot of the more advanced ones on the market.
---
The Cons:
It wouldn't be ideal for large cats as it isn't an extremely big litter box, my cat Lexi is 12 pounds and she does fine in it though.
The 4 little plastic divets in the bottom section are pointless functionally and are a hassle to clean when your cat pees in them.

Note: These look to have been removed from the newest model which is a great modification.

While it does have an easy to carry handle built in I wouldn't recommend using it while it is filled with litter, it just seems like it would really strain the clips holding the pieces together.
---
Tips for Best Usage:
Keep about 2-3 inches of litter in this litter box at all times, I keep my litter pail nearby to top it off as necessary.
It isn't a huge box so I'd highly recommend you scoop it every single day, especially if you have two cats.
Be sure to place it in a location where the front is easily accessible with your dominant hand for scooping purposes.
Give the litter box a deep clean by dumping all the litter and washing it with a hose/shower & soap every 2-3 weeks.
If you can keep it in an enclosed space with your litter mat(s) in place so your cats shake off the last of the litter while walking out. I keep mine in my closet with the doors mostly closed, I've opened them up for the picture to the right so you can see how mine is setup.
---
Frequently Asked Questions
What are the dimensions of the base ?

The base is about 15 inches wide X 20 inches long and about 5 inches tall.

What are the dimensions of the hood?

The hood is about 15 inches wide X 20 inches long and about 10.5 inches tall.

Is it easy to scoop, many covered boxes are a hassle?

This particular model was special designed to make it easy for you to scoop. The front flips up and out of the way and stays locked there until you manually move it back into place. The opening is easily large enough to fit any litter scoop inside to clean up.

Has the door ever gotten stuck closed?

I've never once had the door get stuck closed, my cats have never been locked out of or inside of the litter box.

Is a deep clean easy?

Yes, deep cleaning is very straight forward. Pop the top off, dump the remaining litter in the garbage and then you can easily hose it down outside or with a shower head. If there's litter stuck to it be sure to scrub that off outside, it shouldn't go down your drain.

Are there liners available for this model?

Yes, liners are available directly from Sophresh. You'll want the 17 inches by 30 inches liners for this model. Keep in mind though with the hood on it would be a bit of a hassle to use the liners as you'd have to remove the hood each time.
---
Wrapping it Up on the Sophresh Litter Box – Flip Top Version
By this point in my cat care "career" I've gone through numerous litter boxes, from the simple rectangular tray to the top entry to the covered and hooded version. I will say this is by far one of the best litter boxes I have owned, especially given the fact that it comes in a heck of a lot cheaper than a lot of other litter boxes out there on the market.
The litter box does an excellent job on controlling litter tracking, which is by far the most important aspect from my personal point of view. On top of this it has added benefits of helping with odor control, but not making scooping a total pain in the neck like several other covered litter boxes I've used in the past.
The only real drawback I ever identified with this litter box was the design of the bottom piece being a little odd, but it looks like the newest versions of the product have remedied this particular issue. The only other considerations I'd take into account are if you have a very large cat or a cat that won't used an enclosed litter box. 
A special note, you do have to purchase the two pieces of the litter box as separate items from every vendor I've been able to find. Check out both links below to find the matching pieces.
Find the Best Deal On the Hood
Find the Best Deal On the Base
Do you use a covered litter box or a flip top litter box of some sort? What has your experience been with the one you're using?  If you've used something else please tell us about it! Please leave a comment below or email me directly at Craig@StuffCatsWant.com if you have any thoughts to add to this article.
StuffCatsWant.com is a participant in the Amazon Services LLC Associates Program, an affiliate advertising program designed to provide a means for sites to earn advertising fees by advertising and linking to Amazon.com.