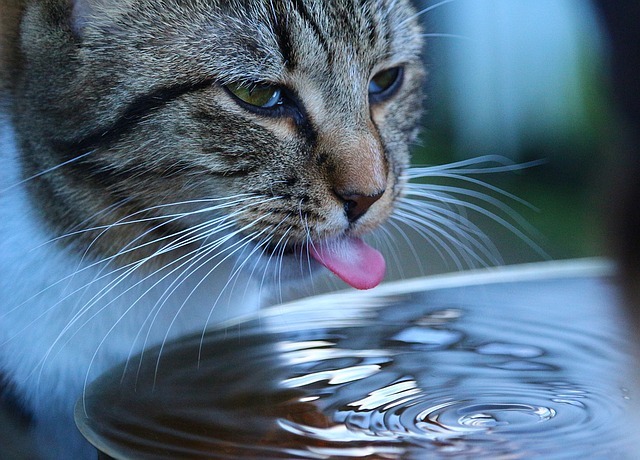 Product: Catit Water Fountain
Cheapest Place to Buy: Amazon
My Rating: 4.5 out of 5

---
Catit Water Fountain Product Overview
For anyone asking "Why would a cat need a water fountain?" please check out my article on ensuring your cat stays hydrated and why it is important.  If you've already read it then you're probably wondering what is the best cat water fountain, and I'll be honest, you've found it right here!
The Catit Flower Fountain is a kind of like a unicorn minus the coloring of all the unicorn bread and lattes I've been seeing around lately. It is the best in class, but it is the best in class across a variety of different areas of interest:
Pricing: It is very affordable compared to a ton of other cat water fountains
Noise Level: It is quite quiet compared several other products on the market
Ease of Use for Cats: It is at just the right height for your typical cat making it easy for them to drink
Ease of Use for Humans: It is incredibly easy to clean and it is incredibly easy to fill
Quality: The product, while light, is quite sturdy in general
Great Vendor: Catit has been shown to be incredibly accommodating when a part breaks or something crazy happens like a cat tree falls on your water fountain. They've even been known to ship free parts to people in certain circumstances.
All in all it is a great product in a very nice affordable price range. While there are of course more expensive water fountains out there with different features, this is definitely a great way to go, especially if you're just choosing your first fountain.
---
How Was the Setup & Maintenance?
The setup was a breeze. The instructions are incredibly straight forward and they only have a few simple steps. You can watch my YouTube video of the setup below, but it only took about 3-4 minutes once I had all of the parts out of the box.
Here's a quick summary of the setup:
Unpack all the parts & clean the basin and other parts thoroughly
Insert the small black pump connector & stick the pump in the basin
Place the basin top on and lay the filter inside
Insert whichever water distributor pieces you would like to use (basic, bubbler or calm streams)
Then simply place the fountain wherever you'd like your cats to drink from it and plug it in
 Maintenance is also quite easy. I have two cats in my house and weekly cleaning seems to work quite well for me. Here's a quick rundown of the maintenance steps as well:
Deconstruct the fountain & separate the filter & motor from the other parts
Wash the basin & distributors with a non abrasive cleaner (dish soap is fine)
If the filter contains too much gunk (cat hair and such) replace it, you can get new filters here
If the pump appears dirty then open the pump and remove the impeller cap and clean it all with a cotton swab

Be extra careful with the motor because it is fragile, if you do happen to break it you can get a new one here

Reconstruct the fountain and fill it with water before turning it back on
---
My General Take:
I give it a solid 4.5 stars, mostly because there are a few tiny things that could make it even better!  That being said, I think this is honestly one of the best cat fountains on the market. There are only a few small things I would change with it and most of those I could see making the production of the product significantly more expensive. Accounting for everything I think this is an excellent product and you can't go wrong with the purchase.
The Pros:
It encouraged both of my cats to drink on a more consistent basis.
It comes in at a great price.
It is super quiet compared to most fountains I've experienced.
It has a large tank that doesn't need to be refilled often.
It is very easy to take apart and clean on a weekly basis.
Saves you from refilling bowls daily or from running a dripping faucet depending on the cat.
Room for Improvement
It would be nice to be able to tell how much water is in it without picking it up or opening it.
Unless it is filled with water all the way it is quite lightweight making it easy to tip or get knocked over.
I personally don't love plastic from a disinfecting standpoint, I'd prefer stainless, but it is dishwasher safe.
Click here for the latest price on Amazon.
---
What's In the Box?
1 Water Fountain Basin (100 oz)
1 Water Fountain Top
1 Water Fountain Filter
1 Water Fountain Flower Gentle Water Flow Top
1 Water Fountain Flower Bubbling Top
1 Water Fountain Flower Calm Streams Top
1 Water Fountain Pump & Power cord
1 Water Fountain Pump Attachment
---
Frequently Asked Questions
Is it hard to get your cat to use it?

Both my cats are very easily startled and they took to it in less than 48 hours. Based on additional Amazon reviews this seems to be the consensus.

Can you buy just one part if something breaks?

Most of the major components can be purchased separately, the pump for example is available on Amazon.

How large is the fountain?

Product Dimensions: 8.3 x 8.3 x 7.3 inches

Does it have a battery backup?

No, there is no battery backup if the power goes out.

Is it easily flipped over?

Larger cats or mischievous cats have been known to flip the fountain over with relative ease. This does make a huge mess and can destroy the pump if it ends up out of the water.

How often should I clean the filter?

It is recommended you clean it weekly.

Is the plastic the fountain is made of BPA free?
How long is the cord?
---
If you have any other thoughts on the Catit Water Fountain please leave a comment below or send me an email at Craig@StuffCatsWant.com so I can update this article.
StuffCatsWant.com is a participant in the Amazon Services LLC Associates Program, an affiliate advertising program designed to provide a means for sites to earn advertising fees by advertising and linking to Amazon.com.