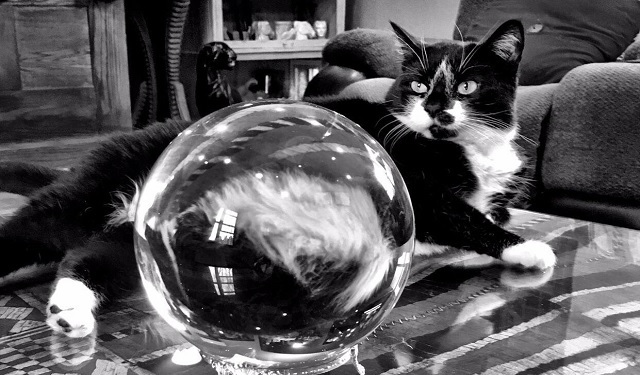 Here's the story of a cat named after a city! London's older human siblings were driving around right near high school graduation and they saw a sign for free kittens on the road! They figured to themselves what better gift than that of feline companionship? I like they way they think!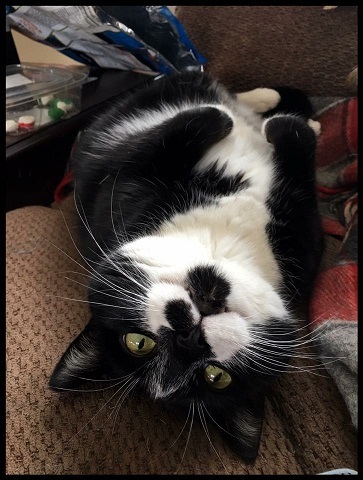 They decided to adopt two of the kittens right there on the spot. Enter London, a close friend of the family. One of the kittens was adopted for London and voila, moments later little London had her name. And you thought she was named after a city (just like me) didn't you?!?! Long story short both of the siblings, Charlie and London, ended up at mom's house and became her responsibility to look after.
In the spring of 2013 London became anorexic and developed Hepatic Lipidosis, fatty liver disease. London's family didn't realize she hadn't been eating until she started acting differently. As soon as they noticed the change they took her to the family vet she stayed there for a couple of days, but unfortunately they didn't see any improvements so they moved her to the local pet hospital.
She stayed there for a week but still refused to eat. The only option to keep her going was to have a feeding tube put in so they could bring her home. All together London racked up some major vet bills for her family, they were around $5,000.00.  London's mom was out of town when she was finally able to come home so her son would feed her every 4 hours. Every feeding took at least 30 minutes. Not only was the family incredibly proud of their son for keeping little London going, but she was incredibly thankful as well! For anyone considering adopting a pet you might want to consider pet insurance in case something like this happens. But be sure you know the facts before you get it!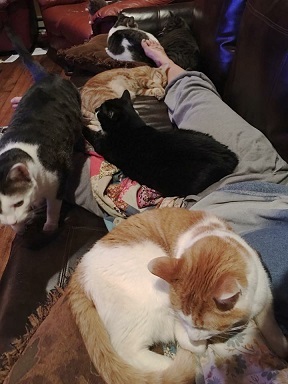 Tube feedings continued for quite while trying to get her to eat solids again. It took over a month until little London finally began to eat solids again. She is now a healthy little fat cat! She's still got a bit of a diva attitude (don't they all?) but she is absolutely adored by her family.  London has quite the family of friends to enjoy her life with too.  She lives with her cat friends Charlie, Gracie, Reme and Pumpkin. She also lives with her dog friends Thelma And Louise.
To submit your cat for Cat of the Week please send at least 4 photos and a description of at least 400 words to Craig@StuffCatsWant.com.