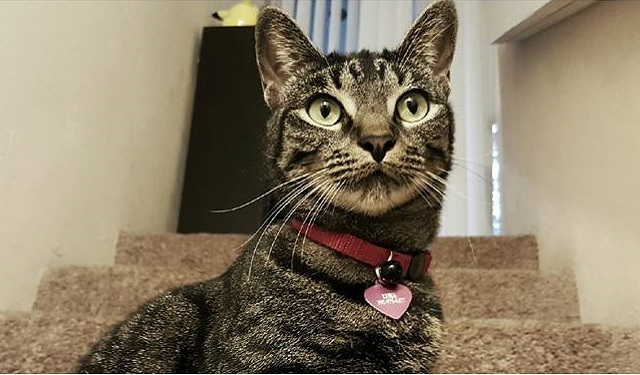 Everyone meet Luna. This gorgeous feline was submitted by Instagram User Miaeatsfire and we thank her for her submission!
5 years ago while walking across her apartment complex to the onsite laundry facility Miaeatsfire suddenly heard a loud meowing sound. She set her laundry down to started searching for source of the meowing, certainly a distressed cat was somewhere nearby. A few feet away she found Luna in the grass, Luna was so in shock she didn't even move when she was approached.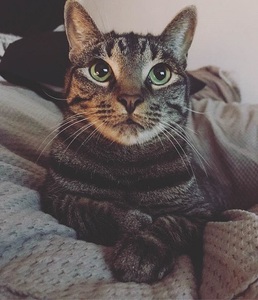 So Miaeatsfire scooped Luna right up and took her back to her apartment and gave her tuna and decided to name her Luna. Her big beautiful green eyes were round like the moon, her spirit reminded Miaeatsfire of Luna Lovegood. While a considerable effort was made to locate an owner of Luna, over 3 months had gone by searching and not even one response was received! The final conclusion was that Luna had been abandoned, but fortunately in this case it ended well!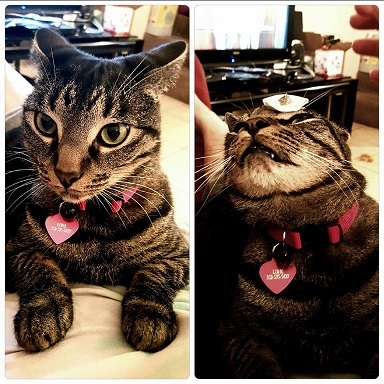 You can see in this fine photo that Luna wears a collar. Collars are essential if you ever worry about your cat getting outside and wanting to find her. My personal opinion is that cats should
absolutely wear collars
and should always be microchipped! Luna's mom was absolutely overjoyed to keep her. Luna is extremely well behaved, even today her husband isn't totally convinced that Luna was "found." Luna's favorite things include slinging hair ties across the room and into random places like the sink. She also loves rubbing her head across feathers.
Her favorite place to sleep is below her humans' feet and under the blankets. She's a very timid cat but when its quiet and calm she loves to be social. One of her favorite games is playing a parachute game with the sheets. If you're a newer cat owner always be sure to
play with your cat
, it is great for their health! She loves the air bubbles and we will spend 10 minutes before bed playing the game.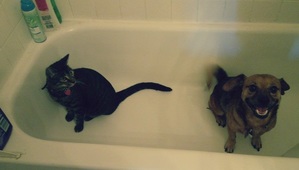 Over the years Luna and her family have built a special bond. They belong to each other and Miaeatsfire truly feels like they were meant to find each other. She is a perfect example of how cats can really build a bond of trust and pure love. You can even see above that she gets along well enough to jump in the bath tub with the family dog! Anytime Miaeatsfire meets someone skeptical of cats being able to love she always talks about Luna's loyalty. Luna is her best friend and her family!
To submit your cat for Cat of the Week please send at least 4 photos and a description of at least 400 words to Craig@StuffCatsWant.com.