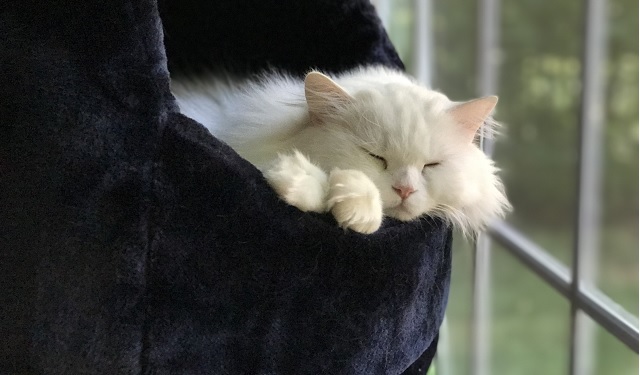 This week's cat of the week comes to us from Instagram user DannyLyon! Check out the beautiful Persian Maya!  Maya is a two-year-old Persian that was rescued from Homeward Trails in April of 2017. Their previous kitty, a 7-year-old Maine Coon, passed away from liver cancer in February 2017 which left them heartbroken. So when the family saw a friend post on Facebook that Homeward Trails had just completed a rescue effort in Kuwait (where numerous cats and dogs roam the streets) they got interested!
Maya is one of the cats who was rescued from Kuwait last Spring. She was spayed shortly after arriving in the states and had an infection in her spay incision; thus, she had to wear a blue surgical shirt for a bit. While the family tried as hard as possible to limit her activity, it proved to be quite difficult as Maya loves to play because she's very active and relatively young.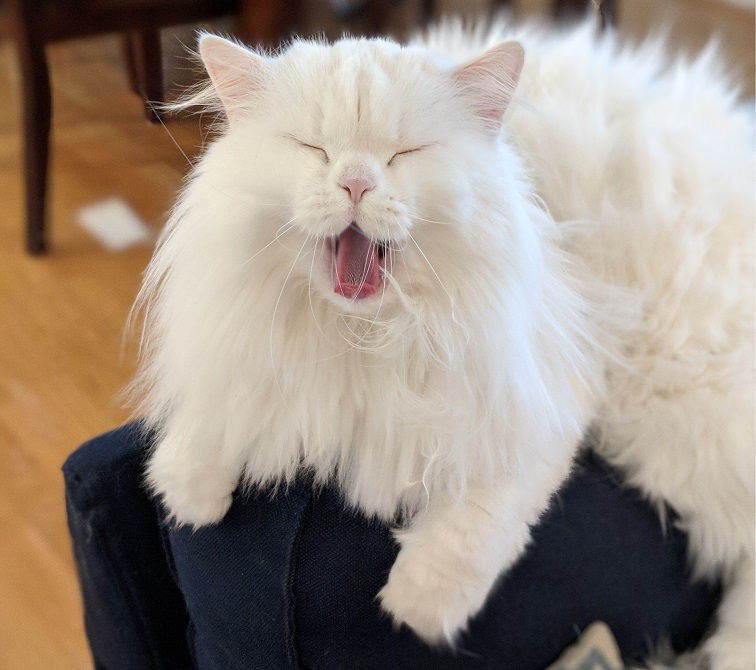 Since adopting Maya, she has settled in nicely with our family of four in the suburbs of Washington, D.C. Maya is extremely social and wants to share the latest news and give you the lowdown on her day (read: she is extremely chatty!). She is also very playful; her favorite pastimes are playing with catnip mice, swatting at and chasing the kid's Lego pieces and hunting bugs. Perhaps she'd like Hexbugs as a substitute! If you need ideas on keeping your own cat entertained check out these toys!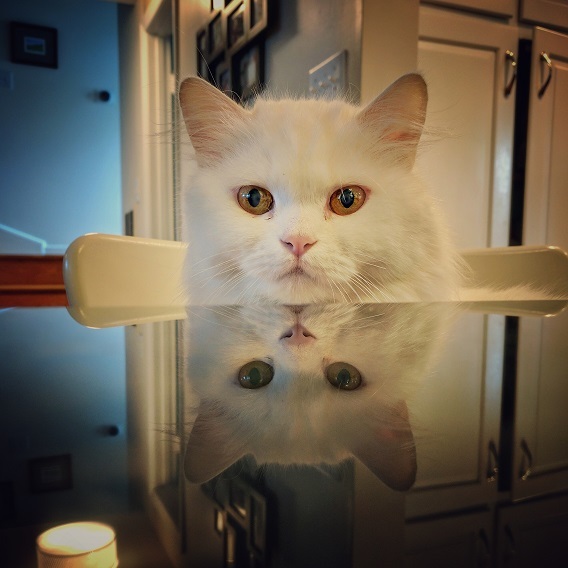 Maya enjoys keeping everyone company throughout the day whether on the sofa, in bed, on the desk (mom works from home) and at the dinner table – yes, she really does join the family at dinnertime and sits at the 5th chair at the table. When she is really well behaved, she will get a tiny treat of fresh fish or grilled chicken.
Maya loves wildlife and perches herself in the bump-out garden style window in the kitchen to watch birds in the front yard and enjoys her view from her cat tree to keep watch on our backyard. While Maya has it made with her window setup, check out the these window beds if you're looking to get your cat squared away!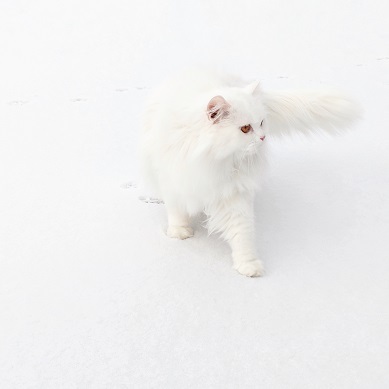 When it snowed for the first time in D.C. this winter, Maya would not stop meowing to go outside. She is an indoor kitty, however, it was clear she wanted to check out the snow. Her winter coat has come in and Maya was escorted by the family and walked outside through the carport and went exploring. She cautiously walked through the 1" of new-fallen snow and it was then that this photo of her was taken – white fur on white snow.

Maya loves to be held like a baby; she will wrap her front paws around your arm as you pet her chest. We're pretty sure she is determined to convert all non-cat lovers to cat lovers for life. Needless to say, Maya has won over many hearts already. Maya has brought much joy and laughter to our family and we are forever grateful to be her owners.
To submit your cat for Cat of the Week please send at least 5 photos and a description of at least 400 words to Craig@StuffCatsWant.com.