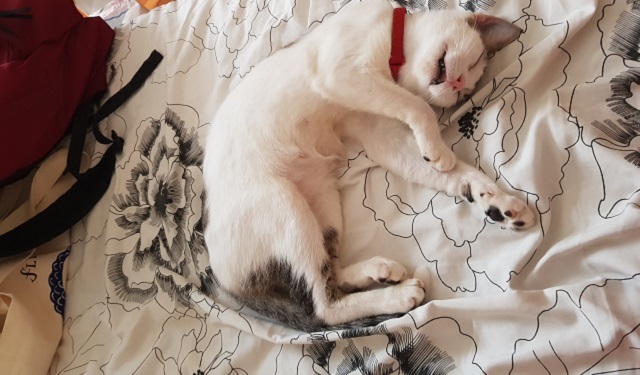 Everyone meet the beautiful Tutu! Tutu was submitted to us by her human Alice all the way from Brazil and we thank her for the submission! She looks quite dapper in her red collar doesn't she?

​Alice found Tutu during work hours. She was visiting a fair where she was interested in displaying ​her pictures as she's an artist and university student.
She fell in love ​with Tutu minute ​she saw ​the cute, but frail 8 months old spotted cat right next to the fair's entrance! She was looking lost so Alice sat down to caress and talk with her, and she just seemed weak as can be.
Alice told ​Tutu she had to get some things done and if she was still there when Alice ​got back she would bring her home. ​No surprise, Tutu must have understood the opportunity, she was right there when Alice ​left the event!
Alice picked her up and brought her to the vet and ​found out she was FIV-positive, but ​FELV-negative. For anyone unfamiliar with FIV you can read more about FIV here on PetMD.
FIV is far more common among street cats as they can get in fights over territory and the most common method of passage is through deep bite wounds.
​It has been about 6 weeks since Tutu has become part of the family. She's a living example of how much a FIV positive cat can be strong and such a warrior! She also knows exactly how to sleep on a comfy bed!
​Tutu is an extremely cuddly and talkative, making very soft meows at ​her humans when she's hungry or needs attention.
She follows ​Alice absolutely everywhere, and loves to sleep on top of the dining chairs, or on top of ​Alice's red blanket, her favorite object to knead on.
​Tutu has doubled her weight and regained interest in playing​ with toys which she probably didn't do much as a ​kitten ​living in the streets. She adores feet, and will rub her head on any she sees.
Taking care of her has been ​a very rewarding experience! And she rewards her humans for the care ​with good morning headbutts every day.
Alice says she has never seen a cat love kisses and cuddles so much, and, even though ​Alice's dad wasn't a big fan of cats the tides are ​even beginning to turn on him! ​​Nobody can resist such a talkative and adorable little feline!
​​We at StuffCatsWant also thank ​Alice for submitting ​Tutu as Cat Of the Week!! Please submit your cat as cat of the week by emailing StuffCatsWant@gmail.com with 5 pictures of your cat(s) and a short description of him or her or them!
​StuffCatsWant.com is a participant in the Amazon Services LLC Associates Program, an affiliate advertising program designed to provide a means for sites to earn advertising fees by advertising and linking to Amazon.com.