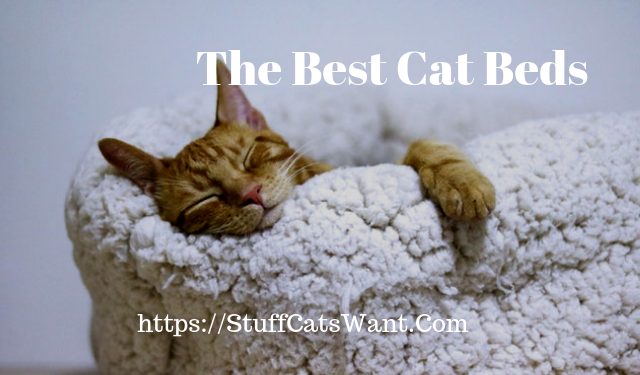 Is your cat making herself at home on every piece of furniture you have in the house and covering it in fur? While this is pretty typical for any domestic house cat you can help alleviate the problem by providing a better place for your cat to sleep.
You want to find yourself a cat bed! One of the best cat beds on the market if possible.
So let's dig into the top of the line cat beds on the market. Some are silly and some are so comfy you're going to wish it was your own bed. You might get jealous and try to order 100 of them to turn them into your own bed!  Who knows, we cat owners are a strange breed aren't we?
Note: This article will not cover any window beds or ledges or any heated cat beds. If you're looking for a window bed then check out my article focused on the top 10 window beds for cats!
---
---
Twin Critters – Handcrafted Ecofriendly Cat Cave (Shark Model Also Available)

The Twin Critters merino wool cat cave offers plenty of space for cats of all sizes. This cozy nook provides shelter for baby kittens, and large Maine Coons.  Each twin critters cat cave is carefully handcrafted in Nepal, so you know the quality is second to none.
Twin Critters prides itself on making sure that your furry friend feels safe and sound – that's why they use 100% all-natural New Zealand wool which is some of the best in the business.
The entire cat bed is made without the use of any harsh chemicals. It is constructed an ancient technique called felting, artisans mold each KittiKubbi with the help of water, soap, and merino wool.
The product is also dried 100%  naturally to save on energy and ensure the product is as natural as possible.
One of the best things about a merino wool cat cave that it is super soft and ultra-durable while at the same time providing a hideaway that keeps your kitty warm in the winter, and cool in the summer.
A few additional things worth noting:
It is 12 inches tall by 20 inches across and the entrance is about 9 inches in diameter
It will easily hold a large cat, when I say large I mean up to 20 pounds
The shape is a bit malleable, if you want you can scrunch it down into a cat mat instead of a cave
Cats of all shapes and saves absolutely loves this cat bed, inside it, on top of it, any way they can use it
It is also worth noting there is a shark specific shaped model available for those of you wanting an extra cool bed
---
Pet Magasin's Luxury Four-Way Snuggly Cat Hideaway

If you're looking for a cat bed that is incredibly versatile then this is the option for you. Not only will this serve a as a typical cat cave, it has 3 other options to keep your cat comfy.
You can lay it down to make it a flat bed, you can stand it up to make it similar to a cup, or you can fluff it up to make it look like a pod!  Talk about options, it'll keep your cat warm and interested for ages given all of the different ways you can set it up!
Thanks to its faux-fur lining and trim, a microfiber outer blanket and combination of fleece and foam padding, this bed gives your cat the luxurious comfort he or she deserves.
Not only is it going to provide the comfort your little king or queen expects, but it will also last a good long time so you don't have to go buying another bed in the near future!
A few other items worth noting with this awesome hideaway:
At 17″W x 12″H x 22″D, it's plenty big enough for any cat other than maybe a large Maine Coone, in fact it'll easily accommodate two average house cats!
It is recommended that you hand wash this particular bed, you can tumble dry it though!
It is super soft and comfy and it comes in at a very affordable price point
The 4 different options give you a ton of versatility in how you want your cat to enjoy this bed
It has an awesome self warming layer built in, but it won't make any annoying crinkly sound that mylar normally makes
---
The HotelPaw Shark Pet House w/ Removable Cushion

Cat beds honestly don't get a lot cooler than this.  If you're looking for both the sexiest and the most vicious cat bed around then you've hit pay dirt.
This shark shaped cat bed will not only make your cat feel right at home, it is also an awesome conversation topic and a nice piece of decor for anyone who loved the move Sharknado, or I suppose Jaws for folks that are a bit older!
There are several awesome features worth noting:
This bed will keep your cat warmer than the surface of the sun, both the inside and outside are made of high-quality fiber fabrics,that radiate heat back at your cat
The bottom is made of anti-slip material to ensure it won't slide all over as your fur ball makes her way in and out
Given the dimensions (20″ x 20″ x 15″) it will easily hold a very large cat, upwards of 20 pounds should fit no problem
The interior bed cushion is removable and machine washable making it simple to disassemble for travel
It comes in at a pretty average price point for a cat bed, it is certainly not on the expensive side for how awesome it is
In case you're curious it is made of Fiber Cloth,Oxford Cloth and PP Cotton Filler
---
The Mojonnie Extra Warm Cat Tent for Winter

If you're looking for a bed for your cat purely for warmth, but you don't want to risk a heated cat bed, this this is one of the best options out there. This bed will keep your cat warm even when the temperature plummets!
It looks like a mini cat cave and there's no room for cold air inside once your cat climbs in and curls up into a ball.
A few features worth noting:
The bed is made with extra warm and soft velvet & cotton. Not only is it extremely comfortable but it is also durable ensuring nothing will fall off the bed if washed or used extensively.

If you're looking for a variety of colors Mojonnie has you covered, this bed comes in grey, light brown and chocolate 

The dimensions of the bed are 19.7″ x 15.7″ x 11.8″ which will easily suit a cat that is 14 lb or less. If you have a smaller cat and want them to be extra cozy you can always opt for the small size instead.

The bed is soft and easy on your cat's skin to makes her feel comfortable and cozy.

The whole bed is machine washable, but you should not put it in the drier, let it air dry instead!
---
The Aspen Pet Self Warming Cat Bed

You may be asking yourself 'How the heck is a cat bed self warming?' when you read the title of this particular model. Well, this is yet another way your cat can pretend to be an astronaut beyond getting a Cat Bubble Backpack.
In this particular case you're basically get a cat bed that has a sheet of mylar built into it. For anyone unfamiliar with mylar, it is that super thin stuff that looks like aluminum foil that you take hiking with you in case of an emergency.
It is extremely lightweight, but it does an amazing job of reflecting heat back at the source which ensures that as soon as your kitty lays down in this bed it will warm right up for them!
A couple of other things worth noting about this bed:
It is made from faux lambs wool and wide wale corduroy to ensure it is durable while staying comfortable

It comes fully equipped with with a non-skid bottom to ensure it'll stay right where you put it

The bed is fully machine washable so you can keep it clean, but not by breaking your back washing it yourself
This particular model is round, but there are a bunch of options in different sizes and shapes to accommodate cats of any size
---
The Best Friends by Sheri Ortho Comfort Deep Dish Cuddler Self Warming Cat Bed

I already spoiled the surprise in one of the models above on how this bed is self warming so I won't dig into it much detail, suffice it to say that there's a layer of mylar built into it to warm your kitty right up!
The major difference between this model and the Aspen Pet model is the much higher walls on the sides that make it feel more enclosed, but without it actually being a cave.
This option also has a design that is engineered to help ease any joint pain in your feline friend by providing an ergonomic design. Who knew pets needed ergonomic beds like us humans?
The back is designed to stick up higher than the front so your pet stays nice and warm and can rest their head on the edge of the bed without any pain!
A few other things worth noting on this model:
This has one of the widest ranges of colors available of any bed on the market, if you're looking to match decor then look no further than this model
The bed is fully machine washable and dryer safe too so you can wash it and have it back in business quickly
The interior walls are bar stitched to keep the filling in place during washing, all the fluff will stay well distributed
It is stuffed with virgin AirLOFT fibers, it keeps its loft for up to 3 times longer than the second-hand fibers found in most other pet beds
---
The Aspen Pet Animal Print Traditional Round Bed

While cheetah print is not exactly my favorite option in the world, the simple fact is that this is an excellent cat bed and it comes in at an incredibly affordable price compared to most other beds on the market.
Aspen Pet is well known for making high quality products and this one is no different than the rest of their product line. This circular shaped bed is 18 inches in diameter and is filled with a high-loft recycled polyester fiber fill that will make your pet feel at home.
It also has slightly raised sides so your cat can cuddle up in a circle and feel enveloped by the sides for extra warmth.
A few additional things worth noting:
As mentioned above, the key selling point on this bed is the price, it comes in at about a third of the cost of the other beds here
Even though it is wild animal print it is 100% machine washable to make cleaning a breeze
It is super lightweight so you can easily move it all over the house or take it with you if you're taking your cats traveling somewhere
At an 18 inch outer diameter it would easily accommodate two smaller sized cats (8-9 pounds) at the same time
---
The Armarkat Oval Shaped Cat Bed

For the last 20 years Armarkat has been internationally recognized as the most reliable brand for quality, endurance and style at affordable prices. This means that if you buy from these guys you know you have an experienced crew behind the design and construction of your cat bed!
Armarkat prides itself on bringing all sorts of new ergonomic beds to the market to ensure your cat stays happy and comfortable, and they do it while also providing a huge array of colors and shape options.
This model in particular is octagon shaped, but if you check out the link below you'll find a large host of other shapes and sizes available. If you're curious what it is made of the materials are Faux Suede and Soft Velvet and filled with extra thick 100% poly fill for maximum comfort.
The key features worth noting:
Coming in at a size of about 20″ by 20″ with 8″ high walls, this bed easily accommodates large cats or multiple cats with no problem
This bed is both washable and stain resistant , so even if something does sneak through the stain guard you can toss it right in the wash
You can also remove the pillow from the inside so that drying isn't such a long winded process
The base is skid free to it'll stay put even on hard wood or tile floors
---
The Best Pet Supplies Pet Tent

If you're looking for something with a bit more of a modern look to it to fit in with your home decor then the Best Pet Supplies Pet Tent is a great option.
Not only does it provide a nice comfy place for your cat to relax, it also helps keep your kitty nice and warm by enclosing her on 5 of 6 sides! The spot left open is the front door!
This tent is pretty darn cool in that you can choose from various materials including faux suede, linen or corduroy depending on what suits your home.
Every bed is stuffed with soft poly-foam lining to ensure it keeps its shape and looks nice! It is also fully equipped with a skid free base to keep it from sliding all over the place on a hardwood or tile floor.
A few other items worth noting:
The exterior of the bed measures 19″ by 19″ by 19″ meaning there's lots of space inside for your kitty to relax, two cats that are friendly will easy fit in on top of one another
It comes in about 7 different colors to help you match it with your home decor
There are multiple sizes available in case you have a smaller cat and would like to give her a more snuggly cave
The tent is 100% machine washable to ensure it stays nice and clean, and the pillow can pop right out if you only want to wash that piece
---
The Armarkat Cave Shaped Cat Bed

If you're looking to provide your cat a bed that looks a heck of a lot like a manger than Armarkat has you totally covered. This particular bed looks like you could drop it right into most baby strollers and it would fit right in!
All you would need is a cute little cat sweater for your feline friend and you'd be good to go!
This model is made of faux suede and faux fur so it is 100% friendly to all our fellow animals and it is 1000% comfortable too! Where does that comfort come from you ask, well it is filled with extra thick 100-percent poly fill for maximum comfort.
The base is waterproof just in case and it also skid-free to ensure it won't go sliding all over the place every time your fluff ball hops in and out of it. 
A couple of other items worth noting about the Armarkat Cave Bed:
The d

imensions come in at about 18″ in length by 14″ in width by 12″ in height meaning even a rather large cat will fit in it no problem

It holds its shape really well even if you wash it, which by the way it is 100% machine washable as well
The cushion you see inside the bed is definitely included and that's where all the comfort comes from, it is removable as well
The front of the bed is about 5.5″ tall in case you have an older cat
It comes in multiple colors including beige, green and red
---
The KingFa Cave 2 in 1

This is a two in one bed that is basically both a cave and an open air bed. I personally like this for when the weather shifts from warm to cold and I want somewhere extra cozy for my cats to sleep.
It can be converted from one to the other in seconds and will keep your cat intrigued for long periods of time.
This particular model is great for cats that are extremely curious or get bored of new things easily. Just a quick change and you've got a completely different bed available for your cat to explore!
Other items worth noting on this model:
It has a nice no slip bottom attached to it so even on wood floors it won't go sliding around
It is 100% machine washable so you can keep it nice and clean with ease
It is focused on animals that are about 12 pounds in size or less, so if you've got a Maine Coon look elsewhere
You've got five different colors you can choose from to match your home decor
It measures 16″ L x 16″ D x 12″ H (13″ in D at the top if the lid is on)
---
The Best Friends by Sheri Pet Igloo
You saw another bed by this company up above, that's the Deep Dish Cuddler. Sheri Pet is known for making amazing beds and this one fits the bill.
It is a cave that will let your cat feel like a sleeping monster with her own lair to come in and out of. The key thing to note is that this cave is designed for cats that are on the smaller side, about 8 or 9 lbs.
A couple of additional items worth noting on this model:
It is designed with embossed Ilan fabric and tough oxford fabric to be both pet-safe and easy to clean

The bottom of the igloo is waterproof and dirt-resistant meaning it is a perfect fit on the floor

It is machine washable and dryer safe meaning you can keep it nice and clean and fur free (until your cat uses it again!)


Surprisingly flexible yet able to hold its shape, the foam construction makes this luxury cat bed strong and durable

It has a whopping 14 different colors to choose from so if you're looking to match a room try this one out
It measures

17″ x 13″ x 12"
---
The Easyology Zen Den


The Zen Den is a pretty slick looking and comfy bed in and of its own right, but the coolest part about it is that it is designed to be combined with the Easyology tunnel system.
If you look closely at the picture you can see the loops at the entrance that hook the tunnel right to it. This means you can add a nice tunnel to your cat's bed giving her extra privacy and a nice hidden place to chill out and snooze.
Not many other beds come with that kind of well thought out attachment! It works especially well if you have a dog that may bother your cat when he or she is asleep in an uncovered bed. Check out my favorite cat tunnels here or go straight to the Zen Tunnel.
A few other things worth noting:
It is a simple cube measuring in at 15 inches in all directions
The outside is covered in soft faux suede that makes it look great in your home
It can double as a footrest, though certainly wouldn't recommend sitting on it myself

The extra thick and soft cushioning keeps your pet ultra-comfortable

The top pops off making it easy to remove the cushion inside for cleaning or for easy access to fluffy
---
What All Should I Consider When Buying a Cat Bed or Cave?
There are about a million different beds on the market these days. On top of this we all know that cats are a little bit picky, especially when it comes to their two favorite hobbies: eating and sleeping.
Given this you'll want to make sure you have the best chance of success when buying a bed so you don't have to find out the new bed you purchased probably needs to go to the local shelter and you need to spin the roulette wheel again!
So what's worth considering to ensure you make the right choice up front? Let's take a look at key aspects:
Size:

It is no surprise that size is going to matter. If you own a Maine Coone you're going to need to look for a different size bed than if you own a tiny little domestic short hair that was the runt of the litter.
If you're looking to fit two cats in a bed you'll also want to consider that!
Be sure the bed you're purchasing is at least as big as your cat is long to ensure there's plenty of space.
If you're going for a cave I also personally like to go on the large side so I can easily fit a blanket my cats like inside.

Material:

If your cat has specific materials that she absolutely loves to knead on (or make biscuits depending on what you like to call it) then aim find a bed that is made of a similar material. If your cat is kneading it means the material feels great to her and she'll love it for a bed!
If you already know your cat absolutely despises certain types of materials be sure to avoid those. It may seem like common sense, but sometimes common sense is not so common these days right?

Enclosed / Open Air:

While most cats don't mind enclosed spaces there are those rare few who don't like exploring boxes or seeing if they can get themselves stuck inside the smallest corner of your entertainment center. Be sure to take this into account when considering the beds on your list for purchase!

Environment:

Last but not least you'll definitely want to take into account the environment your cat bed will be placed in. Is your house hot during the day but freezing cold at night?
If so you might want to consider a covered bed that provides more warmth, or even a heated bed.
---
Where Should I Put My Cat's Bed?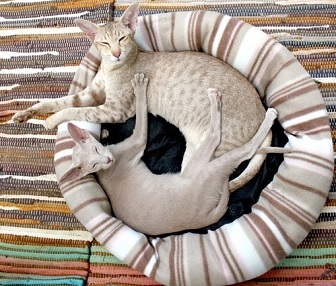 You may also wonder what the best location is for your cat bed. While that will largely depend on your specific cat, it'll also depend on the type of bed you buy.
Most covered beds are designed to give your kitty a nice safe and dark spot to curly up and zonk out. This means perhaps somewhere out of the way in an untraveled corner of the house.
If instead you're buying something uncovered it might be best placed near an open window that gets lots of sunlight for your fluff ball to relax in during the day. If you want full sunlight for your kitty though you may want to explore a window bed instead.
If you're anything like me you might have multiple beds in multiple locations. I keep my Twin Critters on my nightstand so Beastling can sleep in it at night and not bother me, but she has a window bed fully in the sun too!
---
How Long Until My Cat Uses The New Bed?
If you've had your bed for a few days and your cat hasn't yet fallen in love with it, or maybe hasn't done anything more than sniff it, don't worry!
Many cats will take a few weeks before they're willing to explore a new bed, and you might have to get a little crafty to get your cat to try it out for the first time.
The good news is, once a cat tries a bed and likes it they're a heck of a lot more likely to come right back and use it another time. The cave my cat Beast has went unused for over a month.
Then we left for a long weekend and then she discovered it when she didn't have a warm lap to sit in.  Now she sleeps in that cave every night!


Here are a few tips you can try to get your cat to try out a new bed:
Make It Smell Like Home:

We all know that cats base a lot of their lives around scents. They rub their paws and their faces all over everything to leave their scent and mark things as their own.
Given this a new bed with a factory or shipping smell can be off putting. Try taking a blanket or another cushion or something of theirs and placing it inside the new bed. This will help bring them comfort and associate positive things with it.
You may also want to try wearing a t-shirt and for a few days and putting that inside the cat bed to make it smell like you which is usually a scent they know and trust.

Mask Unknown The Scents:

Similar to the above option, you can look at using a product like Feliway Spray to help your cat get used to their new bed. Feliway is a synthetic pheromone that comes in a little spray bottle and is scentless to us humans. It also works for multi cat households to help keep them calm.
On the bright side, it has a calming effect on most cats and will encourage them to otherwise explore or use spaces/toys that might otherwise ignore or hide from.

Treat Motivation:

It may go without saying, but if you have a cat that loves treats then definitely feel free to put them to use. Scatter a few treats in the bed from time to time to encourage your kitty to walk on and feel that nice new comfortable bed.

Manual Intervention:

There's always the time tested option of simply picking up your cat and setting them in the bed. Now if your cat has already expressed fear of the bed I certainly wouldn't try this.
If your cat on the other hand has mostly simply ignored the bed then this can be a good option for a quick test of the bed.
---
Wrapping It Up on Cat Beds
We all know every cat is a tad different in regards to where they love to relax and what materials they love to relax on. One of my cats, Beast, absolutely loves her tiny little cave.
My other cat Lexi loves to sleep sprawled out in middle of the comforter on our bed and doesn't really go into the cat cave at all. Both of them will sleep in the little circular bed we own.
That being said what is really important is to find a bed that fits for your cat! These beds are some of the most highly respected on the market and have shown time and time again to be adored by our feline friends.
But if your doesn't happen to love them then you might need to try a couple of different things until you find what works best for you!
Be sure to try all the tips and tricks above if your cat doesn't take to your new purchase right away. Cats are definitely creatures of habit and may take some time before they decide they want to try a new bed let alone fall in love with it.
What type of bed do you use for your cat? Do you have a material or format you like best? Is it a completely covered cat cave or a wide open circular bed? Tell us about your favorite bed, or better yet your cat's favorite bed! Feel free to leave a comment below or send me an email at Craig@StuffCatsWant.com.
StuffCatsWant.com is a participant in the Amazon Services LLC Associates Program, an affiliate advertising program designed to provide a means for sites to earn advertising fees by advertising and linking to Amazon.com.
References: Armarkat, Feliway, Pet Magasin, Twin Critters