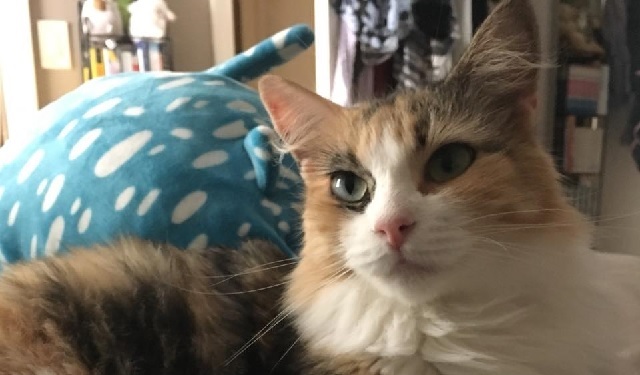 This week's cat of the week is Athena and comes submitted to us by her human Jekka! We thank her for submitting Athena to us.
Athena is a dignified four year old lady who came to Jekka about a year ago, when the shelter she volunteers for (The Animal Welfare Society) asked if Jekka would take Athena as a foster.  
Athena had just come in as a stray and was a pretty sorry sight -- she'd had to be shaved to get rid of all of her matted fur, she was hard to approach, even harder to touch.  
Athena was lucky they asked the volunteer that had already developed a bit of a reputation for taking in the 'trainwreck' cats!
Jekka had also seen her in the shelter before and found her utterly darling, so she couldn't say no to such an adorable fur ball. And as with many of us fosters, she hadn't hadn't planned on keeping Athena permanently, but since she had already fostered failed three times it wasn't completely impossible.
Unfortunately Athena didn't seem to get along with the resident cat of the household, Mako, and Mako makes the rules in the house! You can see Athena cuddled up way in the background on the other couch!
A few weeks into staying with Mako Athena's disposition changed completely! She got mouth surgery to treat her for severe stomatitis, an inflammation at the stoma of the teeth.  
Stomatitis can be very painful and dangerous if left alone and Jekka suspects that Athena's mouth hurt so much she was afraid to be touched.  Once that was taken care of, Athena became a whole new cat, with one ridiculous remaining fang.  
Then one day Athena was spotted grooming Mako and Mako was just soaking it up, Jekka knew she was done for.  She might not have to brush Athena as much anymore if she can convince Mako to return the favor.
While writing the submission for Athena she and Mako were chasing each other around the house trilling at each other and being their ridiculous selves.  
Now that Athena's fur's grown back she's a poofy, lovely goofball, and she is all Jekka's!
We at StuffCatsWant also thank Jekka for submitting Athena as Cat Of the Week!! Please submit your cat as cat of the week by emailing StuffCatsWant@gmail.com with 5 pictures of your cat(s) and a short description of him or her or them!
StuffCatsWant.com is a participant in the Amazon Services LLC Associates Program, an affiliate advertising program designed to provide a means for sites to earn advertising fees by advertising and linking to Amazon.com.