This week's cat of the week and Memorial Day Cat of the Day is Nala! Nala comes submitted to us from Nick and Chelsea in Michigan!
Nala is a 7-year-old cat who just found her furever home a few years ago. Prior to her current family she was in an environment with tiny dogs that would steal her food constantly. When she first joined her new family she would gorge her food as she used to have to fight for a meal.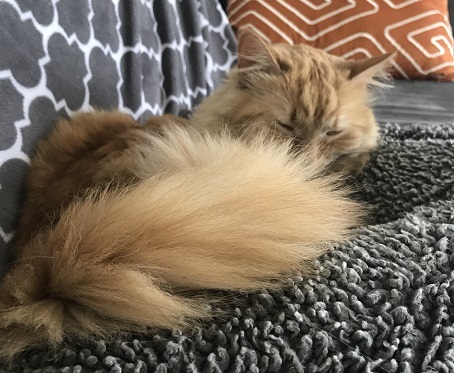 She would eat so fast that often she would get sick and then not receive the nutrients from her food. Her new parents were first time cat owners so they had no clue what to do. A quick trip to the vet gave them a few options:
Option number one was to place food in small containers around the house so that she could learn to "graze"
Option two was to feed her in her same feeding location multiple times per day in smaller portions
After a little research her new parents bought her an automatic feeder (this one in particular)! The automatic feeder worked wonders. She is fed 4 times a day and even leaves some food in her bowl when she is full. If you are wondering about how often you should feed your cat, you can check out this article that covers the topic.
Now that Nala is not worried about her next meal she is fully enjoying life! One of her favorite activities includes sitting at "her" window and scoping out all the wildlife on the other side. Nala's house has tons of wildlife around, including rabbits. Look closely and you'll see the bunny too!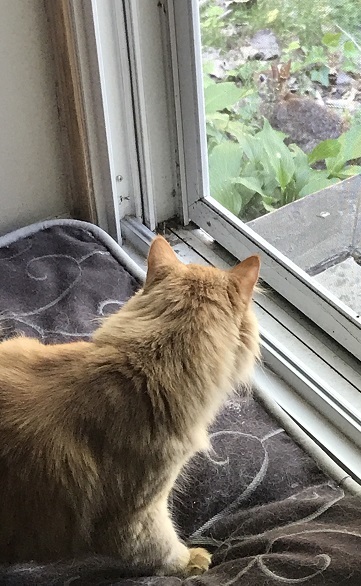 Nala's other activities include playing with her various toys like her fishing pole, her chirping bird toy and playing with the laser pointer. She also adores cuddling with her humans. Speaking of cuddling, she is still quite shy, probably because of her neglectful former family, she only cuddles with her parents.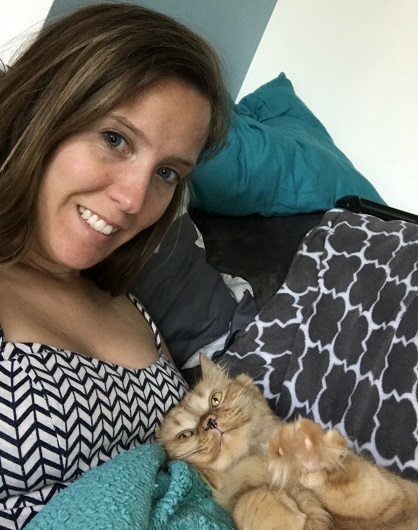 Her parents' friends all want to meet the newest addition to their family, but Nala does not comply. She took a long time to warm up to her parents and does not trust anyone else. Even with just cuddling with her parents she gets plenty of cuddles in.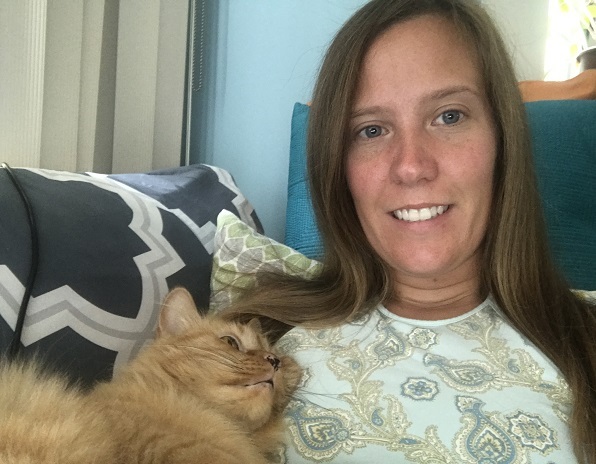 Her humans often wake up with Nala smack dab in the middle of their chest waiting for pets. Her humans like to think that she is there because Nala loves them so much, but it could entirely be because Nala is heat obsessed. So much so that her humans got her a heated cat bed.  If you're interested you can check out some of the finest heated cat beds here, Nala uses this one specifically.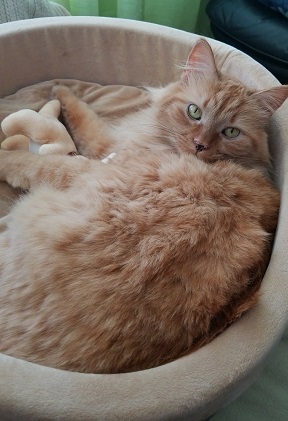 Nala's humans hope that she lives a nice long life because they absolutely love her to death. Cheers to many more cuddly nights!
We at StuffCatsWant want to thank Nick and Chelsea for submitting Nala as this week's Cat of the Week! To submit your cat for Cat of the Week please send at least 5 photos and a description of at least 400 words to Craig@StuffCatsWant.com.
StuffCatsWant.com is a participant in the Amazon Services LLC Associates Program, an affiliate advertising program designed to provide a means for sites to earn advertising fees by advertising and linking to Amazon.com.