This week's cat of the week is Jill. It comes submitted by none other than me. In traditional fashion I'll gratuitously thank myself for my submission of Jill. Thanks me! Just kidding :).
If you're much of a follower you know that I foster on a pretty consistent basis from the shelter I volunteer at, PAWS. When I have a cat that I find particularly fun or special I'll write up a post about her. Jill is one of those cats!
Jill came to PAWS as a recent mother (see her profile here!). She finished taking care of all her kitties and they were adopted out to wonderful families! Jill is now looking for a family of her own.
Jill was having a tough time in the shelter and needed a break in a home. We have had Jill for just about a month now and she's fully relaxed and ready to get back on the market looking for a forever family.
I wanted to a little personal promotion for Jill, or as we're now calling her, Jilly Bean, to make sure she gets off to a good home ASAP! So here we go…
---
Who is Jill?
Jill is a 2 year old black cat with some salt and pepper in her fur. That means she's got a few white spots here and there as if she was going grey. But she has way too much energy to be going grey already.
Jill is curious. Super curious. You know the phrase curiosity killed the cat? Jill is just a hair shy of being too curious for her own good.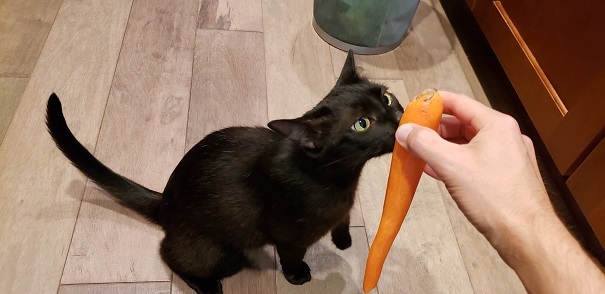 Jill loves to be right in the middle of whatever is going on. She loves following you around the kitchen. She loves sniffing the ingredients going into your food.
You have to be careful when you're walking through the house because she easily gets right in front of your feet without you seeing and it is easy to accidentally kick her!
---
What Are Jill's Favorite Activities?
Jill will need a friend to play with, that is the short of it. Jill loves hassling our resident cats. She loves chasing them, she loves pouncing on them, she loves wrestling with them.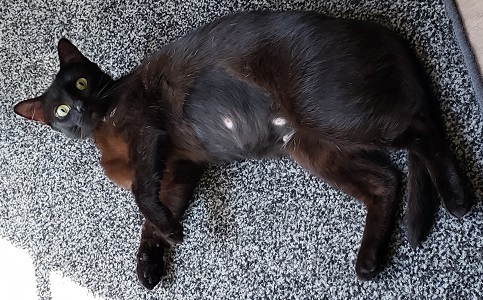 Jill is full of energy and she wants to use it. She plays on her own. She plays with our resident cats. She plays with us. She just likes to be busy.
Jill loves wand toys like the Cat Dancer. Jill loves automatic toys like the Petlinks Mystery Motion (full review here) and the Hexbug Nano Nitros (full review here). Pretty much anything that moves in a random manner is high up on Jill's list of things to pounce on.
Any toys you buy for Jill need to be sturdy toys. Jill has yanked my Cat Dancer wand out of my hand numerous times and just carted it around the house as a trophy. She's quite strong for the lanky little feline that she is!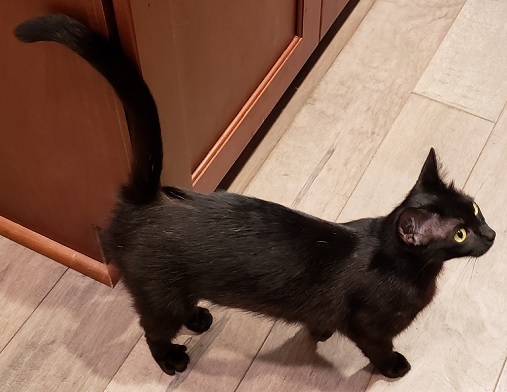 Jill doesn't mind being held in the slightest, in fact she seems to relish it for short periods of time (minutes not seconds).
Jill likes hanging with her humans on the couch. Jill does not however like being a lapcat. She's just too busy to fall asleep in your lap.
---
What Does Jill Eat & Drink?
You know how people say cats are picky? Jill isn't picky. Jill will eat any cat food you put in front of her. And she'll eat all of it. And then she'll meow for more if she thinks you're heading toward her bowls.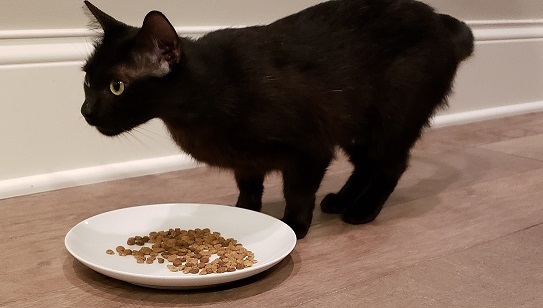 Jill eats wet food. Jill eats dry food. Jill eats snacks and treats and she gobbles them all up with delight. Jill is only 7-8 pounds so she awes me with the amount of food she eats!
Jill is also one of those wonderful cats that drinks tons of water on her own out of a non moving source. Jill has had some exposure to the water fountain our resident cats use but she hasn't tried it herself. She prefers a traditional stainless steel bowl.
---
Does She Have Any Quirks?
Jill is all in all an awesome cat. Her only two behavioral quirks are that she loves counter surfing and if she gets bored she'll let you know that she's bored.
Counter surfing was easily resolved with the SSSCat Automated Cat Deterrent (full review of the SSSCat here). We tried all the traditional methods that the pros recommend and had very little luck, but the SSSCat kept her off the counters within a few days.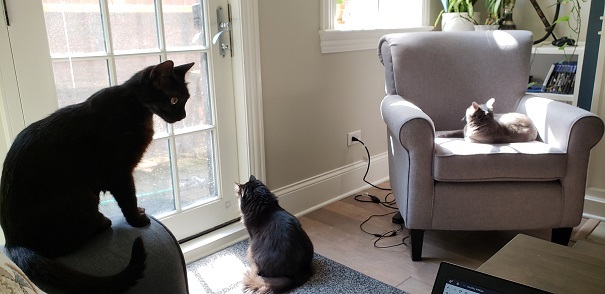 If you ensure Jill has lots of play time or a buddy to play with (she should definitely be paired with another cat!) you'll probably rarely encounter any poor behavior. But when she gets extremely bored she will start chewing on headphone wires and may "mouth" you lightly.
She's never broken skin or destroyed anything and she doesn't go after cords like electrical cords even when left alone all day. She seems to just want to let you know she wants play time!
---
How Can I Adopt Jill?
The easiest way to adopt Jill is to first get in touch with PAWS by emailing them at adoptions@pawschicago.org. Until July 4th Jill will be hanging out with me at my place, but you're still able to come visit her and adopt her if you like!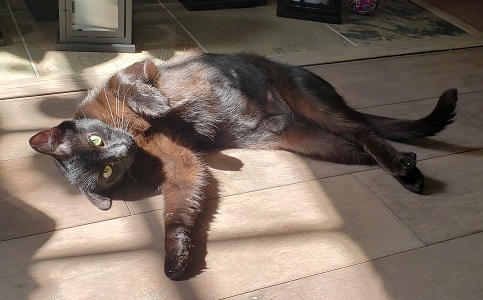 First and foremost though get yourself in touch with PAWS and they'll connect you to me once you pass all the initial steps.
---
More On PAWS
If you're curious about PAWS as an organization then check out their page that discusses their Mission Statement.
In simple terms though PAWS is trying to build a No Kill Chicago by ensuring that homeless pets go to good homes and by ensuring that animals are spayed and neutered to decrease the overall population of homeless animals.
---
Wrapping It Up
To submit your cat for Cat of the Week please send at least 5 photos and a description of at least 400 words to Craig@StuffCatsWant.com.
StuffCatsWant.com is a participant in the Amazon Services LLC Associates Program, an affiliate advertising program designed to provide a means for sites to earn advertising fees by advertising and linking to Amazon.com.