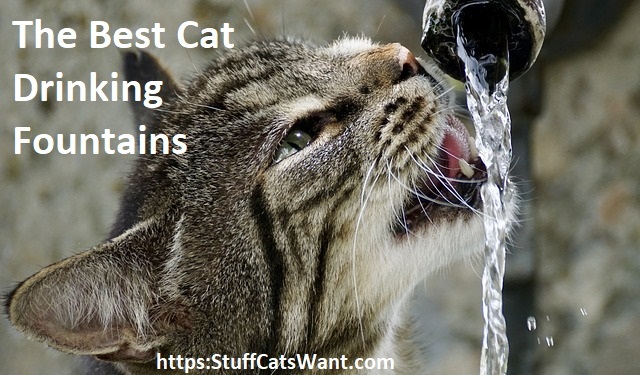 Does your cat drink enough water? What's enough water to begin with? Tired of cleaning and refilling bowls with fresh water cause hair floated into it or your fur ball dropped bits of food in it?
If you answered yes then a cat drinking fountain is the right choice for you. Not only do they encourage your cat to drink more by giving them a moving water supply, but they also filter the water to keep nasty impurities out.
There are loads of drinking fountains on the market, so let's take a look at the best cat drinking fountains out there.
The Best cat drinking fountains Quick Guide

2018 - No Longer Available
---
The Best Cat Water Fountains
---
Catit Cat Water Fountain
The Catit Water Fountain is a kind of like a unicorn, minus the coloring. It is the best in class, but it is the best in class across a variety of different areas of interest. It performs well in pricing, noise, ease of use for humans, variety of options for cats and in quality too.
Catit is also known to be an awesome company when it comes to customer service which is an added perk when it comes to any product. This is honestly one of the best cat fountains on the market and my personal favorite.
Accounting for everything I think this is an excellent product and you can't go wrong with the purchase. Features worth noting:
"This fountain does an absolutely amazing job in my home. Both of my cats drink way more often than they used to and it is a breeze to clean it when it needs it."
The only negative item I've noted in my experience is this:
---
MiauStore's Ceramic Fountain
This is one of the newest entrants to the market and it comes from Miaustore.  This model is an absolute must have if you're looking for a ceramic fountain. Not only is it beautiful, but it has everything you'd want as a cat owner and as a cat too!
Let's take a look at some of the most coveted functions:
"It's a lovely thing – very zen! The cats drink out of it from all the different levels and don't splash water everywhere as with the more open bowls. Also the filter is much simpler than other fountains, and easy to clean Overall I'm very pleased with the fountain." -Miaustore Reviewer Linda
The only drawback I can find at all, and this applies to US customers, is that shipping time can be quite long due to it being manufactured in and shipped from Europe.:
---
PetSafe Drinkwell 360 128 oz. Cat Water Fountain
PetSafe has been around the block and back when it comes to developing high quality pet products. They've been around for 37 years at the time of writing this article. That means they know a thing or two about creating a high quality product.
This pump comes loaded with all sorts of great features worth noting:
"My cats love this thing. I bought this  the day I found it (over 5 years ago) and it is still working to this date. If you clean it and keep the filters cycled it'll run forever!"
The key drawback worth noting on this model:
---
PetSafe Drinkwell Pagoda Dog and Cat Water Fountain, Ceramic, 70 oz
This ceramic fountain uses a quiet pump to push the water up and out of two streams at the top of the pump. The foam filter removes debris and hair and the activated carbon filter removes any bad tastes and odor from the water.
The water in your pet's Pagoda fountain is constantly moving, inhibiting the growth of bacteria while also encouraging your pet to drink more.
"Works great for my adult cat (12 pounds) and my brand new kitten (2 pounds)! They both love it!"
It is worth considering the following before purchasing:
---
PetSafe Drinkwell Platinum Pet Fountain
The Petsafe Drinkwell Platinum Pet Fountain is a100% BPA free & dishwasher safe.  The rubber feet keep it from sliding around wood floors too!
The fountain features a huge built in reservoir, 168 oz. in total. This means it doesn't require refills on a daily basis like some smaller capacity models. The pump is an adjustable flow pump so you can figure out the right speed to keep your cats interested in the fountain.
A few key items worth noting
"This fountain lasts forever. I've had mine for years! With proper maintenance you'll probably never need another fountain.
It is worth considering the following before purchasing:
---
Mospro Cat 2L Water Fountain – Super Quiet Flower
Mospro is a less known name in the cat product industry, but wow have they made their mark with this fountain. And for good reason too, this fountain is worth raving about. It definitely has some of the best reviews of any fountain I've managed to find online. People are a fan no matter where you look at it!
That aside, there are tons of great features and functions worth calling out:
"Such an amazing addition to the house. We keep it right in the bedroom for our cats at night and it is so quiet we hardly even notice it."
It is worth considering the following before purchasing:
---
Pedy Cat has followed a tried and true method in creating their own version of the cat water fountain. This fountain looks very similar to that made by Catit and in general the features are very similar as well. This model comes in a bit cheaper than the Catit version which is the key differentiator
Key features and functions worth noting:
"It looks adorable and it was easy as pie to put it together! The cats love it."
It is worth considering the following before purchasing:
---
Pioneer Pet Raindrop Stainless Steel Pet Drinking Fountain
The Pioneer Pet Raindrop Stainless Steel Fountain designed with one key feature in mind, it is made of stainless steel.  If you don't like the idea of your cat drinking from plastic then this is a huge perk.
Stainless steel is safer int that it isn't porous so it can't harbor bacteria as easily as plastic. The second important features is that this doesn't provide the waterfall or the human drinking fountain type water supply. Instead it uses a water slide.
If your kitty likes a gentle flow this a great option that is also very sanitary.
There are a couple of things to keep in mind though, the fountain has a pretty low water capacity. While it won't necessarily run out of water quickly it will end up making a lot more noise as the amount of water in the fountain gets lower and lower.
The open design allows lots of hair and other things floating through the air into the filter, but if you clean it consistently this won't be a problem.
"Stainless is the way to go. You can throw this thing right in the dish washer and save the hassle of hand washing it!"
It is worth considering the following before purchasing:
---
Pioneer Pet Raindrop Ceramic Drinking Fountain
The Pioneer Pet Raindrop Ceramic Pet Drinking Fountain is a high quality fountain designed with a few features in mind. It is made of ceramic namely. This is benefit to folks who dislike plastic.
Ceramic is safer because it isn't as porous as plastic. This means it can't harbor bacteria which means it is less likely to get your little fur ball sick.
The second major feature is it uses a slide instead of a full on waterfall. The water shoot out like a human drinking fountain.  This means if you've got a cat that likes a gentle flow instead of splashing or falling water this is the fountain for you.
It also comes in both black and white if you want to match decor.