The 17 Best Cat Drinking Fountains 2018
Does your cat drink enough water? What's enough water to begin with? Tired of cleaning and refilling bowls with fresh water cause hair floated into it or your fur ball dropped bits of food in it?
If you answered yes then a cat drinking fountain is the right choice for you. Not only do they encourage your cat to drink more by giving them a moving water supply, but they also filter the water to keep nasty impurities out.
There are loads of drinking fountains on the market, so let's take a look at the best cat drinking fountains out there.
The Best cat drinking fountains Quick Guide
---
Catit Cat Water Fountain
The Catit Water Fountain is a kind of like a unicorn, minus the coloring. It is the best in class, but it is the best in class across a variety of different areas of interest. It performs well in pricing, noise, ease of use for humans, variety of options for cats and in quality too.
Catit is also known to be an awesome company when it comes to customer service which is an added perk when it comes to any product. This is honestly one of the best cat fountains on the market and my personal favorite.
Accounting for everything I think this is an excellent product and you can't go wrong with the purchase. Features worth noting:
It encouraged both of my cats to drink on a more consistent basis.
It comes in at a great low price of just under 30 dollars.
It is super quiet compared to most fountains I've experienced so long as the water level stays topped off.
It has a large tank that doesn't need to be refilled often.
It is very easy to take apart and clean on a weekly basis.
Saves you from refilling bowls daily or from running a dripping faucet depending on the cat.
See my video review of the Catit Fountain here:

---
PetSafe Drinkwell 360 128 oz. Cat Water Fountain
PetSafe has been around the block and back when it comes to developing high quality pet products. They've been around for 37 years at the time of writing this article. That means they know a thing or two about creating a high quality product.
This pump comes loaded with all sorts of great features worth noting:
It has a capacity of 128 oz. (3.78 L) which is great for multiple cats.


You've got 5 changeable free-falling streams attachments to provide options to get your cat to drink.

This has a two part filter, a replaceable carbon filter to removes tastes and odors and a foam filter to remove hair and debris.

It also has an adjustable flow control cap so you can slow it down or speed it up if your cat is extra picky.

The plastic is BPA-Free and the fountain is top-shelf dishwasher safe.

A pump can be purchased separately if it happens to break.
Also note it doesn't require a filter to operate if you don't want to buy them.
---
YOUTHINK 2.1L Ceramic Cat Water Fountain
This ceramic model is produced by YOUTHINK. While the name of the company could use some rethinking they do produce an excellent ceramic water fountain.  There are several features worth noting:
It is made of high quality natural ceramic, both eco-friendly and non-toxic. Note both the white and blue pieces are ceramic.

There are 3 different ways your kitties can drink from it: from the top, the falling water, or in the bottom the always available pool.
There is a two phase filtering system built in, a foam filter cleans hair and gunk while a carbon filter purifies the water.

You can barely hear the water flow with the silent submersible water pump.

The pump is tested and expected to work up to 20,000 hours.

You've got a capacity of 2.1 liters which is quite large for a single cat and will last several days even with multiple cats.
---
PetSafe Drinkwell Pagoda Dog and Cat Water Fountain, Ceramic, 70 oz
This ceramic fountain uses a quiet pump to push the water up and out of two streams at the top of the pump. The foam filter removes debris and hair and the activated carbon filter removes any bad tastes and odor from the water.
The water in your pet's Pagoda fountain is constantly moving, inhibiting the growth of bacteria while also encouraging your pet to drink more.
Dual free-falling streams add oxygen for freshness and encourage pets to drink more water.

It has a carbon water filter that removes bad tastes and odors, keeping water fresh.

This model is ceramic and thus more hygienic than plastic models.

This is an excellent option for a single cat since it has an overall capacity of 70 oz.


There are both an upper and lower location to drink from.

Nice and easy to clean since it is top shelf dishwasher safe.

It can also be run without a filter in case you're using filtered water already.
---
PetSafe Drinkwell Platinum Pet Fountain
The Petsafe Drinkwell Platinum Pet Fountain is a100% BPA free & dishwasher safe.  The rubber feet keep it from sliding around wood floors too!
The fountain features a huge built in reservoir, 168 oz. in total. This means it doesn't require refills on a daily basis like some smaller capacity models. The pump is an adjustable flow pump so you can figure out the right speed to keep your cats interested in the fountain.
A few key items worth noting:
The plastic the fountain is made from is BPA Free.
The fountain is 100% dishwasher safe.
The pump has an adjustable flow to slow things down or speed them up.
It has a huge reservoir size at 168 oz.
Has a built in pre-filter to help maintain the integrity of the pump, but note you can't replace the pump.
Uses a carbon filter to keep the water clean for your cat(s).
---
Mospro Cat 2L Water Fountain – Super Quiet Flower
Mospro is a less known name in the cat product industry, but wow have they made their mark with this fountain. And for good reason too, this fountain is worth raving about. It has the highest overall average rating of any fountain I've included here with a 4.8 after more than 200+ reviews.
That aside, there are tons of great features and functions worth calling out:
It has a solid 2 liter capacity which is plenty for a single cat for about a week before the pump starts to run low.

It is constructed of antibacterial PP resin and the bowl is BPA-free, non-toxic and odorless. It even has a food-grade certification to show you how safe it is!

It is built so you can quickly deconstruct it to clean it and reconstruct it after.

The pump is incredibly quiet and you'll hardly hear the sound of the water.

The pump is tested to run up to a total of 10,000 hours and it can even run dry for up to one week in case you forget to refill it.

There are 3 different settings for the water: waterfall, bubble and fountain mode. The recessed sink and water circulation system are designed to increase the contact area of water and air, and provide more oxygen to the water, bringing health and vitality to pets.

To ensure you have odorless and tasteless water it uses replaceable activated carbon filters.

Given design this model can run without the carbon filter, but since the carbon and mesh filters are combined be careful of damaging the pump as debris from your pets gets in the water .
---
Vemtona Smart Cat 2L Ultra Silent Water Dispenser With Alerts
(No Image Currently Available – Click Below to see it)
Bet you never thought you'd hear the phrase 'high tech drinking fountain' right? Well, now you have. Vemtona has brought to bear the most tech enabled water fountain on the market and it has tons of cool features and functions to help keep your kitty hydrated.
So let's dig right into them:
If there's a water shortage that could damage the pump  it will automatically power off and light up a blue light to let you know.

When the filter need to be replaced the filter replacement indicator will light up yellow to remind you.

The pump is ultra quiet so you'll barely hear it running.

The pump is estimated to operate a total of 10,000 hours.

It has a 2L capacity which is about 68 oz, this is plenty for about a week with a single cat before you'll want to refill it.

It is made of food-grade materials and is BAP-free to keep your feline friends safe.

High quality filters purifies and softens hard water and simultaneously filters hair, sediments and impurities. The odors of the water can be eliminated and the taste will be improved, taking good care of your beloved pets.
**Note that I recently discovered this model and it doesn't yet have a critical mass when it comes to detailed market side reviews of the product.
---
Pedy Cat Automatic Cat Flower Water Fountain
Pedy Cat has followed a tried and true method in creating their own version of the cat water fountain. This fountain looks very similar to that made by Catit and in general the features are very similar as well. This model comes in a bit cheaper than the Catit version which is the key differentiator
Key features and functions worth noting:
t has a total capacity of 2L which is about 68 oz. You'll be refilling it once a week or so to ensure the noise level stays low and the pump doesn't dry out.
Other similar models can end up overflowing if the filter hasn't been changed, this model has multiple overflow holes to ensure drainage.


The fountain is made of antibacterial PP plastic and is BPA free. It has a food-grade certification to gain your confidence.

The pump is ultra quiet and is expected to operate for 20,000 hrs. 

It is super easy to deconstruct it and hand wash each part with dish soap. It can be done in less than ten minutes.

It has a multi stage filter to remove sediment and debris, as well as remove tastes, odors and toxins.

You can run this model without the filter if you'd like, but the pump will be more susceptible to damage.
---
Pioneer Pet Raindrop Stainless Steel Pet Drinking Fountain
The Pioneer Pet Raindrop Stainless Steel Fountain designed with one key feature in mind, it is made of stainless steel.  If you don't like the idea of your cat drinking from plastic then this is a huge perk.
Stainless steel is safer int that it isn't porous so it can't harbor bacteria as easily as plastic. The second important features is that this doesn't provide the waterfall or the human drinking fountain type water supply. Instead it uses a water slide.
If your kitty likes a gentle flow this a great option that is also very sanitary.
There are a couple of things to keep in mind though, the fountain has a pretty low water capacity. While it won't necessarily run out of water quickly it will end up making a lot more noise as the amount of water in the fountain gets lower and lower.
The open design allows lots of hair and other things floating through the air into the filter, but if you clean it consistently this won't be a problem.
It has a capacity of 60oz of water & uses a charcoal filter to keep the water clean
Stainless steel is 100% dishwasher safe & more sanitary than plastic
It provides a nice gentle flow of water as opposed to falling water like many other pumps
It is a great looking water fountain compared to plastic
There are two available drinking areas for your cats to ensure they have options available to them
If the pump breaks you can buy a replacement
---
Pioneer Pet Raindrop Ceramic Drinking Fountain
The Pioneer Pet Raindrop Ceramic Pet Drinking Fountain is a high quality fountain designed with a few features in mind. It is made of ceramic namely. This is benefit to folks who dislike plastic.
Ceramic is safer because it isn't as porous as plastic. This means it can't harbor bacteria which means it is less likely to get your little fur ball sick.
The second major feature is it uses a slide instead of a full on waterfall. The water shoot out like a human drinking fountain.  This means if you've got a cat that likes a gentle flow instead of splashing or falling water this is the fountain for you.
It also comes in both black and white if you want to match decor.
It has a total capacity of 60 oz. of water
Ceramic is dishwasher safe so it is very easy to keep it clean
It provides a nice gentle flow of water as opposed to falling water like many other pumps
It is a great looking water fountain given that it isn't traditional plastic, it has a sheen on it
There are two areas to drink from for your feline friend
A broken pump can be replaced without buying a whole new water fountain
---
Cat Mate Pet Fountain – 70 Fluid Oz
The Cat Mate Water Fountain is a great choice among the plastic fountains on the market. It has a special pump design called the Isolated Pump System which keeps the pump as quiet as possible.  The IPS is the highlight of the model.
The second feature is giving your feline friends multiple drinking locations. There are three pools the slides between them. This ensures that even cats with different preferences will have options.
Key items worth noting on this drinking fountain:
The pump is one of the quietest on the market being an IPS – perfect for small homes or apartments
Drinking areas at three different heights mean lots of options for your cats
The plastic bowls are 100% dishwasher safe so you disinfect them often and easily
The pump has adjustable flow, perfect for picky cats
It is very affordable and replacement filters are affordable
It has an extra-long power cord (10 ft) which is a perk
You can buy a replacement pump without replacing the whole fountain
---
Uniclife Cat Water Fountain with LED Light
This is Uniclife's flagship model for cat and dog water fountains, as I'm sure you can see from the photo above. You might also note that it is on the smaller side. This model is great for single cat households and works will for kittens because it sits much lower than many other models do.
Many models sit as high as 8 inches which can be very difficult for a young kitten to reach, this model is only about 4 inches tall meaning the bowl sits right near the ground and can be easily accessed.
A few other features worth noting:
This version is much more like a human drinking fountain than many other options, it actually has a jet of water pumping out. This makes water fresh, clean and better tasting. And the movement of the water encourages cats to drink more.

There is an adjustable flow control to increase or decrease the speed of the water pumping out.


The blue LED in the water area makes it easier for your pet to find the water at night and ensure you don't trip over it.

It is made of high BPA free plastic that is food grade meaning it is nontoxic and odorless.

A dual layer filter uses carbon to extract bad tastes and odors while foam catches hair and debris to ensure the pump isn't damaged.

It has a 60oz water capacity which is great for a couple kittens or a single adult cat for about a week.

---
PetSafe Drinkwell 2 Gallon Dog and Cat Water Fountain
If you've got a multi pet household, especially one with dogs and cats, then this is an excellent model for you. Not only is the capacity huge, but because the capacity is huge it is also very difficult for even large animals to accidentally knock it over or tip it and spill the water.
Petsafe knows that tons of families have this multi pet situation and they wanted to ensure there was an option that could accommodate all the pets easily. Let's look at the detailed features:
The capacity is 256 oz (7.5 liters) which is huge and will easily support multiple cats or cat/dog households.


The water fall helps encourage your cats to drink more and helps infuse more oxygen into the water as it falls.

The water flow can be adjusted to enable you to customize the speed for your pets.

It is made of

BPA free plastic and you can easily deconstruct it for cleaning.

It is specifically designed to not have difficult to reach corners and crevices meaning faster cleaning too.

Foam filter catches hair and dirt before they reach the pump, and the constant water circulation in the bowl helps prevent bacteria growth.
---
Petmate Fresh Flow Rain Battery Fountain
If you've got a specific location you need to place your fountain in but it doesn't have a plug available then you might need a battery operated option. This is the only battery operated fountain on the market so it would be your go to.
I would note that this is a newer product to the market and so far it has had some hiccups that need to be fixed before it will be as reliable as plug driven models. That being said if you need a battery operated model this is your best option.
Key items worth noting:
It requires 4 D batteries to operate, battery life is hard to predict given the variations in battery brands and types
It has a 75 oz. capacity which is plenty for a cat for a week
The pump pushes water from the reservoir up to the top and it then falls through the tube in the middle and into the pool below
To conserve power it only pumps water about every 20 minutes (keep in mind this limits filtering/movement)
Two different types of water flow and two different locations encourage


Lid allows water to pool at the top, creating a secondary drinking location
---
Heyrex Torus Self-Filling Cat Water Bowl
If you have a need to provide a water source in a location without a plug and you don't want to try a battery operated model then this is a solid tried and tested option. While this was originally designed for dogs it is a viable option for cats.
Note that it is more of a bowl than a fountain.
It won't constantly cycle water nor will it consistently filter it. This is an option for those of you that might not have other options given the situation you're in. Basically, as water is consumed more water comes out from the covered area into the bowl.
Key things worth noting:
It has a solid capacity for a single cat at about 2 liters (68 oz) 

It is travel friendly and you can easily take it with you if your cat is going on a trip
It maintains limited water in the bowl to decrease the amount of water that might get dirty

You can easily flip the closure switch, dump dirty water out of it, and flip it again for new clean water to flow out
It is very low to the ground meaning it is difficult to flip over or tip

---
iPettie Tritone Ceramic Pet Drinking Fountain, Water Fountains for Cats 2.1
iPettie brings their own ceramic model to the market and you'll definitely notice some similarities to the YOUTHINK model above. The filters and the pump are largely interchangeable because the products are so similar, but they are sold by two different companies at different price points.
The main difference you'll likely encounter with them is just customer service and since both of them sell through Amazon you'll likely not have any issues if you run into a broken product.
Key features worth noting:
This fountain is made of high-quality natural ceramic that is completely non-toxic.

It has a 2.1L/71oz capacity which is enough for a cat to drink for about a week before you'll want to top it off to ensure the pump doesn't get noisy.

There are three free-falling streams of water that will help oxygen to the water which promotes overall health.

There's a two stage filter system, the first stage is a foam filter to remove hair and debris. The second phase is a carbon and charcoal filter that removes nasty odors and bad tastes from the water.

The pump is whisper quiet so the only noise you're likely to hear is the water dripping into the reservoir, keeping it topped off minimizes this.

It is super easy to assemble and disassemble for cleaning and maintenance
---
PetSafe Drinkwell Multi-Tier Cat Water Fountain,100 oz
Another great model from PetSafe, this is the multi tiered drink well! It easily accommodates multi pet households with its huge reservoir (100 oz) and varying locations to drink from. It has a huge open area of water too which is a nice perk in the case that the power happens to go out.
Key features worth noting on this model:
The 100 oz. water capacity is great for numerous pets including both cats and dogs.


The free-falling stream entices your feline friends to drink and the little ramp minimizes the amount of spray and sound from the water coming down.

It does leverage a carbon water filter to clean out tastes and odors which is great for picky cats.

There are 3 drinking areas, the upper and lower dishes and the actual waterfall itself too.


The pump is submersible (and you'll want it submersed) and provides a very quiet experience.

This model is safe for the dishwasher, top shelf only.

The plastic it is made from is BPA free to keep your kitty safe and sound from toxins!
This model can be run without the carbon filter if desired.
---
Why is Water Consumption Important?
Water consumption is important because dehydration can cause health issues in a cat just like it can in a human. On top of this cats don't have a sense of thirst like humans do. This means they don't tend to go out of their way to drink like we do.
Dehydration can cause all sorts of health issues from minor problems all the way to potentially deadly issues. The most common are kidney issues and urinary tract issues which can be incredibly painful and difficult to get rid of.
The short of it is that you'll want to ensure your cat drinks plenty of water to keep them healthy! You can read more details about that here.
---
How Much Capacity Do I Need?
Many things factor into how much capacity you'll need, but the primary items are your environment and how much your cat drinks on a daily basis.
Most vets recommend somewhere between 8-10 oz. of water per day. Now if your cat is eating wet food that amount comes down because they are getting moisture from the wet food already. If you want to dig into the guts of it you can read in this article that covers the specifics on how much water a cat should drink daily.
But a simple calculation of 10oz a day will tell you that a 70 oz capacity fountain will last about a week with limited interaction from the humans. That's of course assuming you get little to no evaporation from your environment which is a poor assumption.
Basically, if you want minimal interaction, say weekly, you'll want over 100 oz of capacity for a single cat.  I personally don't mind topping off my fountain on a daily basis, it is easy with just a cup of water.  But you'll want to judge this yourself and choose a model accordingly.
---
How Often Do I Change The Filter
Changing the filter will depend on many factors, but you will need to change the filter on a relatively consistent basis.  The major items that factor in will be:
Model Design: Open models with large pools of water tend to get more floating hair and debris in them and the filter has to filter it out.
Number of Cats: The more cats the dirtier your fountain will get. This is due to both hair floating in the air and them drinking from it.
Type of Water Used: If you use distilled or filtered water already this will minimize the stress on the filter, but using really hard water or well water for example may require more consistent filter changes.
If you're not sure how to figure out when to change the filter you should just be able to take a look at it every week or two and tell pretty easily. The filters will turn gross color wise and they will just feel slimy and nasty on the outside.
If you don't change the filter it is unlikely to harm your cats in the short term, but the longer it goes the filthier the water tends to get. This is true even if you keep adding totally clean water.
While the filter does a good job it only filters the water before it gets pumped back to the top of the fountain. This means all sorts of other gook and debris float around in the tank for a period of time and they can contaminate the water in non visible ways.
On top of this the pump itself can get contaminated and things can start to grow on it and in it if the filter isn't changed.
---
Do I Have to Clean It?
Changing the filter and cleaning your cat's fountain go hand in hand. It should go without saying that you'll have to clean it on a pretty consistent basis. If you need to change the filter you should probably clean the pump.
I personally thoroughly clean my entire fountain, pump included, every two weeks. I just do it every other Saturday for the sake of ease. It only takes 10 minutes and it ensures it doesn't get disgusting.
Cleaning it out should be a straight forward process, but every model is a little different. These are the generic steps I use to clean mine:
Deconstruct the fountain & separate the filter & motor from the other parts
Wash the basin & distributors with a non abrasive cleaner (dish soap is fine)
If the filter contains too much gunk (cat hair and such) then you should replace it
If the pump appears dirty then open it and clean it with a cotton swab and a pair of tweezers

Be extra careful with the pump motor because it is fragile and some of them can't be replaced easily

Reconstruct the fountain and fill it with water before turning it back on
Note some models you can't get directly to the motor and some you can't open the motor up even if you can get to it. These directions
---
What Are The Benefits of Ceramic?
Ceramic fountains have been around for a few years now, but they are not nearly as common as plastic fountains. This is for a few reasons, but the primary reason is ceramic costs more to make and it is heavier so more costly to ship.
That being said there are a few benefits worth noting for owners and cats alike:
Ceramic will not scratch easily: Plastics can scratch and dent quite easily and this lets bacteria seep into them. Ceramic doesn't have this issue.
Ceramic looks excellent: Ceramics tend to have a beautiful reflective sheen to them that most plastics simply don't. If you're looking to match decor ceramic can be an excellent choice.
Ceramic is 100% dishwasher safe: Ceramics are dishwasher safe. They can withstand super hot temperatures and not melt like some plastics. This is great for deep cleans and disinfecting your fountain.
---
What Are The Benefits of Stainless Steel?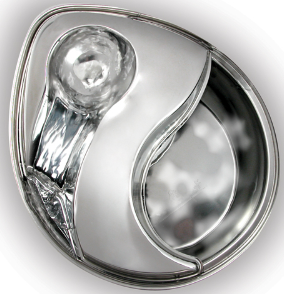 Stainless Steel fountains have become more and more prominent in the last few years. There are a couple of key reasons for this:
Stainless Steel is not a porous material: Many plastics can absorb things that flow through them, in particular bacteria. This can be dangerous for your cats, especially if you're not on top of cleaning your water fountain on a consistent basis.
Stainless Steel isn't produced with toxic chemicals: Plastics used for anything pet related have significantly changed in the past few years and it is rare to find any with toxins, but using stainless is an additional level of safety.
Stainless Steel looks great: It has a beautiful shine to it and it is easy to wash and clean any blemishes with dish soap.
Stainless is 100% dishwasher safe: You can disinfect it using any dishwasher of any temperature and not risk damaging it at all.
Stainless Steel is durable: Cats and dogs can be rambunctious and it is easy for a fountain to get tipped over when they are having fun. Stainless steel is unlikely to chip, flake, shatter, etc. The worst you might get is a dent.
---
Why Not Let Them Use The Sink?
There's nothing particularly dangerous about letting your cat use the sink to get a drink of water, but it does have other potential drawbacks.
First and foremost if you want your cat to use the sink for moving water you'll have to approach it one of a couple ways:
You'll need to be there to turn the faucet on
You'll need to get a faucet adapter and train your cat to use it
You'll need to leave your faucet on a constant drip so your cat always has access
I'm not a fan of any of the methods above for numerous reasons. I want my cats to have access to water all the time so that knocks out the first one.
I don't want to waste a ton of water by letting it drip all day all night and have my cats take a drink 2 minutes of the day. That knocks out the third one.
Faucet Adapters are actually really cool and slick products, but they require quite a bit of know how to setup and they also can't be moved or relocated. You're also going to have to let your cats have free range of your counters if you want to use this method.
I don't really like my cats up on my counters because they are prone to accidentally (or worse purposely) knock things over. That and in the kitchen especially I'd prefer to avoid having their paws up in places where I prepare food.
Given this I prefer a dedicated place just for the cats, a fountain fits the bill perfectly for me!
---
Anything Else Worth Considering?
Filter Technology
Most of the pumps I've listed will use what has become the go to form of filter technology, a carbon filter with a mesh netting surrounding it. The mesh netting is used to catch all sorts of gunk and debris before it ever makes it to the pump.
This part of the filter is imperative to ensure normal pump operation. Filtering out cat hair, food bits and anything else that falls into the fountain will make sure your pump doesn't get jammed and break.
The other aspect to these filters is charcoal. Charcoal absorbs toxins can be ingested by cats with no ill effects. You'll even hear of it being used in tablet form to remove impurities from the human body.
In water fountains it removes odors and tastes from the water.  Given how picky some cats are this could be a necessity for you and your cat. While carbon filters vary in size, shape and quality they typically last somewhere in the area of 4-8 weeks before a change.
Note there are some fountains out there that only have the mesh/foam type of filter that stops things from getting to the pump. I personally wouldn't recommend only this type of filter, but if your cat already drinks the water out of your tap it might work just fine.
Potential Spills
Given that cats tend to get the zoomies (they run all over the place) from time to time there's a chance that your fountain may get knocked over. If you've got kids in the house or a dog this is just as likely.
You might want to put your fountain in a tray with a one inch lip around the edge. This will help minimize the amount of spillage if the fountain does get tipped over for any reason.
Surge Protectors
You might want to ensure your fountain is plugged into a surge protector. This is especially true if this is your only source of water for your cats and you plan to leave them for any period of time.
Many fountains provide no standing water surface for cleanliness so if the power surges and blows the pump your cats simply can't get to the water. A surge protector can help protect against this and ensure that when the power comes back on your kitties have accessible water.
---
Wrapping It Up On Cat Water Fountains
Most people aren't really familiar with the fact that cats aren't prone to drink much water. Because we humans have a thirst drive we mostly assume other animals do as well and that their body will just let them know they need to drink more.
I'm lucky that in my volunteering and in my research on keeping my cats healthy I discovered this pretty early on in cat ownership. My cat Beastling really doesn't tend to drink much water at all unless it comes from a moving sources.
If I hadn't found that out she might still only be taking a few laps of water a day from the bowl we had for her. While wet food will definitely help fill some of the gap it isn't going to fill your cat's entire need for water every day.
Given this a pet water fountain is an awesome alternative for your feline friends. Not only does it filter the water and keep it cleaner than a traditional bowl, but most cats are far more prone to drink from a moving source too.
More water consumption means better overall health for your fur ball, although it does mean you have to scoop more litter!
Do you use a drinking fountain for your cat? Do you have a favorite or a recommendation that I didn't include in my list ? If you have any other ideas for please leave a comment below or send me an email at Craig@StuffCatsWant.com so I can update this article.
StuffCatsWant.com is a participant in the Amazon Services LLC Associates Program, an affiliate advertising program designed to provide a means for sites to earn advertising fees by advertising and linking to Amazon.com.
References: PetSafe, Uniclife, Catit, VetWest.com, VetStreet.com, PetMD.com & Feline Behavior for Veterinarians" second edition, B. V. Beaver, 2003.
If you find this useful spread the meows...