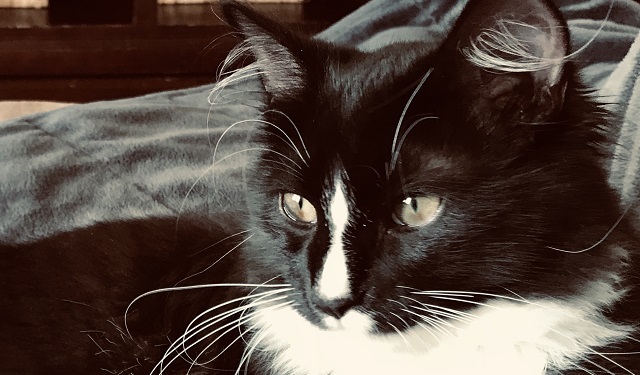 This week's cat of the week is Theon! He comes submitted to us by Anna and her family! Theon is still pretty young, only about six months old. They adopted him from the local Humane Society.
Anna and her family went in to look at cats and Theon arrived on the floor about ten minutes after they got there. He was so adorable that they all instantly fell in love and just had to take him home that day!
Theon is a very patient cat. His older human brothers, both 7 and 10, pick Theon up and haul him around and play with him. He doesn't complain one bit and loves every minute of it!
His only complaint is that when his brother's go outside to play he wants to go too! Every time they go outside Theon sits by the door and meows and waits for them to come back. He of course wants to join in the fun!
Theon also loves to chase around little pieces of paper. He also loves to get inside boxes and even lay in the bathtub. Sounds to me given his desire to go outside and his like of boxes he might like a Fat Cat Backpack! Looks like he wasn't quite expecting a picture while he was relaxing in the tub!
Theon is super soft and fluffy and has been the perfect addition to Anna's family. It looks like over the long haul they might need to get this little guy an amazing brush to keep his floof in check!
StuffCatsWant thanks Theon and his family for participating as Cat of the Week! To submit your cat please email Craig@StuffCatsWant.com and include 5 pictures and 400 words about your cat!
StuffCatsWant.com is a participant in the Amazon Services LLC Associates Program, an affiliate advertising program designed to provide a means for sites to earn advertising fees by advertising and linking to Amazon.com.