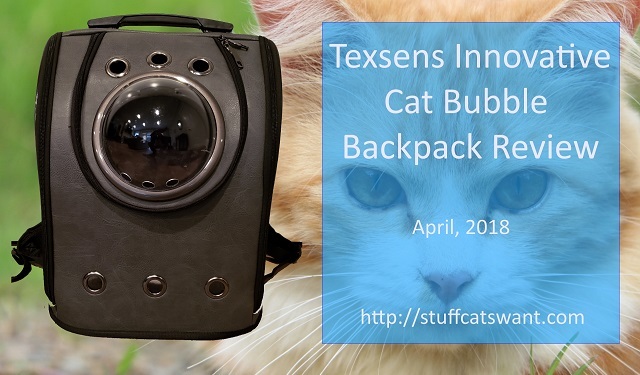 Texsens Cat Backpack – Innovative Traveler Bubble Model

---
---
Video Review
You can watch my video review of the product here or read further along for a written review. They cover all of the same items so it is completely up to you!
---
---
Overall Feelings
If you're looking for a new and comfortable way to carry your cat then you've found it. The Texsens Cat Backpack does an amazing job on several fronts so I've broken it out into individual sections of interest. All in all this is an awesome cat bubble backpack and I've been ecstatic with my purchase.
---
Comfort for the human:
Whether  you need to carry your cat near or far this carrier has you covered. Not only is it easy to pick up and easy to get up on to your shoulders, but the straps are well padded and comfortable whether you're you're walking 5 minutes or 5 miles.
Since I live in a downtown area I constantly take my cats out for neighborhood walks and they love sniffing the fresh air and bouncing along.
---
Comfort for the cat:
The carrier has a nice lambs wool bad in the bottom that is stock, but you can easily fit all sorts of blankets or other soft materials to improve upon the basic pad.
There's tons of room in this carrier. Either of my cats fits in it perfectly fine and they weigh 9 and 12 pounds respectively. I wouldn't put them both in it at once and I would suspect cats over 15 pounds would be cramped.
---
Ventilation:
The carrier is loaded with ventilation. Your cat will not overheat in this carrier.  It has 12 ventilation holes and 2 large mesh panels built right in. On top of this you've got additional ventilation whether you have the mesh panel or the bubble in place. You can even go without either for added fresh air.
---
Durability:
The product itself is very sturdy so the likelihood of your cat getting out is slim unless they have dedicated time to claw at the mesh panels without supervision.
Mine has gone on at least 50 walks since I've gotten it and it is in excellent shape. You do have to clean the plastic bubble off on the inside and outside from finger and nose prints though. Windex works wonders, hurray for no streaks!
---
Safety:
The carrier comes fully equipped with a cat leash/harness safety connector inside. You can easily snap either of the two to the connector.
Just in case your cat does find a way out (likely while you are opening or closing it as with any carrier) you have an added level of cover.
There's also a top handle built in specifically to allow you to run a car seat belt through it so you've got added safety while driving your fur ball back and forth from the vet or groomer. Bonus!
---
Novelty:
If you like being the cause of conversation or excitement then this pack will definitely do that. People absolutely love seeing your cat's head bobbing along in the bubble and they'll immediately start chatting with you about it.
I rarely make it more than a few blocks before someone asks 'Is that a cat in there?! I've never seen a carrier like that before!'
---
Ease of Use:
Getting your cat in and out of the carrier is a breeze with 3 different entry points available. After taking my cats for walks and rewarding them afterward they'll now walk right into the carrier for a treat.
The only real negative I've found with the carrier so far is that the directions for switching out the vent for the bubble window definitely need some improvement. Once you know how to do this it is super easy to interchange them or just pop them out, but it is a hassle to figure it out the first time you try it.
---
Summary of Pros:
✓ There's plenty of room for either my 9 or 12 pound cats (not both at once)
✓ It has tons of ventilation to ensure your cat stays cool even if it is hot
✓ There's a connector for your leash/harness for added safety
✓ The pack is super comfortable on the shoulders for hour long walks/hikes
✓ People love seeing your cat in it, city or country, you'll start lots of discussions
✓ My cats absolutely love it, Beast now sleeps in it even when it isn't in use
✓ There are numerous entry points for easily getting your cat inside
---
Summary of Cons:
☓ Switching out the vent for the bubble the first time is kind of a pain in the neck, if you need any help check out this short how to video
---
Frequently Asked Questions:
How do you switch the vent out for the window? I can't get the darn thing off!
Can you use it without the window or the vent?

Yes, you can definitely just leave them both off and give your cat access to the open air. Be sure they are leashed and harnessed though.

Can you use it for hiking?

Yes, I've taken Beast hiking with it and it works just fine for hour long hikes. She's comfy in it and it doesn't bother my back or shoulders.

What size cat can fit in it?

My 9 pound and my 12 pound cats both fit in it fine for short or long walks.
If it was for an extended trip like an airline flight I wouldn't recommend it for a cat larger than 12 pounds as they'd have a hard time laying down.

What are the dimensions/specs?

13.4″ L x 10.2″ W x 16.9″ H.
Carrier Weight: 4.4 pounds
---
Tips for Getting Your Cat to Use Her New Carrier
Cats notoriously dislike carriers. No matter your reason for buying this carrier you'll definitely want to slowly acclimate your cat to it so she isn't afraid of it.
These tips will ensure your cat won't despise the new carrier:
Be sure you purchase a carrier of sufficient size, this carrier wouldn't be comfortable for a Maine Coon
Introduce your cat to it over several days: let her sniff it, feed her treats while it is nearby, let her go in and out without closing or zipping it up
The first time you close up the carrier don't keep it closed for long before you open it up and feed your cat some treats
Take your cat on short walks or for rides in the car that don't end in a trip to the vet (or anywhere else she might hate like the groomer) and feed her treats when you let her out
Don't only pull the carrier out when it is time for a trip, keep it out and visible often with treats inside it
Be patient, most cats don't love any carrier, so adjusting may take time
If you need additional help be sure to check this article out on how to get your cat into the carrier the easy way.
---
Wrapping it Up on the Texsens Innovative Cat Bubble Backpack
Find the Best Deal
Have you tried out a cat bubble backpack? Please leave a comment below if you have any thoughts on the Texsens Cat Bubble Backpack (or any other!). You can always check out the Texsens website for more details too!
If you don't love this carrier then check out my post on the top 10 backpack carriers. While this is my favorite there are tons of other options out there.
StuffCatsWant.com is a participant in the Amazon Services LLC Associates Program, an affiliate advertising program designed to provide a means for sites to earn advertising fees by advertising and linking to Amazon.com.