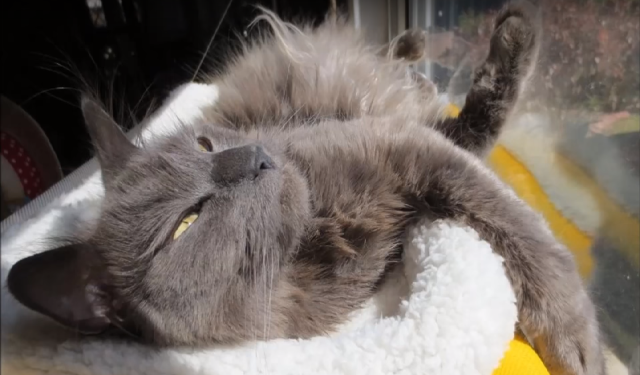 Product Name: The Original Kitty Cot – The World's Best Cat Window Bed
Where to Buy It: Find the Best Deal
StuffCatsWant Rating: 4.5 Stars

---
The Original Kitty Cot – The World's Best Cat Window Bed Product Overview:
There's a reason this product has the claim to the fame of The World's Best Cat Window Bed. First and foremost, it is really easy to install and it has proved very durable despite being made of incredibly lightweight parts.  In general, Kitty Cot provides an excellent product that is easy to use and the cats love it.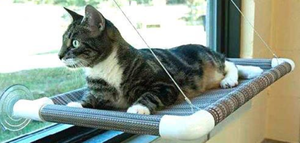 There are some other additional perks, specifically that the bed uses stainless steel wires to attach the suction cups as opposed to cloth, rope or nylon. This means even if your cat likes to chew on them they won't end up causing their own fall right out of the window.
Not only does The Original Kitty Cot do a stellar job of providing your cat a spot to relax in the sun, but it is also 100% approved by the Humane Society, that means you know the bed is up to snuff.
There's really no reason to look elsewhere unless you have a uniquely shaped window or a different need like a multi cat window bed.  I highly recommend this product.
---
The Pros:
The bed mounts to windows using four gigantic patented suction cups & provides a 26″ x 14″ relaxation area, it is 

super

easy to hang
You can buy replacement suction cups if yours eventually do wear out, you don't have to replace the entire unit like many models
Kitty Cot uses stainless steel support wires to ensure there's not a concern from a safety or durability standpoint
This is the only bed I've found that is Humane Society Approved,  now that's an endorsement

The Kitty Cot is super easy to clean with soap and water if necessary, you can also lint roll the hair right off of it

It comes in at a great price, especially compared to some of the obvious copy cats that just aren't as dependable

The frame is made of PVC plastic pipes and fittings so it is durable but also super light weight

The fabric that slips over the frame is rugged and has lasted through tons of use from my cats

It requires zero tools to assemble, just your hands and about 2-3 minutes of your time
Over multiple years of use I've never seen any damage to either of my windows from the bed
---
The Cons:
This particular model isn't designed to allow you to close the blinds while it hanging on the window, you could detach the bottom two suction cups though
The Kitty Cot is rated for a 25 pound cat which is on the low end compared to a lot of window beds, chubby cats or multiple cat households won't like this model
Eventually the suction cups will wear out from sun exposure, even faster if you live in a really sunny place (this is true for any cat window bed)
The product is made of PVC that is not BPA or phthalate free so if you're worried about that avoid this product
---
Tips for Best Usage:
Be sure that you clean the window thoroughly and clean the suction cups thoroughly before you hang the bed up. This will ensure you get the maximum adhesion and that the bed is safe for your cat. You can also use a bit of Vaseline or olive oil on the rim of the suction cup to improve the suction.
If you have any trouble hanging it check out these tips straight from KittyCot.
I suggest putting something that weighs about 10 pounds (or the weight of your cat) in the bed for a few minutes after you hang it just to ensure it is secure.
Be sure to check on the suction cups every other week or so. They will get loose over time and you should be checking them. If you live in an area that has frequent or significant weather changes then you should check more often. Changes in the weather as well as a window that sweats or fogs up will make the suction cups fall off the window sooner.
Get a small piece of lambswool or a cat bed to put up on top of the fabric to improve the experience for your cat. While the out of box fabric is very durable, it isn't as soft as most cat beds.
Don't hang the bed too high or too out of reach for an average jump. If you hang it too high and your cat has to do a full height jump into it they can more easily pull it off the window.
---
Frequently Asked Questions:
Will the suction cups fall down while your cat is in the hammock?

While this is possible, it is not very likely if you take good care when you hang the bed as well as if you take good care in checking on the bed on a consistent basis. See the tips above for details.

Can I buy additional suction cups if they wear out over an extended period of time?

Yes, you can buy them from Amazon if you need an extra set.

Can I close my blinds while the Kitty Cot is attached to the window?

Unfortunately you cannot close your blinds while this model is attached to the window. You'll have to take off at least the bottom two suction cups and let it hang down to close the blinds.

Can cats actually jump onto the bed without it coming off of the wall, or do they need to walk or climb into it slowly?

My cats jump into it constantly from a few feet down. If you have an extra heavy cat you might have a problem, but mine are 12 and 9 pounds or so and it works just fine for them.
---
Check Out These Cats Enjoying the Kitty Cot
---
Wrapping it Up on The Original Kitty Cot
The Original Kitty Cot really does live up to its name in all respects.  It is easy to install & stays in the window reliably. On top of this the durability is second to none. Stainless steel wires hold the bed to the upper suction cups and the fabric that is attached to the frame is extremely strong.
This is also the only window bed I've ever run across that is 100% endorsed and approved by the Humane Society. This means you know that you've got a solid & trustworthy product on your hands.  If you're not yet convinced this is the bed for you then check out my post on The Top 10 Best Cat Window Beds on the market.


Please leave a comment below or email me directly at Craig@StuffCatsWant.com if you have any thoughts to add to this article.
StuffCatsWant.com is a participant in the Amazon Services LLC Associates Program, an affiliate advertising program designed to provide a means for sites to earn advertising fees by advertising and linking to Amazon.com.
References: The Kitty Cot Website