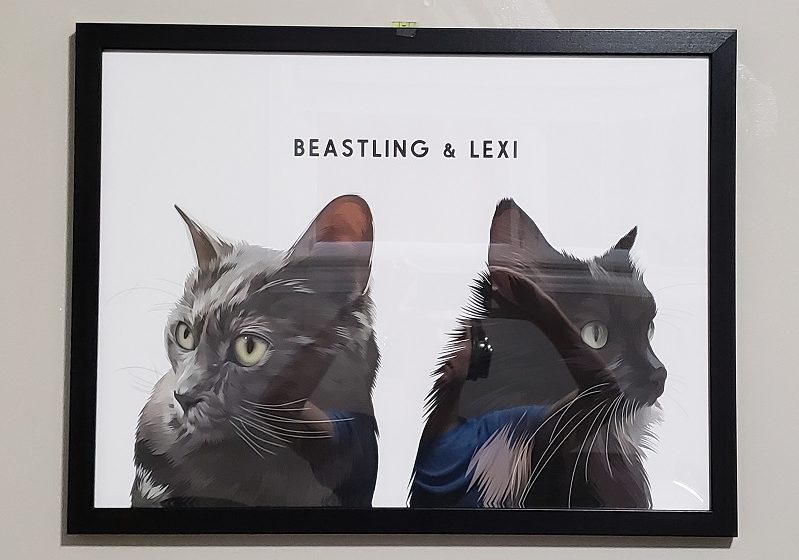 West and Willow makes amazing digital renditions of your pets from any picture you share! You can get an amazing portrait of your furball(s) and immortalize them on your walls!

---
West and Willow Cat Portraits
West and Willow's incredibly talented artists take your real life photos and turn them into amazing digital versions that are then printed, shipped to you and easily hung on your wall! It doesn't get any better than this, especially if you want to show off your cat who always hides when your friends come over...
You can use the code PAWFRIENDS15 to get 15% off your entire order too, perfect for those of you who have multiple pets or who are looking for a couple of different renditions.
An Essential Overview
So I've owed West and Willow a huge kudos for quite some time now and admittedly with Covid hitting it just took me way too long to get around to writing this. So sorry West and Willow Team!
I ordered my 2 cat portrait about 6 weeks ago and it arrived at my doorstep about 2 weeks after. Now I had sent two completely separate pictures of Lexi and Beastling, both facing away from one another.
Lexi and Beastling mostly tolerate one another, so I had asked to get them looking opposite directions to highlight their relationship. And look at that photo. The West and Willow team hit the nail right on the head. Ignore the glare, I'm just a terrible photographer!
Not only did they capture the likeness of each of these silly cats practically perfectly, I actually rearranged my entire office to hang the frame right above my desk so I can see it constantly while I'm working!
Now this did result in me having to buy a couple of cat shelves to put up on the other side of the office. With my desk the cats used to have an easy way to make it up to the window, but since I shifted it they lost their stepping stone and required a new one!
But really, can you blame me? Having this hanging over my desk on a day to day basis is hard to complain about. Especially when you're basically stuck in the house 24/7 for weeks on end with the lockdown taking place.
---
Installation / Hanging
Now let's get into the nuts and bolts of the photo and the frame. It came packed very well with plenty of space and security to keep it safe. With a bit of Windex I took off the dust from the package and it was ready to hang!
It is super lightweight and easy to handle. And it comes with easy to use instructions, nails and plastic guides and tape to put your level right on top of the portrait to ensure it isn't crooked!
I really honestly can't say enough good things about it. The only thing really left to do is to try and get Lexi and Beast next to it for a photo op. But as I stated, they aren't exactly huge fans of one another lately so that seems like a bit of a pipe dream!
---
Closing It Up
West and Willow Team, you did a beautiful job and I really can't thank you enough for enabling me to adorn my wall with such an awesome digital representation of my favorite two kitty cats!
West and Willow Pet Portraits
---
The Good Stuff:
Beautiful digital portraits
Super easy to order
Arrives quickly
Super easy to hang
Great customer service
Multiple framing options
The Bad Stuff:
There isn't enough room on my walls to hang more of them...
Don't forget to use the code PAWFRIENDS15 to get 15% off your entire order too!