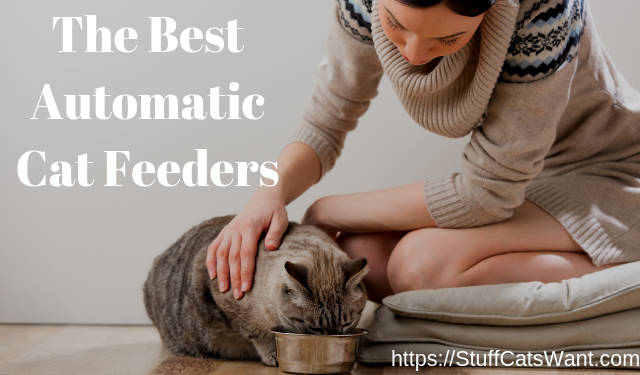 If you're looking for a way to feed your cat automatically then you've come to the right place.  An auto feeder can help ensure your cat doesn't go hungry for any reason: work, waking you up early, keeping you up late, etc.
So pop open the quick guide below and find the best automatic cat feeders of 2018. You'll find ones dedicated to helping your cat eat more slowly and ones dedicated to feeding your kitty if you're simply away at work.
---
The Best Automatic Cat Feeders
---
#1 WOpet 7L Automatic Cat Feeder
WOpet brings one of the best auto feeders available to the market. Not only does it come with tons of amazing features that every cat owner will love, but it also comes with a boatload of rave reviews from owners (beyond myself).
If you purchase this automatic feeder you will not regret it one bit. If anything you'll relish in the additional sleep you get or the confidence you have that your feline friend has a full tummy while you're away! 
Key features worth noting on this model are:
"I really can't recommend this highly enough. It gives me peace of mind when I get stuck at work late!"
"I got him this because I can't always be home at mealtimes due to work. This feeder allows me to give him a specific amount of food at set times of day."
A few things you may want to consider before purchasing:
---
#2 SureFeed Microchip Cat Feeder
This is by far one of my favorite products I've ever purchased for my cats. The primary reason I needed it was because one of my cats steals my other cat's food. The SureFeed Mircochip feeder allows my little Beast to graze all day while keeping Lexi's roving jaws away from her food.
The claim to fame on this feeder, and it does work without fail, is that you can link your cat's Microchip to the feeder and it'll open up only for that cat. Pretty darn cool and helps minimize food thieving! A few other things worth noting:
"The SureFeed feeder has eliminated our cat's food anxiety and restored our sanity! And it helps stop my other cat from stealing his food so they can both stop gaining weight."
This model is designed primarily to limit access to food, so definitely consider the following:
---
#3 Westlink 6L Automatic Feeder
If you're looking to keep your cat healthy and happy then you want to make sure he or she gets the right amount of food at the right time. This can be difficult to do if you're busy at work all day or if your cat likes meals at inopportune times.
Getting the Westlink Auto Feeder is a great way to keep your cat happy which will help keep you happy! Key features worth noting on this model are:
"I've had about 5 different auto feeders in the past 10 years and this one is by far the easiest to set up, tune, clean, fill, power, and travel with.
A few things you may want to consider before purchasing:
---
#4 Petutor 6L Cat Food Dispenser
This model is going to have a lot of similarities to the Westlink model that is listed above. The key distinction between the two of them is really in the color combination available. Beyond that there's not a ton of difference.
If you're looking for a way to keep your cat's tummy full so they get the right level of nutrition then this is a great option! Key things you'll want to consider on this model:
A few things you may want to consider:
---
#5 Petnet 2nd Gen Smart Feeder
If you're looking for a feeder that will help you make decisions then this is the model for you. Petnet's app is definitely a cut above the rest. It'll give you recommendations on portions for your cat based on a quick survey.
It'll also let you know when it is running low on food and needs a refill. Are we getting close to sentient cat feeders? It appears so! It is even smart enough to recharge itself and run for 2 full days without power! A few other items worth noting:
A few things you may want to consider:
---
#6 Arf Pets Dry Food Dispenser
If you're looking to keep reaching paws out of your automatic cat food dispenser then this is a great option for you. Not only will they not be able to reach up from the bottom, but the top has a magnetic locking lid too!
If you've got one of those crafty kitties that has found their way into other feeders then this might be the right fit for you! A couple of other things that you should know about this model:
"Every aspect of this feeder has proven to be above and beyond my expectations!"
​One thing you may want to consider before making a purchase:
---
#7 Iseebiz Automatic Cat Feeder
Looking for something a bit more modern? Tired of very functional square and rectangular shaped feeders? Then check out this awesome feeder from Iseebiz!
It has a ton of the great features other models have, but it certainly looks a heck of a lot cooler! Let's dig into the key items worth noting:
"My cat can't break into this thing, it is like the Fort Knox of cat food!!!!"
​You'll want to consider the following before you push that buy button:
---
#8 HoneyGuardian 6 Meal Cat Feeder
If you're looking for one of the most versatile feeders on the market then Honey Guardian absolutely has you covered. You can choose from a huge variety of portion sizes on this model and you get a total of 6 meals a day instead of the traditional 4 meals a day most feeders provide.
A couple of key things any buyer would want to know and a full video review are below:
"With this feeder, it's impossible for Winston to finagle more food like he used to. He sticks his little paws up there, body slams it, and meows, but not so much as a single kibble pops out. Then he leaves disappointed. The machine is boss."
---
#9 Petsafe Slow Mode Feeder
If you need the ability to drop numerous meals or slow meals then you've come to the right place. Maybe you have numerous cats or you you've got a cat that is prone to getting sick if they eat too fast. 
Whatever reason you might have, this model gives you the ability to do 12 programmed meals a day. A few other major items wroth noting:
​One thing you'll want to keep in mind before purchase is:
---
#10 Pet Safe Smart WiFi Feeder
If you're tech savvy and you're looking for a kick butt smart feeder for your cats then this is a great option to consider! Fully accessible on either iOS or on Android by mobile app and you can program it right from your phone!
It also has a lot of the options available from the Pet Safe premier slow feeder in this article. Key features worth noting on this model are:
​One key item worth noting before you make your purchase:
---