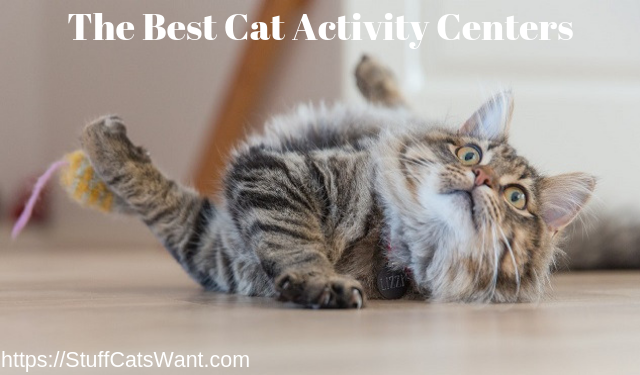 Ut oh, your kitty is meowing at the chair again. Her toy must have ended up under it and she can't get to it! While you get that one out you might as well search the whole house for all of the toys your fur ball has scattered while playing. I know it is always my favorite thing on my to do list…
Enter cat activity centers. Cat activity centers have numerous benefits in comparison with traditional toys. Now I'm not saying they should be substituted and you should toss all your traditional toys.
Both have their uses. But activity centers can be a huge time and hassle saver by centralizing play into a single location and enabling easy cleanup.
Note this article will not include any cat trees/castles. Cat trees and castles take up significant room and can't be easily broken down so they'll be addressed separately. Check out this article if you're looking for a cat tree for a large cat.
The Best Cat Activity Centers Quick Guide

Best for Super Smart Cats
---
The Ripple Rug Cat Activity Play Mat
Most cats love to sharpen their nails on rugs, mine included. I've even bought crappy rugs I expect my cats to destroy just so they don't go after my good rugs.
But I never thought I'd find a rug specially designed for cats so they can scratch it up up and play with it! This is probably one of the most entertaining cat toys on the market. While it is simple in concept it allows for an endless number of configurations.
The Ripple Rug is unique in product design and use:
There are two layers to this rug:

The top layer is filled with large sized holes and has Velcro attachments to connect to the bottom
The bottom is solid and you can stick the top to it to create all sorts of different landscapes for your cats to explore

This gives you complete creative control and a bunch of flexibility, it only takes a few minutes to completely revamp the landscape
It is a pretty darn large rug coming in at 47″ by 35″ so you'll have lots of space for multiple cats to explore & play on
The rug is made to withstand extended scratching and help stop your cats from scratching up your furniture
[maxbutton id="4″ url="https://amzn.to/2H9RKfq" text="Find The Best Deal" ]
---
Catit Design Senses Self Designed Activity Center

Catit is known for cool and intriguing toys and products for cats. They are a powerhouse in the industry. While they don't have a single "activity center" as a product they do have a bunch of products that can be combined into an activity center for your feline friend.
Their toys span the whole library. They have everything from their circuits to their cat grass option to their design circuit that lets your kitten or cat knock a ball around in a closed track. Catit basically enables you to easily build your own activity center with all the things you find interesting and entertaining.
Check out the video below for some great options and ideas of how to combine pieces together. I've also linked to a starter pack that is in the photo above that'll get you the basics right off the bat!
Here are a few of my favorite items:
The Design Senses track
The Design Senses Food Tree/Puzzle
The 2.0 Digger for Cats
The Catit Drinking Fountain (see review here)
[maxbutton id="4″ url="https://amzn.to/2K3Jz1W" text="Find The Best Deal" ]
---
Trixie Pet Products 5 in 1 Activity Center
The Trixie Pet Five in One Game Board is dedicated to keeping your cat entertained through food puzzles. It is by far one of the most mentally challenging toys on the market. If you've got a very curious cat that is always searching for the next thing to explore than this is for you.
Another thing worth considering this toy for is as a feeding puzzle for cats that eat too fast. If your cat tends to get sick from inhaling her food then this will definitely slow her down. The board, no surprise given the name, has 5 different ways to engage your cat:
There are numerous sphere shaped bowls that require your cats to scoop out food with her paw

The pegs make your cat move food between them to the edges so can eat eat

Wave shaped alleys or swim lanes are next in line and make your cat push the food out to the edges


The top is primarily for liquid treats since the slits hinder the cat from using its paws easily

The tunnel makes your cat reach out and stretch to reach a toy or a snack inside
All in all a great way to make a cat work for their food or treats, any cat that needs some exercise will love this activity board! This little video shows it in action:

[maxbutton id="4″ url="https://amzn.to/2H7LUHc" text="Find The Best Deal" ]
---
Petty Love Cat Activity Center with Hanging Toy Balls, Mice & More
This is a more traditional cat activity center that is focused on a bunch of different cat toys centralized in one spot. The toys are exposed to your kitty using a simple plastic arch system and a lady bug shaped mat/rug that sits under the arch.
This toy features 4 hanging pieces that will encourage cats of all ages to swat, bat and bite at them

The built in mat will help contain some of the stray fur that is bound to come off your kitty as the lay on their back and whack at the hanging toys

Designed to easily fold up and fit in a zippered storage bag that comes included

The arch that holds the toys up is made of sturdy plastic, but a rowdier cat may manage to knock it over

Note: If you have a large cat or a very rough playing cat you may want to skip this toy as other owners have indicated the plastic can break with a lot of rough housing
[maxbutton id="4″ url="https://amzn.to/2voqpQT" text="Find The Best Deal" ]
---
Pyrus Hide and Seek Pet Paw Puzzle
This particular activity center is specifically focused on helping you slow down your pet from inhaling her food.  That however doesn't take anything away from all of the fun and entertainment it provides for your cat! The product is made of wood so it is very durable and easy to wash off or rinse off if anything gets stuck to it (like bits of dried cat food)!
Each of the different areas on the toy is designed to test your cat's mind in different ways. This keeps them curious and entertained so long as they are food motivated. It also ensures your cat gets rewarded for her ingenuity! An additional few items worth pointing out:
There are numerous small bowls built into the wood frame and you can drop food in each
There are varying covers or tops you can place over each of the bowls which encourages your cat to move them to get to the food
You may need to show your cat how to move them the first few times before they get the hang of it
It is about 9″ x 9″ and a little over an inch thick
It is paw shaped which is a nice additional touch to make it clear it is a pet toy
This product is probably the most durable of all those on the list cause of its wood construction
[maxbutton id="4″ url="https://amzn.to/2HbYpp8″ text="Find The Best Deal" ]
---
The Lukas Cuddle Cave (aimed at kittens)
Easily one of the most novel of all the toys and activity centers on the market. I'm sure you can see that by design alone. You've got a large mouse shaped activity center with a bunch of different options for your kitten to enjoy. Do note this one is aimed at kittens, not adult cats.
As an added bonus this activity center also doubles as a cat bed and comes fully equipped with a machine washable insert that is super easy to remove when your fluff ball dirties it up.
The ears have rustling foil built in to keep your kitties attention when they get moved
The back of the mouse has a fully built in scratching pad that's made of sisal
There are two dangling pom toys (that look like the eyes of the mouse) for swatting
There's a long tail attached to the back for pouncing and swatting
The dimensions: 14 x 26 x 13 Inch and weighs: 6 lbs
Note the toy is designed for kittens or smaller cats, large cats will have difficulty getting inside it
[maxbutton id="4″ url="https://amzn.to/2HIqAZS" text="Find The Best Deal" ]
---
The Murica Activity Tree by Trixie Pet
This fine looking piece of feline furniture is the Murica Activity Tree. It is lined with plush black fabric both inside and out. If you have a white cat and don't want it to show then this is not the toy for you!
This may be considered a cat tree or a cat perch by some, but given the size and the attachments I have categorized it as an activity center.  There's good reason for this given the huge number of ways that a cat can play here:
You've got an awesome sisal scratching post to keep your cat's claws sharp
There are a total of 12 holes built into the base giving your cat lots of ways in and out and lots of places to play peek-a-boo, if you have two cats they are bound to use these to pounce on one another
There's a dangling pom pom toy hanging inside of the base of the activity tree
There's another danging pom pom hanging from the top of the scratching post
[maxbutton id="4″ url="https://amzn.to/2EZ0TkP" text="Find The Best Deal" ]
---
Animals Favorite Cat Activity Center
You'll note a significant amount of similarities between this product and the Petty Love Activity Center. The key difference between the two is the manufacturer as well as the price of this version comes in a bit lower than the Petty Love version (as of writing this).
Both products do a great job of entertaining your cat, they are mostly variations on the same product. In case you've used toys from either of these companies and have a preference I've included both in my list. Key features worth noting:
This toy features 4 hanging pieces that will encourage cats of all ages to swat, bat and bite at the

The lambswool mat that serves as the base is comfy and will collect cat fur as your kitty plays

It is super easy to deconstruct it and hide it away if company comes by or you just want to hide it to keep it mysterious


The arch that holds the toys up is made of plastic, but it can suffer from the same issue as the Petty Love activity center in that very active cats may knock it down or break it
[maxbutton id="4″ url="https://amzn.to/2HwMcuB" text="Find The Best Deal" ]
---
Poker Box Cativity Center
The Poker Box Cativity Center is another food puzzle focused activity center for cats.  If you've got a food motivated or prey driven cat that needs entertainment then this is an excellent choice. It is also an excellent choice for slowing your cat down if they eat to fast and end up vomiting because of it.
One of the more common complaints with feeding puzzles is they are often dedicated to only dry food given their designs. This version accommodates wet food without any problem at all! Here are some of the key features worth noting in more depth:
This center includes 4 different compartments that are each attached to the base

Each compartment must be opened using a different method: lid, drawer, rope and sliding knob

The bottom has non-slip rubber feet keep the base in place while your cat plays and explores

This model is 100% dishwasher safe, throw it right in after a meal or after a few uses

It also contains a small instructional booklet with tips and tricks to show your cat how to use it
[maxbutton id="4″ url="https://amzn.to/2HcJVRQ" text="Find The Best Deal" ]
---
Brain Mover Cativity Center
This Cat Activity center is fully dedicated to making your cat think for food. If your cat isn't food motivated you probably won't have a lot of success with this particular model as there aren't a lot of other ways to interact with it. If you've got a food driven fur ball that is really curious then this is an excellent option.
This model comes fully equipped with 4 built in puzzles and games to keep your kitty cat entertained and engaged while going after treats or food. Check out the video to see the games in action with a curious kitty at work!  Here's a quick rundown of the major items of note:
Rubber feet to keep it in place while your kitty plays
It measures 6.5″ x 8″ so it is quite small and easy to store
It comes with a tips and tricks booklet to teach your kitty to use it

Games:

The first game you put food under some of the blue plastic balls and your cat will have to push them away

The second game has plastic 'sliders' on tracks that you can place food under and your kitty has to slide them out of the way

The third game will make your kitty pull a lever to get access to the food inside

Last but not least is a drawer with food inside it where your cat can pull on the loop

[maxbutton id="4″ url="https://amzn.to/2JVGT6o" text="Find The Best Deal" ]
---
CProducts Cat Gym
The Cat Gym & activity center from CProducts is an up coming toy on the market place. It was much more recently released than other options on the market but is already seeing a lot of positive feedback from cats and cat owners alike.
You'll definitely notice some similarities between the other cat activity centers I mentioned above and the one from CProducts, this is because it is a formula that works. There are however a couple of key points worth calling out that might make a difference in your final selection:
There are 4 hanging cat toy pieces encourage your fluffy friend to bat, roll & reach

You may want this version simply for the Bengal tiger print, especially if you need to match it to some pants or some carpet in the house
It is super easy to pop it up or break it down which helps in maintaining mystery to keep your cats interested when it is out
It measures

22.5″ x 22.5″ x 13.5″

Check out this awesome video to watch a very playful kitty go bonkers with the Cat Gym
[maxbutton id="4″ url="https://amzn.to/2qLDoHD" text="Find The Best Deal" ]
---
Petlinks Crinkle Mat

If you've got a cat that goes bonkers for crinkly noises then this is the activity center for you. The entire mat is loaded with crinkle paper to make sure that your kitty stays fully engaged!
On top of this the toy comes equipped with real bird feathers to engage your cat's natural hunting instincts! It is quite the killer combo to pull your cat in and keep her entertained for the long haul.
A few other items worth noting:
It comes with several detachable toys that will provide tons of fun for your feline friend
There's one pocket you can easily refill with catnip and the entire mat is filled with crinkle paper
The mat is 17.5″ W x 15″ L giving your cat plenty of space to roll around and play
The mat comes with a tube of Pure Bliss Organic Catnip to get your kitty started

[maxbutton id="4″ url="https://amzn.to/2yC6wYt" text="Find The Best Deal" ]
---
Ikwuanfly Lady Bug Activity Center

If you're looking for an awesome addition to your house for your cat that is very cutesy then this is a great choice. The design follows that of a giant lady bug and has all the key draws of other activity mats.
Key features worth noting on this mat:
The mat us super comfortable so not only is it great for playing it is great for snoozing too.

The plastic frame is strong and secure to ensure it won't simply collapse or tip over when your kitties play with it.

The base material is non-slip won't slide all over even if your kitties are playing with it on a wood floor.

There are four small toys hanging from the frame including a mouse, small bells and a very fluffy ball.
It is very easy to deconstruct quickly if you'd like to take it down and make room in your home.
[maxbutton id="4″ url="https://amzn.to/2MTKTpI" text="Find The Best Deal" ]
---
Why Is a Cat Activity Center a Good Idea?
Activity centers accomplish a few goals for you and your cat(s).  The most important reasons are: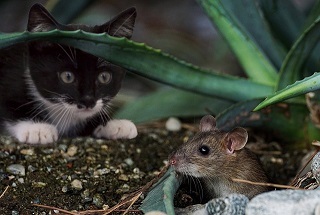 Centralized Fun: An activity center will help your cat associate a specific place in the house is for playing. Activity centers keep everything in one spot and they are more often than not easy to pack up and put in a cupboard when you no longer want your kitty to play.
Natural Instincts: Cats naturally want to hunt, stalk and pounce. Giving them a chance to play and do these things is great for exercising their natural instincts. Doing this at a time of day that you choose is far better than your cat deciding to do it at 3 AM while you're trying to get some sleep!
Health Related: Just like us humans, exercising decreases overall stress and gives your cat a chance to focus on something. Not only is this great for producing endorphins (yes, cats have them too!) but it also helps them keep their weight down. A healthy weight helps deter health problems in general.
---
What Else Should I Consider?
Age: Definitely take into the account the age of your cat. Cat most of the items listed above are age agnostic, but some of them are definitely more appropriate for kittens or adults than others. You should also take age into account when deciding how often and for how long to play with your cat. No surprise, but the older your cat gets the less likely they are to spend time playing.
Variety: Remember that cats will get bored of the same thing if you use it over and over constantly. This is a nice perk of many of these puzzles and activity centers, you can simply fold them up and stick them in a shelf or closet when they aren't in use. This helps them maintain a sense of mystery each time you take them out for your cat. Definitely remember to put the center away from time to time and keep them guessing.
Construction: You'll want to take into account the material the activity center is made of.  If you have a bit more of a rough and tumble cat then choosing one of the sturdier options like the Pyrus (made of wood) may be your best choice. If however you've got kittens and you want something super easy to clean in case of an accident then the Ripple Rug or one of the plastic options might be your best bet.
---
Why So Many Food Puzzles?
If you've read to this point I'm impressed with your dedication! You'll probably also have noticed that several of the activity centers are food driven and force your cat to think to get rewarded.  Cats that are extremely curious and like to explore are far more prone to require structured play sessions on a daily basis.
These cats also tend to enjoy activity centers because most of them are designed to encourage and reward curiosity.  This is a great way to feed your cat and help them do both some mental and physical gymnastics at the same time!
There are certainly other alternative in the shape and form of cat condos or cat trees. Trees provide numerous caves and climbing areas and enable your cat to get up somewhere high which is another natural instinct.
The reason I did not include trees here is because they are normally large and not easily hidden or deconstructed if you need the space. Trees are a great addition to any cat home if you have the space!
---
Wrapping It Up On Cat Activity Centers
The market is loaded with all sorts of ways to entertain your cat these days. From remote controlled toys to apps to traditional tinkling bells.  Every time I got into the shelter I volunteer at or walk into Petco for food I see something new and improved out there to engage my kitties.
Many of the one off cat toys are often great options, especially if you want to spread out costs over the long haul. But a single centralized spot for your cat to play can be easier to deal with and easier to pack up and put away when you want some peace and quiet.
Don't be afraid to experiment and see what works for your cat! If you have any cat activity centers you love that I totally missed then please please leave a comment below!
StuffCatsWant.com is a participant in the Amazon Services LLC Associates Program, an affiliate advertising program designed to provide a means for sites to earn advertising fees by advertising and linking to Amazon.com.