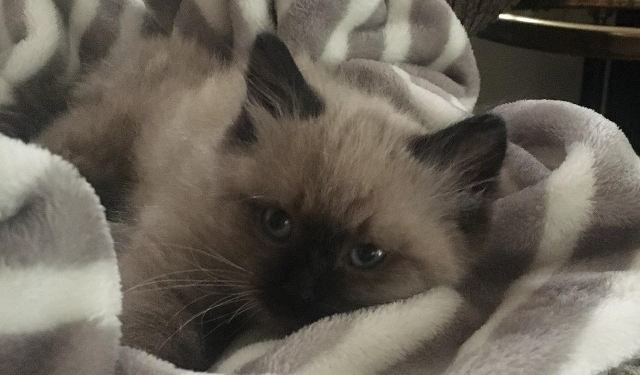 This week's featured cat of the week is Henry!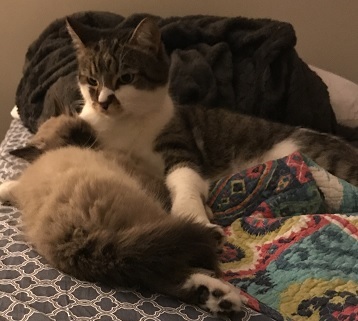 Henry is just a little bit over twelve weeks old and lives with his human mom and dad and his big cat brother Oliver in Halifax, Nova Scotia!  Henry is a lucky guy that he has a brother to play with so he gets lots of exercise! You can see Henry here zonked out on the bed while Oliver watches over him, what a great older brother!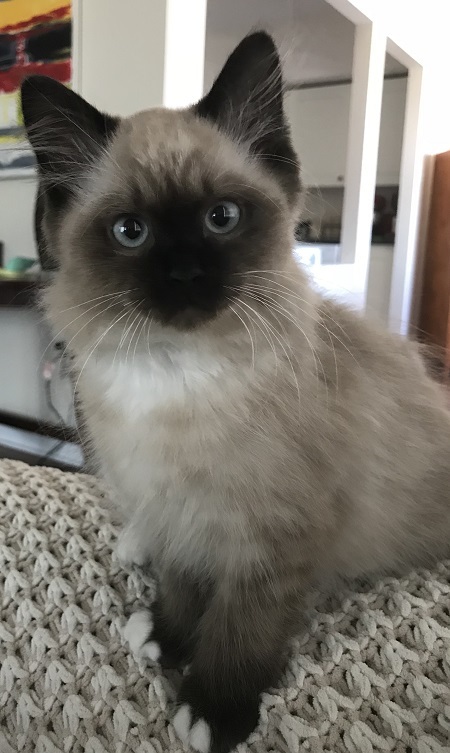 Henry joined the family in a very interesting way. One evening a family friend texted Henry's mom in a panic saying that her cat had surprise kittens! She sent pictures and no surprise, mom instantly instantly fell in love with one. Sadly there had already been many long conversations about not adopting another cat into the family, Oliver was quite enough to take care of already!
Another little cat brother was simply not on the table which made mom so bummed out that she even refused to go visit Henry so she wouldn't get attached!  I probably would have had to do the same with a face like that!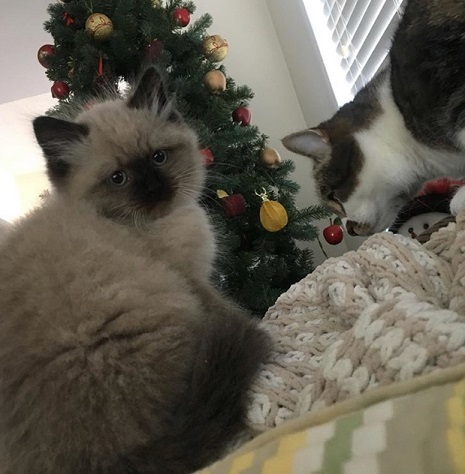 Fast forward two months and it is three days before Christmas and a sneaky surprise was at hand! Dad had been working some magic behind the scenes and had quite the present prepared. He requested a visit to the neighbor's house and low and behold he snuck in with Henry in his arms and presented the little two month old kitten as a huge Christmas surprise!! After that there were so many happy tears that Henry's new mom slightly passed out from excitement!
Henry's mom said "He was the best surprise I could have ever hoped for and I definitely wasn't expecting it, no one has ever kept a secret like that from me! Every body in my life knew, even my coworkers and not one person let it spill! It still blows my mind. I couldn't have hoped for a better fur baby, he has brought so much light into our lives. ❤️"
Wow! What a story! And as for Henry's dad, I will just say that you've made a lot of us other guys look pretty bad here! You're setting the bar way too high for everyone else! Totally kidding, wonderful job, way to bring another fur ball a happy home in the process of such a great gift.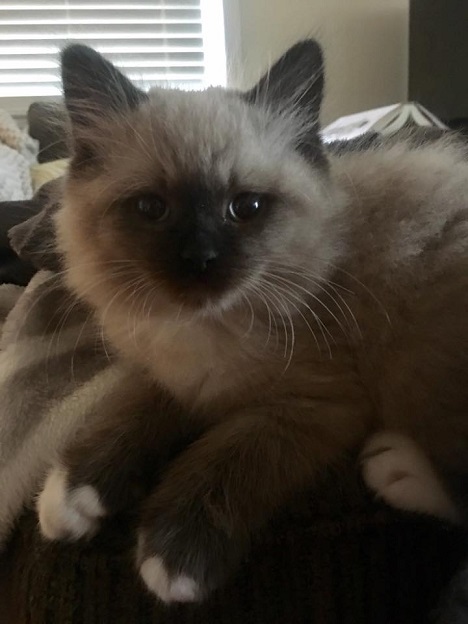 One final note, while clearly this story ended in a very happy way for Henry and his family, lots of kittens out there never find a home. Unless you're planning for kittens definitely check out these articles on getting your cats spayed or neutered!  If you're introducing new cats to each other you might also want to consider Feliway Multicat to ease the transition for both of your cats!
To submit your cat for Cat of the Week please send at least 5 photos and a description of at least 400 words to Craig@StuffCatsWant.com.