This week's featured cat comes from San Luis Obispo, CA from the reddit user thescruffysquid (Shawn)! We thank him for submitting Charlie as cat of the week.
Charlie and Shawn live in San Luis Obispo, CA. Growing up, Shawn always had cats so after a few years of living on his own he decided that it was time to adopt a fur ball for himself. One day, Shawn randomly decided he would check the local shelters website and his my future furball's picture on the home page. There was something about the little half mustache that drew him in and he knew if he adopted her he would name her Charlize(after Charlie Chaplin).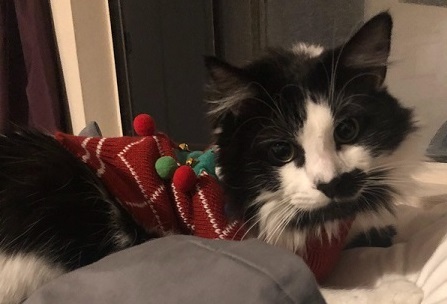 Charlize was listed as a six month old, short haired female. When he got to the shelter and asked to meet her he was told that she's the most loving kitten they had and hoped she would go home ASAP! The second he got into the cat section of the shelter he saw a little black and white paw sticking out of a cage as if it were waiting for him.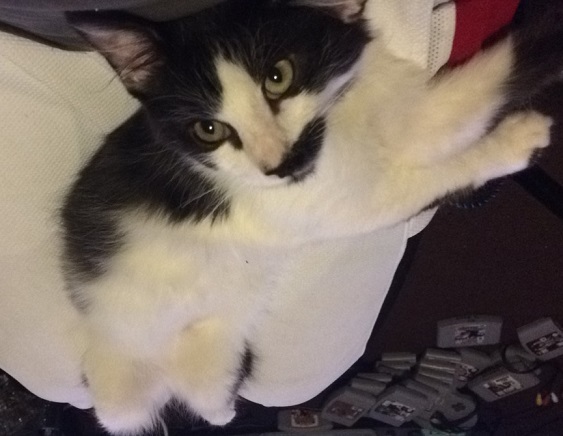 The attendant left him in the room and when he opened Charlize's cage she jumped onto his shoulder and started purring purring up a storm. At that moment he knew Charlize was going home with him so he Face Timed his mom and Charlize stared at my phone and purred for my mom! After signing the adoption papers the shelter told me she would get spayed (they still thought she was female after all!)  the following day and that she could get picked up after.
Shawn arrived at the shelter the following day at the time they told him to get there with the biggest grin on my face. When the receptionist came up, she told him she needed to talk to him about the operation. Naturally, he got worried. What went wrong? Is Charlize ok? "Surprise! Charlize is a boy!", said the receptionist. Knowing now that his kitten was a boy, he knew he had to change his name to Charlie which suited that little mustache even more!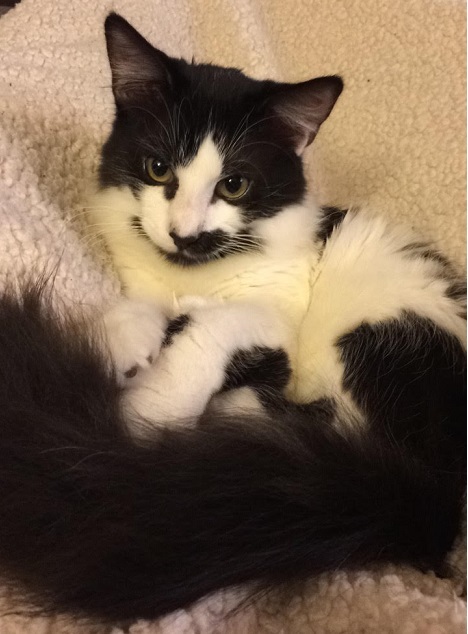 Fast forwarding a little longer. Charlie's second birthday is just around the corner and guess what? He doesn't have short hair either!  The short haired, female kitty, is actually a long haired male! Since Shawn had always wanted a fluff ball he wasn't that disappointed! What a lucky cat Charlie was to find a human that is open to all sorts of feline friends!
Charlie's favorite things to do are play with his pet mice or shoe laces (check out these toys for recommendations), sleep in the window (some cats love window beds), and play in his water fountain (be sure your kitty stays hydrated too). Not only is Charlie the opposite of what the shelter said, but he also loves to play in water! Who would have thought? The second the shower door opens he tries to jump in the shower to roll around in the water.
If you ever want to see your cat go crazy, tie a shoelace to one of their favorite toys and you are in for a real treat! Charlie loves to talk when his human is trying to sleep, but once Charlie started getting play time right before bed with a mouse attached to a shoe lace he sleeps all night……most of the time. You can find Charlie on his Instagram @imcharliethekitteh though he's been slacking on his posts lately!
Every month it seems like Charlie's tail gets poofier and his hair gets longer. With every passing day Charlie seems to follow Shawn more closely because he never fails to find some of Charlie's long fur on his clothes! Reminds me of my little furballs, can't seem to go anywhere without getting fluffed up!
Last but not least, Charlie loves being rewarded when he's a good boy! His absolute favorite treats are Chicken flavored Greenies!
To submit your cat for Cat of the Week please send at least 5 photos and a description of at least 400 words to Craig@StuffCatsWant.com.