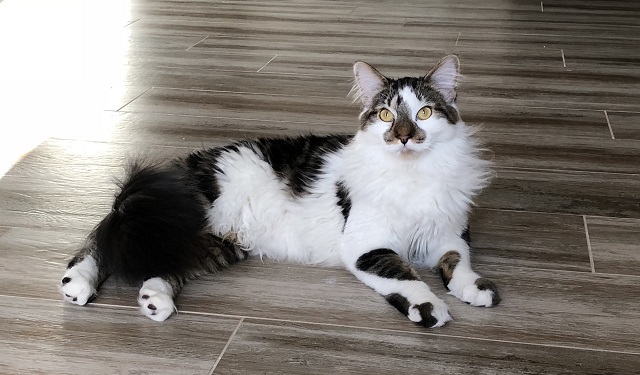 Everyone say hello to Greyworm! Greyworm comes submitted to us by reddit user Missmel1722. His birthday is July 9th 2017 and she had the pick of the litter from a friend and chose him right away, but at first she didn't know Greyworm was a he.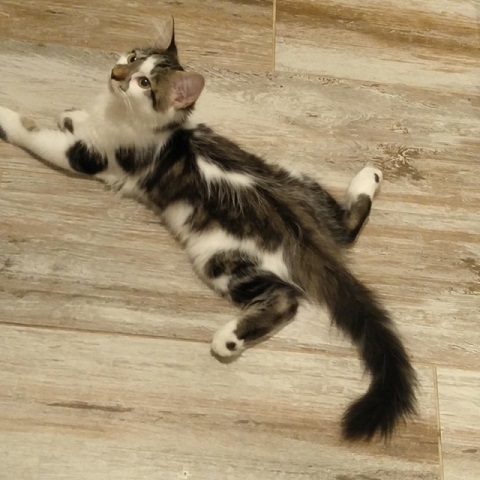 She had wanted a friend for her 6 month old calico Milky Way and thought another female would be perfect. So she brought Zelda (at the time) home and they were instant friends! Fast forward a few weeks and anatomy started telling her a different story…It turns out Zelda was a boy!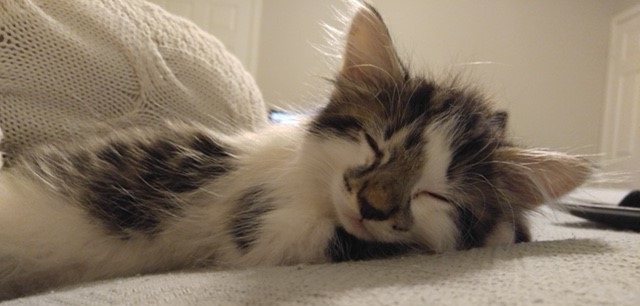 The day she got him neutered she renamed him Greyworm (any Game of Thrones fans out there?) He is the first male Missmel1722 has owned and it's been interesting. He's SO loving! He wants love and pets all the time and belly rubs are his favorite.
He is also very vocal. He talks whenever he wants pets or food. And man can Greyworm purr. She's never heard a cat purr the way he does. He purrs all the time. If he wasn't purring then there might be something wrong with him! He even purrs at the vets office!
Speaking of food he is always hungry. He wants food all the time even if he's just been fed. He gets so excited to eat and gets so vocal that he can't even make sounds anymore. His fur is long and he has the biggest bushy tail. His tail is always fluffy regardless of his mood. This also means his fur is a lot of work. He gets matted fur quickly if he isn't brushed regularly. Especially his belly where the fur gets wavy and curly.
Greyworm also, oddly enough, has a taste for veggies. He loves asparagus and brussels sprouts. He's not allowed to have them, but if when his humans aren't careful he will steal them off the plate.
He's also fascinated by water. He loves watching Missmel1722 do the dishes or fill her water cup from the fridge. For a while he was in the habit of knocking over his water dish so he can walk through it and play.
Greyworm loves to drink toilet water (gross) so bathrooms have to stay closed or he will run in to get a drink. Many cats enjoy drinking from a moving water supply as it is theorized moving water is safer in the wild. If your cat doesn't drink enough or drinks from unsanitary places you might a drinking fountain like the one by Catit (check out the review of the Catit water fountain here).
Greyworm also loves to watch tv with his humans, favorite shows include:
Planet Earth
The Joy of Painting with Bob Ross
The Office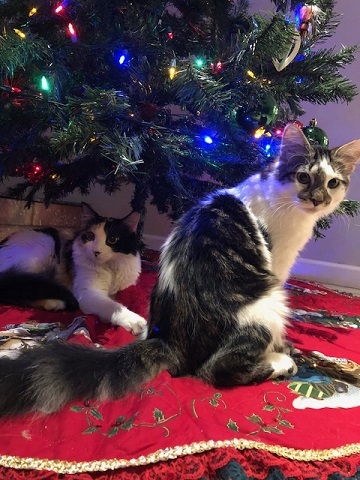 His first Christmas included regular climbing of the tree and breaking every ornament his humans had. He also enjoys tearing up the couch and eating things he shouldn't like hair ties, paper, etc.
Things Greyworm doesn't like include:
Car rides
The vacuum cleaner
Sharing treats with Milky Way (his sibling)
Not being able to get in the window for bird watching (perhaps a window bed is in order!)
Not getting in the bathroom for toilet drinking
Not sleeping directly between his humans ( he will wake them up out of a dead sleep so we move out of "his" spot – see below for his most graceful sleeping position)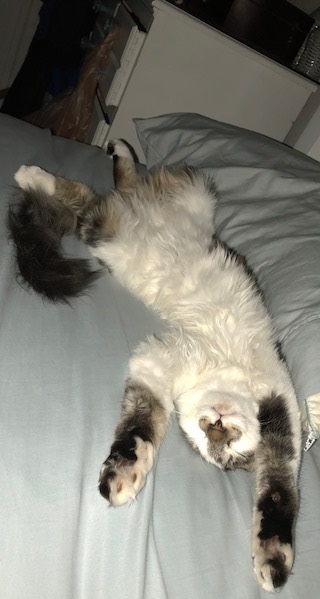 So that's Greyworm. Everyday with this fluffy boy is an adventure and they love him and hope you do too!
To submit your cat for Cat of the Week please send at least 5 photos and a description of at least 400 words to Craig@StuffCatsWant.com.
StuffCatsWant.com is a participant in the Amazon Services LLC Associates Program, an affiliate advertising program designed to provide a means for sites to earn advertising fees by advertising and linking to Amazon.com.