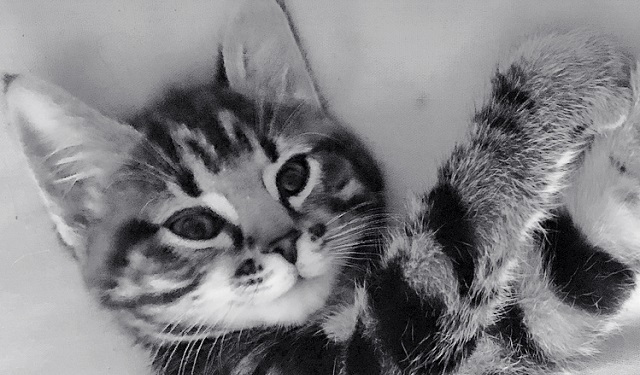 This week's cat of the week is Clio! Clio is an adorable little 8 month old lady currently residing in the UK!
Clio's family assumes she is a tabby, though they suspect there might be some Bengal blood in her based on her looks and personality.
She loves water and while she doesn't bathe or go swimming, she drinks from any tap when it's on and likes to spend time in the sinks. Reminds me of my foster cats Tori and Tinley who slept in the sink all the time and absolutely loved the drinking fountain!
Whenever Clio's humans are in the bath she also dips her paws in out of curiosity too. I find this adorable, especially since my fur balls run the second the shower turns on.
Clio is also incredibly boisterous and spends a lot of time annoying her older sister, the floofy Norwegian Forest cat seen right here. What is a younger sister for if not annoying the older sister?!?!
Clio spends most of her time either chasing her sister around the house, waking her humans up at 5 in the morning or sleeping. She absolutely loves her daily bowl of milk! (though I suspect that might not last much longer as she's likely going to lose her ability to process it effectively quite soon!)
When she's not hunting (she is a bug catching master) she randomly brings in leaves and clumps of dirt as presents for her humans. Which  they of course appreciate hugely.
Her humans say they've never had such an outgoing dog like cat, she talks a lot, has huge cheeky personality and loves company!  And what luck they had too. Clio was born to a family that simply ended up with too many kittens and the reluctantly gave her up to her current humans. 
Her human's think they did the other kittens a huge favor though. Apparently Clio was quite the bully and loved to wrestle and attack her other litter mates. Who would have guessed with a kitten that looks this adorable?!!?
And look at this beautiful closeup of her in full on scratch and stretch mode! Mine do the same in this lovely pose, they love doing it to our rugs! What an amazing cat she'll grow up to be once she's a full on adult. 
We thank Clio's family for submitting her as cat of the week! To submit your cat for Cat of the Week please send at least 5 photos (feel free to send more!) and a description of at least 400 words to StuffCatsWant@gmail.com.
StuffCatsWant.com is a participant in the Amazon Services LLC Associates Program, an affiliate advertising program designed to provide a means for sites to earn advertising fees by advertising and linking to Amazon.com.