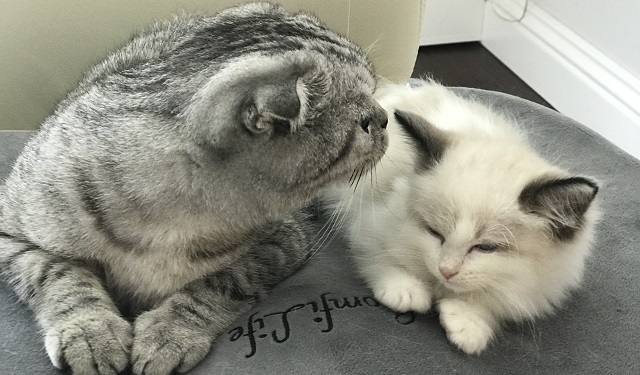 This week's cat of the week comes from Sally and it is two cats, Luna and Riceball! Sally's family is in the process of adopting a third cat from a shelter to join Luna and Riceball!
Riceball is a Scottish Fold and he's 10 months old. He is the older of the two but apparently he's quite the wimp! He was scared of people and when he first came home he didn't meow at all.
Now, he meows very loudly at 5 in the morning because he wants his breakfast! Sounds to me like​ an automated cat feeder might​be in their future!
Riceball doesn't like being held or hugged unless he's still waking and and is sleepy.
The Ragdoll you see is named Luna and she's about three months old, still a full on kitten! Even though she's the younger one she bullies Riceball. She has so much energy and a bottomless stomach as most kittens do.
She was super tiny when Sally's family got her but she ate so much that she's grown a lot. Luna doesn't meow! Instead she makes adorable little squeaking sounds. If you're not next to her then you won't be able to hear her.
The only exception is if you're pulling her away from food, then she squeaks like you're killing her. When it's dinner time, the family always have to have someone watching the two because Luna eats super fast and will run over and steal Riceball's food.
Since Riceball has a very mild temperament, he lets her get away with everything! Sally and her family even bought a cat tree for Riceball and he loved it. Then when Luna came along and he let her have the tree all to herself.
Riceball is very sweet because he doesn't scratch or bite you if you're doing something he doesn't like. This is why he's easier to dress up and take pictures.
Although they didn't like each other in the first week Luna came home they have now become inseparable. Luna follows her older brother around everywhere and Riceball is very curious about Luna too. If Sally takes Luna to a separate room Riceball will curiously follow us and make sure that she's ok before leaving.
The one thing Riceball absolutely loves to do is go outside to the backyard. He meows every morning and night to go out. Even though Luna isn't very fond of going outside she follows him outside. ​
Riceball has proven himself to be a super smart cat! He knows how to shake hands, high five, roll over, and stand. His family is also trying to teach him how to do a "please motion" but it has proven a little difficult.
The family also attempted to teach Luna, but they aren't trying that again. At least not until she grows up a bit more! The two cats have very unique and different personalities but they love them the way they are!
StuffCatsWant thanks Sally and her family for participating in Cat of the Week!  To submit your cat please email Craig@StuffCatsWant.com and include 5 pictures and 400 words about your cat!
StuffCatsWant.com is a participant in the Amazon Services LLC Associates Program, an affiliate advertising program designed to provide a means for sites to earn advertising fees by advertising and linking to Amazon.com.