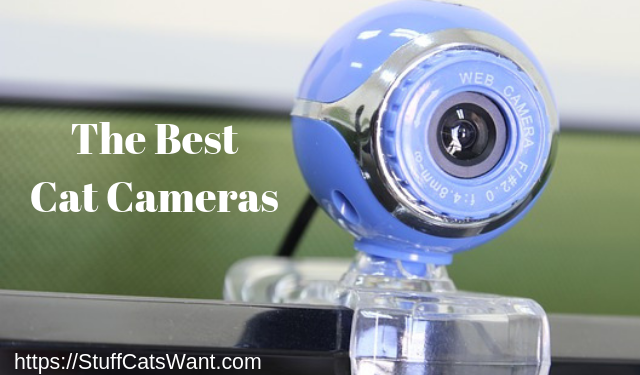 ​Want to check in on your cat and see how she's doing? ​You used to ​have to wait for your awesome pet sitter ​to send you a picture ​so you could feel some relief. But ​things have changed! 
Now we can ​watch and ​play with our cats ​from our ​phones. Some of the best cat cameras even enable ​you to talk to your cat, dispense treats and ​play with a laser pointer! 
I've broken ​it down into two core types of cameras: interactive and monitoring. Interactive will let you ​engage with your cat. Monitoring cameras are ​to look in on your cat.
---
The Best Cat Cameras 2020
---
Top 3 Cat Camera Comparison
---
---
--Interactive Cat Cameras--
---
Skymee's Cat Cam & Treat Dispenser
​Skymee is a newer entrant to the cat monitoring space, but they have done an excellent job in bringing a top of the line pet camera to the market! It has all the features you could ask for as a cat owner.
It has the ability to throw treats, it functions at night and it even has two way audio so you can both see and hear your kitty cat while you're away from home.
 A few other key features worth noting:
"​This is a great option for a cat owner looking for a camera that has no monthly fees associated to it! Not only was it easy to setup, but it is super easy to use from my phone too."
​It is worth noting the following before purchasing the buy button:
---
Furbo's Treat Tossing Camera
​If you're looking for one of the most highly sought after pet cameras on the market then the Furbo is probably the best bet for you. Not only ​does it have all of the features and functions you could ask for, it has also been featured numerous times as an excellent product on TV!
The Furbo has many basic functions that are included with your purchase, but some of the more advanced functions will require you to consider an ongoing subscription fee. Read below for more details about this great pet camera:
​"The customer service is absolutely great. I had an initial issue getting it setup becaues of a problem with my cellular network. A quick call to Furbo and they told me exactly what I had to say T-Mobile to get things going!"
​It is worth noting the following before purchasing the Furbo:
---
Pawbo's Pet Treat Cam
​Pawbo is an excellent option if you're looking for a camera that you can use to play with your cat from afar. On top of this Pawbo also features an interactive treat dispenser so you can reward your kitty for a good play session or for coming to your call!
You should definitely consider this model is your primary goal is to play with your cat from a remote location. Not only does it dispense treats and have a built in laser, but you can accessorize by adding additional Pawbo toys to your arsenal and control them remotely as well!
A few other key items worth noting:
"​The picture quality has been great so far and it was a breeze to set it up even though I'm not a techhie at all."
​A few other items worth noting before you make a purchase from Pawbo
---
PetCube Bites Pet Camera
​Petcube has been around for years in the pet monitoring space. Their original Petcube is also listed below as a more affordable and less feature rich version, but I wanted to share this option because of the amazing built in treat dispenser!
The Petcube Bites model not only enables you to drop treats to your kitty at home, but it also comes fully equipped with excellent video quality and the ability to look at up to 4 solid hours of playback at anytime.
A few other key items worth noting:
"​I love this thing. Not only does it work as a motion sensor security camera, it gives me peace of mind that my pets are doing well at home too. It is an added benefit that I can launch treats to my cats whenever I want!"
​It is worth noting the following before completing your purchase:
---
Petzi Wifi Cam & Treat Dispenser
​Petzi ​definitely differentiates on being a basic model that ​for more price sensitive owners when it comes to the cat camera market. But in my opinion that's a good thing. It ​doesn't that take anything away from the quality of the product they produce! 
This camera will get the job done in almost any case and it'll do it on a budget. The Petzi ​Treat Cam is designed to handle all of the traditional features and functions of a more expensive version, but to do so without running up high subscription fees or a huge investment up front. Key features worth noting:

"​This is an excellent first iteration of a new pet camera on the market. I love it and can't wait for the next release to come out!"
​A few things worth noting on this more budget friendly model: