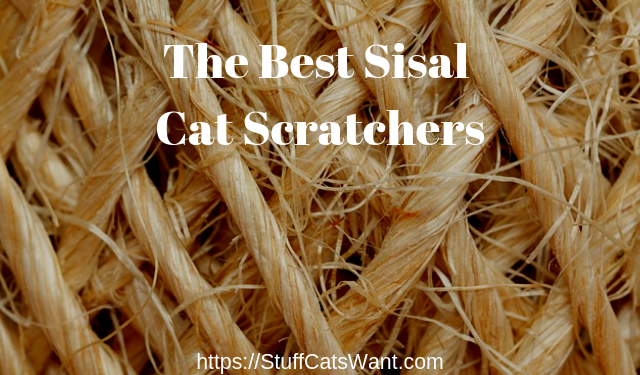 If you've got a cat then you've got a scratching machine on hand. Cats love to scratch, end of story.
Given this you need a place for them to scratch and sisal is the ideal surface. The best sisal cat scratchers come in tons of shapes and sizes and cats absolutely love them because of their texture.
Scroll on down to find my favorites or pop open the table of contents to find one in specific design.
---
The Best Sisal Cat Scratchers
---
SmartCat Ultimate Scratching Post
The Pioneer Pet SmartCat Ultimate Scratching post is hands down my favorite cat scratcher on the market.  It has pretty much everything going for it.
It is tall so your cats can fully stretch out. It is stable with the extra large base and the weight it carries. It has sisal all over it and cats love to scratch it. And it comes in at a great price.
Here are a few of the key specs for it so you know exactly what you're getting with it:
"The Pioneer Pet Ultimate Post is an absolute must have for any cat owner. Both Lexi and Beastling use it on a daily basis and they can easily get a full stretch in with it. It has never once tipped over, in fact it barely budges when they use it." -Craig from StuffCatsWant
There is only one item I'd mention about this post for potential buyers:
---
SmartCat Bootsie's Three-in-One Cat Scratcher
If you're looking for versatility in a cat scratcher then Bootsie's has you covered with their three in one system. While the picture shows a standard horizontal scratching post, a closer look reveals more.
On the back of this sisal scratcher you'll find an easy to use mounting system. The system can be  used to directly mount it to a wall or to pretty much anything you'd like. Vertically or horizontally. ​
Mount it wherever your cat scratches or leave it right on the floor on its rubber feet! A few other items worth noting on this model:
"Hasselhoff uses it as a combination scratcher and bed. I've left it on the floor with the rubber feet and he scratches it like crazy then when he's done he curls up on top of it for a nap!"
The only additional items I'd call out on this model are:
---
4Claws Wall Mounted Sisal Post
If your cat loves scratching up near the wall then the 4Claws wall mounted post is one of the best in the business. It easily and securely mounts to the wall with two simple screws.
But as an added benefit it isn't a single use item. Once mounted you can easily buy refills and change them out so you don't have to keep purchasing the whole system each time. Go green!
A couple of key items you'll want to note on this option:
"Being able to mount the post anywhere was a huge plus for us. Hubby pulled out the stud finder and just drilled the two screws in and we were set to go. Our fluff ball loves it and is scratching daily!"
The only item worth noting on this wall mounted sisal post is:
---
Sisal Sofa Shield Cat Scratching Mat
If you've got a cat that is going after your sofa or one of your chairs then this might be the purrrrrfect option for you.  This is basically an extended scratching mat that you can lay half of under a couch cushion.
Once you lay the first half under the cushion the half with the sisal hangs down over the side of the couch for your kitty to scratch. This effectively stops your cat from directly scratching your couch.
A few items worth calling out on this model:
"My leather couch was absolutely destroyed by my cat in my previous home. When I moved my boyfriend and I got a new couch with slip covers just in case, but after laying this down the side we haven't had a single problem!"
The only unfortunate item worth noting for potential buyers is:
---
SmartCat Door Climber
Want to provide both a place for your cat to look down on you from and a place for them to scratch, buy the SmartCat Door Climber. It is perfect for people who don't have lots of shelves or ledges for their cats.
This mounts to pretty much any standard door around and quickly provides 4 steps for your kitties to climb and a massive sisal wall post at the same time.
A few key items you'll want to know before you make a purchase:
"My super energetic 14 year old cat has been going up and down this thing like crazy since the minute I hung it to the door. So far so good!"
This is a pretty cool use of this model mounted directly to a wall:
You'll definitely want to be aware of the following before you purchase this climber:
---
Floating Sisal Rope Cat Post/Step
If you're on the creative side and you want to mix some floating wall posts into the rest of your cat's climbing course then these are the perfect posts for you.
Catastrophic Creations is known for their amazing wall related and climbing related cat equipment. To say the least, they make some amazingly cool stuff and these steps are only scratching the surface.
A few things you'd want to know about them before you get started:
"We started a cat wall to entertain our two young brothers. They needed an energy outlet since we live in a high rise. These have worked wonders as part of our cat wall and the cats scratch on them like crazy too!"
You'll want to consider the following before making a purchase:
---
The QuickSnap Sisal Scratcher
Looking for something stylish to match your decor? Do you happen to have a darker wood decor in the house? The QuickSnap Sisal Scratcher from Feline Innovations is the perfect fit for your needs.
This upside down U-Shaped Scratching mat is designed specifically to look great and be totally functional as a scratching surface. On top of this you can easily snap in and out replacement Sisal (carpet and seagrass are also available).
A few key items to note on this model before purchasing:
"It is a very modern piece of cat furniture. Our cat loves to sleep on top of it and scratch on it too. The hammock is currently being used for toy storage since the cat doesn't sleep in it!"
The only consideration worth noting on the QuickSnap scratching lounge is:
---
The Corner Couch Sisal Scratcher
If your cat is destroying your couch corners then the Corner Couch Sisal Scratcher is going to save the day. It is designed specifically to protect your couch.
Simply choose the right color, there are about nine to choose from, and slide it right under the corner of the couch and voila, your couch is now protected and you've provided an enjoyable scratching surface for your kitty!
This really is the perfect solution for 90 degree corners, and couches are the most common corner type! A few other things worth noting:
"The cats loved it so much that I bought a second one to protect the corner of the couch that they only scratched once in a while! Talk about win win, I love it and so do my little devils!"
The only item worth noting before purchasing is:
---
Door Knob Hanging Sisal Scratcher
If you want a scratching post that is super easy to move from room to room and door to door then this is a great option for you. Just loop it over a doorknob and you're good to go!
This product is made using durable sisal rope wrapped tightly around a piece of wood and then stapled at the ends. There are no glues or adhesives used to keep the rope wound around it.
A few other features worth calling out:
"My 10 year old cat loves it. He isn't the least bit afraid of it when it swings around, in fact he treats it like a game as he scratches."
You'll definitely want to consider the following before purchase:
---
SmartyKat Sisal Scratching Mat
If your cat goes after your carpet or rugs in a particular spot then a scratching mat can be a great way to redirect them onto an appropriate surface.
The SmartyKat Sisal based mat is a great option for this. Not only is it made of high quality sisal, it is a solid 18 inches long by 14 inches wide which gives your cats lots of space to scratch!
A few other key items worth noting:
"My cats absolutely love these mats. I have four of them spread throughout the house and I occasionally add new catnip to them to keep my 3 ladies entertained!"
You'll want to be aware of the following before making a purchase:
---