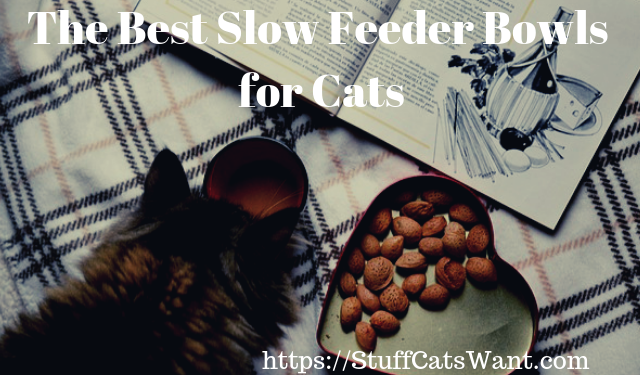 ​If your cat eats quickly then pukes it probably both worries you and makes you crazy.
The good news is there's a simple solution to stop cats from eating too fast.
Take a regular old bowl, build some unique designs into it to spread the food out, voila!  Now your cat needs to eat around the design barriers and can't wolf down the food.
So let's get right into some of the best slow feeder cat bowls of 2020.
---
The Best Slow Feeder Cat Bowls
---
Cat Shaped Slow Feed Cat Bowl
​If you're looking for something designed specifically by veterinarians then this is the model from SimplyPets is for you. On top of that it is also environmentally friendly which is a huge plus as more of us are watching our ecological footprint.
As you can see it is cat shaped which is adorable, but it has also been designed and tested extensively to ensure it requires your cat to work for food, but isn't too difficult to get frustrated and abandon eating.
A few other key notes worth looking at before purchasing:
"​One of my two kitties is a big time gobbler and has been since the day we adopted him from the shelter. We'd tried separate rooms and multiple smaller meals per day, but it was difficult with our work schedule. This works great, we put food in when we walk out the door and we have only had one accident in the past few months!"
​The following is a concern for some owners of this product:
---
​DotPet Ceramic Slow Feed Plate
​Even though this is much more a plate than a mat I wanted to include it because it is made of ceramic which is one of the best materials around for keeping things hygienic. 
It is a very large plate with a lot of surface area that you can pour kibble or wet food onto. One of the biggest perks is the low profile of the plate which ensures cats of all kinds can easily eat from it.
A few other key items worth noting:

"​​It has done wonders for our cats that scarf and barf. The only problem we had with it was in the middle our Persian can't reach the food. We started pouring it out toward the edges mostly and we haven't had a single problem since then!"
---
​Gulp Stopping ​Plastic ​Slow Feeder
​This gulp stopping option comes in tons of different sizes and color options, so it is an excellent all around slow feeding bowl for cats of any size and homes of any decor!
It is make of melamine, which is a component used to make plastics. But not to worry, it is 100% non toxic and also 100% dishwasher safe for easy cleaning!

​A few other key items worth noting about this bowl:

"​It slowed down my food crazed kitty with ease! No more spewing after erasing an entire meal in a matter of minutes."
​It is worth considering the following:
---
Fun Stop Slow Feeding Bowl
​This is another great option in the family of slow cat feeding bowls that are made of plastic. All of the ridges and knobs in the center of the bowl make it perfect for slowing down even the most determined cat.
This bowl also has significant capacity if you need to feed multiple cats at the same time or if you'e got a cat that gulps, but fills up really quickly! It is also made of food safe plastic (meaning it is the same type of plastic we prepare human food on).
A few other key items worth noting:
"​I have three cats and this works great for the two ten pound cats to share. The 16 pound boy (no he's not overweight) has trouble getting his paws in to pull the kibble out though so don't go with this if you've got a big cat."
​You'll want to consider the following before making a purchase:
---
​Ceramic Slow Feeding Station
​This is clearly a little bit different than your traditional slow feeding bowl. ​Pioneer Pet has flipped the paradigm on its head to make your kitty find the right spot to reach the food from.
There are lots of different holes in different shapes all around the feeding station and you can dump food right in the center of it. It even has a built in funnel in the top to make this easy.
Once the food is in the middle your cat can pull the food ​out to the edge ​and then chomp it down. At most they get a few kibbles each time. A few other great things worth noting:

​"An excellent way to reduce food intake and also challenge my little fluff balls overly active mind that is always looking for things to destroy! 4 paws up!"

​The key issue worth considering on this option is:
---
Cat Catch Interactive Feeding Bowl
​Catch is a brand new way to turn eating into ​an interactive game for your kitty. ​ It also creates a slower experience than simply gulping down every bit of food in front of your feline friend.
This helps not only entertain your cat and burn some calories, but it also ensures that your cat won't eat too quickly and simply throw the food back up a few minutes later!
A few other key items worth noting about this option:
"​My two young cats and my older cat all figured out how to use it quickly and it helped my older inactive cat lose a few pounds over about a 3 month period of time. Win win!"
​The biggest concern noted by some users of this model is:
---
Outward Hound ​Multi Pet Slow Bowl
​If you're looking for a great slow feeder that might work for both cats and dogs then this is an excellent option. While this model was designed specifically for dogs, it still works great for cats too!
The rings are just big enough that most cats can't easily stick their entire head into the trough areas and eat the food right out of it. This means they'll need to paw it out or move it around until they can reach it which is great for stimulation and for some exercise!
A few other items worth noting on the Outward Hound option
"​It is ​adorable watching Jenny paw her food out a few kibbles at a time and eat them off her mat. It has totally stopped her from puking and made eating her meals a much longer part of her day. And of course it is good for her overall weight too."
​One key item worth noting on this option:
---
​Northmate Interactive Cat Feeder
​Northmate was one of the first to design an innovative feeder that stimulates a cat's natural instincts and helps turn ​meal time into an inspiring hunting game instead of a gulp and puke game.
Even though it is a relatively simple solution it is incredibly effective​ and helps ​bring stimulation and fun ​to indoor cats that don't normally get a chance to hunt other than during play time!
A few key items to note on this top of the line model:

"​Our cat scarfs food down so fast she usually pukes up most of it completely undigested just a few minutes later. This has worked well in slowing her down and keeping her hard at work to get the food to the edges."
​You'll probably want to consider the following before purchasing:
---
​Extra Large Slow Feed Valley ​Bowl
​If you're looking for the ultimate slow feeder in regards to size then this is an excellent option. It is absolutely huge and can easily accommodate multiple cats at the same time! It holds up to six cups of food at one time.
This model is perfect for any household that has multiple cats that eat together and there's a need to slow any of them down. The amount of food ​it holds and the size make it a breeze for even 3 or 4 cats at a time.
A few other features worth noting:

"​I bought two of these for my six cats as several of them often eat and vomit after. This has slowed all of them down a bit and ensured that none of them eat fast enough to vomit anymore! It is absolutely huge and works well for my house."
​The key things to keep in mind before purchasing this feeder:

---
Collapsible ​Slow Feeding Bowl Set
​If you've got a cat that travels often, or perhaps even an adventure cat that loves to go on walks and hikes, then this is the bowl for you. ​It fully collapsible into a ​disc that is less than an inch thick!
It is made of silicone and is 100% toxin free to keep your kitty safe and sound when eating! On top of this it travels super easily and comes fully equipped with a carabiner that can snap it onto your cat carrier.
A few other key items worth noting:

"​These work great for Angelo. I feed him both wet and dry and it works great for both. Super easy to clean and even though he's somewhat sensitive the material doesn't bother him one bit!"
---
Soft ​Silicone Slow Feed Mat Puzzle
​One of the biggest complaints many cat owners have is that cats that have a flat face have difficulty getting to food in other slow feeding bowls. Although most cats will learn to paw their food out of the bowl some can easily get frustrated and give up.
This model is made of sturdy, but flexible silicone that will give when your kitty pushes on it. This means that even flat faced cats can push the silicone out of the way to get to the food on the entire feeding mat!
A few other key items worth noting on this option:​

"​I had a hard plastic bowl slow feeder for my Himalayan and she had a really hard time eating out of it because she wasn't good with her paws. This has made her life significantly easier and she doesn't puke anymore!"
​It is worth noting the following before you purchase: