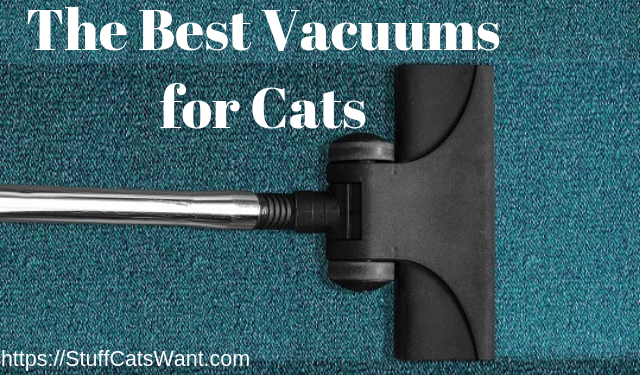 ​Let's face it, no matter what kind of litter you use or what kind of cat you have you're still going to need to vacuum. Constantly. Probably every day if not every other day.
​You're going to want to look at the best vacuums for cats to ensure you get the job done right. I've researched thoroughly and used several myself to pull this list together.

---
The Best Vacuums for Cats
---
Bissel Cleanview Bagless Pet Vacuum
Bissell has been in the market for a long time and they have a name that means trust and reliability when it comes to vacuums. The Cleanview Bagless Pet model is one of their most recent options to come out and it is specifically designed for cat hair and cat litter.
It is super lightweight for an upright and the swivel steering will make it easy for you to navigate around any and all home obstacles. It is also multi surface so you can use it on bare floors or carpet! A few other things worth noting:
"Finally, I managed to find a vacuum that picks up the cat hair!"
---
Shark TruePet Bagless Lift-Away
Shark brings to bear one of the coolest vacuums on the market. It is primarily an upright vacuum, but if you need to get into a tight spot and use the attachments you can easily lift the canister and move into the desired area.
Tired of not being able to reach that last step? Or tired of not being able to get that tuft of cat hair floating around and hanging off the cabinets? Shark has you covered. Just push a button and lift the canister to reach whatever you need to.
A few other things worth noting on this model:
"This thing works spectacularly on sucking up cat hair!"
---
Dyson Ball Animal Vacuum
Dyson has made a name for itself with high quality products that tend to both look and feel innovative. They've broken the mold in vacuums, hand dryers, even home fans. Purchasing a Dyson will of course get the job done, but it'll also ensure you get any job done in style. That includes sucking up cat hair and litter.
This vacuum features some of the best suction of any vacuum on the market. On top of this Dyson outfits this model with all of the accessories you'll need to get cat hair out of pretty much anything or anywhere.
A couple of other things worth noting:
"I have four long haired felines and it is the best thing ever for giant clumps of fur!"
One key item worth noting before before purchase:
---
​Bissell Zing Bagged & Corded
​If you're tired of heavy vacuums that are hard to navigate through tight places or up and down stairs then this is the vacuum for you. Canister vacuums in general are much lighter and are easy to move almost anywhere.
This vacuum is specifically designed to be lightweight and it features an easy carry handle so it is comfortable in your hand.

"Never had a better vacuum. We have two cats who spread litter all over the house and it picks up litter as well as fur and dirt. Highly recommended." ​
One key item worth noting before before purchase:
---
​Eureka Mighty Mite ​Pet Vacuum
​If you're looking for power but don't want something heavy then the Mighty Mite is just for you. ​Weighing in at less than 9 pounds this is an amazing canister vacuum. It is super mobile when on the ground, but even more so because it is so light to pick up!
It also features full scale HEPA filters ensuring that you'll not only suck up cat hair and cat litter, but you'll also filter all that darn cat dander out of the air!
A few other key items worth noting:

"This is the perfect solution for lightweight and powerful kitty litter pick-ups which is what I wanted and needed."
---
​Ovente Bagless Cyclonic w/ Pet Brush
​If you love the ​mobility and lightweight features of a canister vacuum and you don't want to deal with bags then Ovente has you covered. ​This is ​best bagless canister vacuum out there with pet focused attachments.
It'll help you pull pet hair out of those hard to reach places and it'll still be just as mobile as any other canister vacuum you might want to consider.

"It sucked up all the litter from the nooks and crannies, even in the chairs in my living room. That was a huge relief."
One key item worth noting before before purchase:
---
​Dyson Cyclone V10 ​Cat Vacuum
​If you're looking for a cordless vacuum with serious power then look no farther. Dyson has basically made a name for itself with extremely powerful vacuums and this one is no different. It is the power powerful cordless vacuum on the market.
This means it'll have no trouble sucking up both cat litter and cat hair. It'll even help you suck up those bits of cat food your little mess makers have knocked out of the bowl and ignored.
A few other things worth noting on this model:

"It is perfect for cleaning pet hair off my furniture and blinds. It also does a nice job on tracked litter in my apartment."
One key item worth noting before before purchase:
---
​Shark DuoClean Ultra-Light Vacuum
​This ultra lightweight model from Shark features DuoClean Technology ​which means it has a bristle brush to deep clean carpets and a soft ​brush ​that gets those larger particles ​to leave floors looking polished. Because it doesn't have a battery it is lighter weight than many of the other stick and handheld models.
This model was specifically put together to feature a pet multi tool which allows it to easily suck up all that pet hair that gets so stubbornly stuck in pretty much everything! A few other items worth noting:

"We have way too many cats and even a few dogs...and it didn't sling anything back on my feet while in use. It literally polished the floors and picked up all of the hair and litter too!"
One key item worth noting before before purchase:
---
​Puppyoo Cordless Stick Vacuum
​The Dyson stick vacuum is definitely great, but it is also quite expensive. If you're looking for a more accessible model price wise then you'll want to consider the Puppyoo 536. It is very competitive in almost every way, but it blows Dyson out of the park on price.
Let's dig into a few of the key items we cat owners will care about:

One key item worth noting before before purchase:
---
​HoLife Handheld Cordless Vacuum
If your cats are all over your furniture, like most cats are, then you probably want a handheld vacuum to help pick up what they leave behind. And you probably want to be able to do it in a quick and easy fashion.
This HoLife handheld cordless vacuum makes is super easy to pull out and take care of a quick cleanup job. Got company coming over and your cat just tracked litter all over the couch and the wood floor? This vacuum is lightweight, powerful, and has a long lasting battery. It'll make that emergency cleanup a breeze.
A quick rundown of key items worth noting:
"I keep it right by the litter box so I can sweep up the litter that the cats track out on the floor before they track it through the rest of the house."
​It is also worth considering the following before making a purchase:
---
Bissell Cordless Pet Hair Eraser
If you're looking for a vacuum that not only looks cool and does a killer job, but also has an amazing name, then look no farther. The Pet Hair Eraser not only sounds awesome, its performance lives up to its ridiculously cool name.
I highly recommend you use the name of this vacuum as a conversation starter with other pet owners. There are a couple of key items worth noting on this model as well:
"Great hand held vacuum that easily sucks up the cat litter between deep cleaning sessions."
There is one item you'll want to consider before purchasing:
---