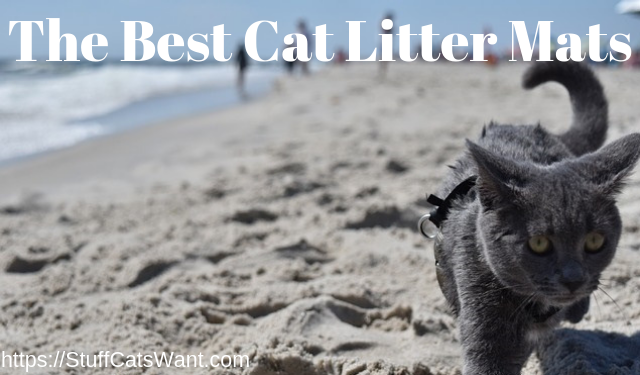 Everyone who owns a cat knows that stepping on cat litter is no pleasant experience. It can be anything from a little 'Ugh, again?' in your head to 'Owww! Dang, that really hurt!'  
At the least though it is a huge annoyance to constantly have cat litter all over your house. Litter mats are the first line of defense in stopping litter tracking. If you're looking for more details on litter tracking, check out this article.
If you're looking for the best cat litter mat on the market then look no further. I've pulled together a compilation of the best mats out there all into one place for your convenience.
My overall favorite is the Smiling Paws Mat. The rest are in no particular order, but most serve a specific niche need which has been called out in parenthesis right after the name.
The Best ​Cat Litter Mat Quick Guide
---
Smiling Paws Premium Cat Litter Mat
​I'll freely admit that Smiling Paws is far and away my favorite and the best litter mat on the market. It falls into the category of the grabbing type mat.
I like it a lot for a variety of reasons, but the biggest one is that it simply does an excellent job at trapping and holding on to cat litter.
Here are the key features that I think are worth calling out:
---
iPrimio Cat Litter Trapper
​iPrimio is one of the most well known names in cat litter mats because of their innovative two layer design that is specifically setup to enable the insertion of an absorbent pad for liquids.  
While you of course can insert an absorbent pad into other two layer models, iPrimio has designed to account for liquid and ensure it contains any associated mess. This is the best cat litter mat among the multi layer designs.
Let's look at a few additional features:
---
Moonshuttle Blackhole Cat Litter Mat
​The Blackhole Cat Litter Mat, one of the most coveted of all the litter mats on the market. It was one of the first to bring about the two layer trapping and pouring system that has become a staple of many litter mats on the market today.  
The Blackhole Mat is essentially designed so that litter falls through the top layer of the mat into the bottom layer where it is locked away. The huge perk that comes with this is it is super easy to dump the trapped litter into the garbage or right back into the litter box.
The Blackhole comes with a bunch of other great perks as well:
---
Easyology Super Jumbo Cat Litter Mat
​Easyology makes mats in a bunch of different forms and formats, but this one is specifically designed to cover a massive amount of space.  This is the behemoth of cat litter mats and that is the biggest feature worth noting.
Now that being said, Easyology makes a wonderful mat in general, so let's review the other things Easyology does right with their mat:
---
PetFusion ToughGrip Waterproof Cat Litter Mat
​The PetFusion ToughGrip is an interesting mat in that it doesn't follow the normal train of thought in litter mat design. It doesn't have anything to grab the litter or a special place for the litter to fall, it is mostly a large tray that is a heck of a lot more comfortable for cats to walk on than an actual tray.
It also has ridges built into it to help hold onto litter and potentially knock it off of your cat's paws as they walk across the mat. Let's dig into some of the major features beyond that:
---
Pawkin Extra Large Phthalate Free Cat Litter Mat
Pawkin is an excellent mat that's been on the market for years and years. The biggest rivals it has are Smiling Paws and Easyology which both employ similar techniques from a design standpoint to trap and hold litter. 
The Pawkin mat uses the grab and pull style system to remove litter from the bottom of your cat's paws and hold onto it until you shake it out.
The Pawkin mat does an awesome job of capturing and holding on to litter, so let's see what else it features:
---
Vivaglory Large Soft Cat Litter Mat
​Vivaglory is a little less well known brand, but that doesn't take anything away from the wonderful job it does controlling litter tracking. The The Vivaglory litter mat is another of the grab & pull type mats on the market where it will lightly pull the litter off of your cat's paws.  
Key features of the mat include:
---
Gorilla Grip Premium Non-Slip Cat Litter Mat
​Now Gorilla Grip might not be the first thing you think of when it comes to cat litter mats. In fact before I ran across this mat the only thing that came to mind for me was actually Surf Boards & their wax.  That being said, Gorilla Grip makes a kick butt litter mat.
The major features are:
---
Caldwell's Extra Large Cat Litter Trap
​Quite a name for a litter mat isn't it? Who knew you could name your mat with 15 words?!?! That's right, I counted them, all for you.  Now that being said, Caldwell's does justice to the name of their mat by providing an all around wonderful product. They also do it an in incredibly low cost.
Let's take a look at the key features:
---
Easyology Jumbo Corner Cat Litter Mat
​This is a unique cat litter mat in that it is specifically designed to fit into a corner and flare out as a circular shaped litter mat. Ninety nine percent of the litter mats on the market are either rectangles or cat head shaped.
This one ​one is truly unique it its own right just because it is created for corners.  Easyology also makes another amazing litter mat that is rectangular (you saw it above), but this one is worth reviewing separately just for the unique shape.
Key features include: