Product: Blackhole Cat Litter Mat
Cheapest Place to Buy:   Find The Best Deal
StuffCatsWant Rating: 4.5 out of 5

---
Blackhole Cat Litter Mat Product Overview
This is hands down one of the best purchases we've made for our cats since we got them.  I've already got an article out there on helping control kitty litter tracking, but I'll freely admit that this is by far one of the best methods for controlling it. I've featured it in my top 10 best cat litter mats article for exactly this reason.
The Blackhole mat has a special design that has two layers, the layer your cat steps on and the layer that the kitty litter falls into and gets trapped in.  The two layer design ensures that once litter falls down it doesn't get kicked back out.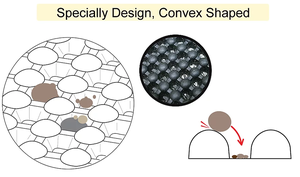 This mat is super easy to pick up and dump trapped litter out of (just be careful since both sides pop open) back into the litter box or into the garbage.
It should also be noted that the mat is made of super easy to clean material. You'll also be happy to hear this mat can be sprayed off with a shower head or a hose with a little bit of soap and water. Good as new.
I haven't used a CatGenie, but according to other reviews the Blackhole Litter Mat is 100% compatible with the CatGenie and will have you no longer stepping on plastic granules throughout your house! Wohoo! Added bonus.
---
The Pros:
Awesome proprietary two layer design that really traps the cat litter as it falls into the mat.
Minimizes the amount of mess just outside of the litter box significantly.
Very simple to pick up and dump extra litter back into the litter box or into the trash.
Super easy to clean up if there's any accident on it or if your cat vomits on it.
Large in size so covers a wide area and you can set part of it right under the litter box to keep it from moving around.
---
The Cons:
It is the most expensive litter mat I've come across.
I wish it only opened on one side, be careful when you pick it up so the litter doesn't dump out.
Since the mat has bumps on it some cats don't like the feeling and will try to avoid walking on it.
The mat is not waterproof and things will get absorbed by it / leak through it.
It can slip and slide on the floor, I place it partially under my litter box to avoid this.
---
How to Use It Best:
Empty it often, every other day if possible. If the holes get clogged the litter tracks like it normally would.
Be sure you've got your litter box top removed or the trash can nearby if you're going to empty it.
Be sure you shake it out or bang it on a wall once or twice outside before you wash it out in a shower/sink, cat litter clogs drains.
You may also want to consider a non slip pad to drop under the Blackhole Mat if your litter box doesn't hold it in place.
---
Frequently Asked Questions:
How large are the holes in the mat?

The holes are about .25 inches in size.

Is this compatible with the granules from a CatGenie?

Yes, it is compatible. The granules will fall through the holes safely.

Is the mat easy to clean in case of an accident or vomit?

Yes, soap and water can be used to clean the mat, a shower head or shower sprayer on a hose will help clean the small holes out.

Does the material it is made of have any sort of scent?

There's no scent I've ever smelled.

How big is it?

The size linked above and below is 

30″ x 23″. 

There are 3 other sizes as well: Super Large (36″x25″), Medium (23″x21″) and Cat Head Shaped (23″x21″)
---
Compare The Blackhole Mat To Other Top Mats
---
Wrapping It up:
I really can't say enough good things about this mat. If you've got a litter tracking problem then this is definitely your solution. It is super easy to use, super easy to clean up and it comes in at an affordable price for those of you being driven insane by constantly stepping on cat litter.


If you've used a Blackhole Mat and have any addition experience or info you'd like to share please comment below or shoot me a note at Craig@StuffCatsWant.com so I can update this article to reflect your thoughts.
StuffCatsWant.com is a participant in the Amazon Services LLC Associates Program, an affiliate advertising program designed to provide a means for sites to earn advertising fees by advertising and linking to Amazon.com.
References: Moonshuttle Blackhole Cat Litter Mat Website