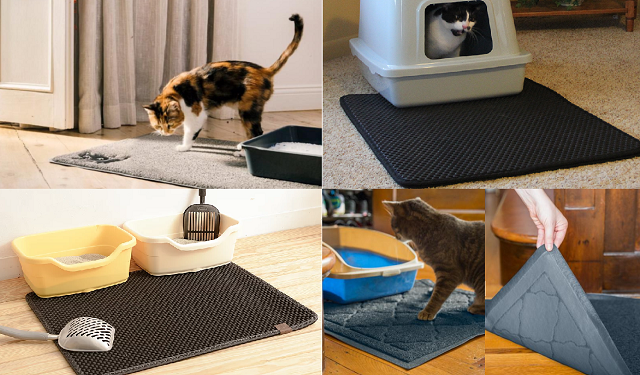 If you've got a problem with cat litter tracking then you're just like one of about 36 million other US households that own a cat. It is a rather frustrating problem, particularly when you're walking around with bare feet and you step right one a bit piece of litter that jabs into the bottom of your foot!
I've written another article on cat litter tracking in general, but the cat litter mat is by far one of the most important pieces. The cat litter mat is the first line of defense in stopping litter from getting past the first few feet outside of the litter box. Once it gets past the first few feet you'll find it everywhere.
There are a wide variety of mats out there and while you could choose one randomly you'll be far better served by selecting one that'll fit your specific cat/situation. I chose the top four mats out there and not only are full reviews of each available at links below, but a side by side comparison is available for ease.
---
What Else Should I Look For?
Beyond the obvious it traps litter, what other things are important in choosing a cat litter mat? The key things that I like to keep an eye on are:
The litter trapping method: How does the mat capture the litter? There are two main types of mats:

Single Layer Grab: The grab method uses complex interwoven fibers to pull the litter off of your cats feet as they cross.
Double Layer Drop: The drop method uses a series of honeycombed holes so the litter falls through into a second layer.

Litter emptying method: How does the litter get out of the mat once it is trapped?

Shake & Vacuum: This means you're typically dependent on a vacuum or on shaking/smacking the mat against a wall to get litter out of it.
Pick Up & Pour: This means the litter mat allows you to easily dump litter right out of it into the garbage or a litter box.

Is it waterproof: Will urine or other liquids leak through to the floor below?
Is it skid proof: Is the mat going to slide all over the place or does it have a backing built in to hold it in place?
Is it the right size: Everyone has a different amount of space available for their litter mat, will the mat fit?
Production Material: What's it made of? This is important for those of you that want something that won't absorb liquids and scents.
---
Best Cat Litter Mat Side by Side Comparison
Litter Mat

Smiling Paws Cat Litter Mat

Easyology Cat Litter Mat

iPrimio Cat Litter Trapper

Moonshuttle Blackhole Cat Litter Mat

Photo

Rating

Litter Trap Method

 Single Layer Grab
Single Layer Grab
Double Layer Drop
Double Layer Drop

Litter Empty Method

 Shake & Vacuum
 Shake & Vacuum
Pick Up & Pour
Pick Up & Pour

Water Proof

 Waterproof
No
 Waterproof
No**

Skid Proof Bottom

Skid Proof Bottom
Skid Proof Bottom
 No
No

Special Notes

Best overall combination

BPA Free

Huge variety of colors
Space available for an absorbent pad to catch liquids & minimize spills
Easiest mat to pour out captured litter from

CatGenie Compatible

Compatible
Compatible
Compatible & Easy to Return Granules
Compatible & Easy to Return Granules

Sizes Available

Rect. Jumbo 47″ x 33″
Rect. Lg. 35″ x 23.5″

Rect. Jumbo 47″ x 36″
Rect. Lg. 35″ x 23″

Rect. Jumbo 42″ x 36″
Rect. Lg. 30″ x 23″
Rect. Small. 23″ x 21″

Rect. Lg. 30″ x 23″
Rect. Med. 23″ x 21″
 Cat Shaped 23″ x 21″

Purchase Options

Show Me The Lowest Price
Show Me The Lowest Price
Show Me The Lowest Price
Show Me The Lowest Price

StuffCatsWant Review

Full Review
Full Review
Full Review
Full Review

Material

Commercial Grade BPA Free Vinyl
PVC Plastic
EVA
EVA
**Moonshuttle indicates the product is waterproof, but numerous consumers have indicated it is not.
Given all the mats available I'll freely admit that I would personally lean toward either the Smiling Paws Mat or the Blackhole Litter Mat.  The key deciding factor for me would be whether or not my cat is a long haired cat or not.
Long haired cats in general tend to get more litter stuck in their hair and thus I would aim for the Smiling Paws mat that has the 'grabbing' type system available. Short haired cats on the other hand would typically push me to lean toward the Blackhole Litter Mat instead.
---
Wrapping It Up on the Best Cat Litter Mat Side by Side
I know there are a ton of mats out there and it can be difficult to see which mat best fits the needs of you and your cats.  Hopefully you found this article helpful.  I know seeing all of the details in one place helps me come to a decision more quickly and easily.
If you've used any of the above mats and have any additional experience or info you'd like to share please comment below or shoot me a note at Craig@StuffCatsWant.com so I can update this article to reflect your thoughts. If you've got another mat I should review please also message or email me.
Please do ask me any questions you might have regarding any of the mats!
StuffCatsWant.com is a participant in the Amazon Services LLC Associates Program, an affiliate advertising program designed to provide a means for sites to earn advertising fees by advertising and linking to Amazon.com.
References: Moonshuttle Blackhole Cat Litter Mat Website, Smiling Paws Website, iPrimio Cat Litter Trapper Website, Easyology Cat Litter Mat Website