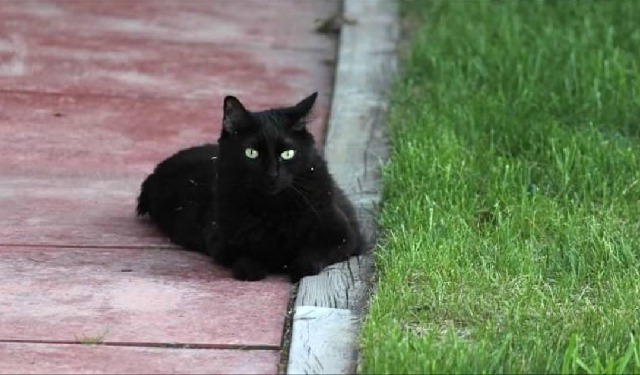 This week's Cat of the Week is submitted to us by her human Leslie and we thank her for the submission! Audrey is a regular Adventure Cat and has a background to show it!
Audrey is an independent, curious, city-girl who loves to travel and go for outdoor adventures when her people can bring her along. She was adopted after living on the NYC streets for almost a year and surviving on scraps.
She's maintained her tough, city-girl vibe in spite of living the "good life" for the last 11 years! A long time New Yorker Kitty, she's now a Chicagoan kitty since her humans relocated!
She loved her NYC pigeons, but enjoys her tree-lined street views now – so many squirrels AND pigeons! She is now almost 13 years old, with no signs of altering her bossy, center-of-attention-seeking, curious attitude anytime soon.
She has traveled in planes, cars, kayaks, on bikes, in a moving van, and on the subway – all without any drugs, vomiting or tantrums. She's been to NY, CA, MI and IL – so far – staying in hotels, cottages, vacation rentals and friends' homes.
Her favorite adventure is her semi-annual kayak trip with her humans at the family cottage. She sits in the front of the kayak as her humans paddle, and occasionally ventures out around the edges of the kayak for a better view of the fish!
She loves to be around people, including strangers, though she'll let you know when she wants to be touched! She's very curious – always wants to see what's going on and check out every surface, crevice, room, and person!
She is an ONLY CHILD – no other animals allowed. She does not play well with others – that tough girl thing comes out like WHOA.
Since she was first adopted, she habitually carries her favorite toy around the house each night, and when her humans are gone – the toy generally ends up wherever her humans last were before leaving the house. At night, it often ends up at the foot of her humans' bed. She's very proud of her continual gift to her humans!
To those lucky enough to pet her, they know how soft and fluffy she is. She spends hours maintaining her beautiful coat, and her human mama gives her "spa days" where she gets her nails trimmed, her teeth cleaned, and a good coat brushing.
Ever the attention-seeker, she always greets her humans at the door when they return home, often with a weird combination of howling and purring all at once!
We at StuffCatsWant also thank Leslie for submitting Audrey as Cat Of the Week!! Please submit your cat as cat of the week by emailing StuffCatsWant@gmail.com with 5 pictures of your cat(s) and a short description of him or her or them!
StuffCatsWant.com is a participant in the Amazon Services LLC Associates Program, an affiliate advertising program designed to provide a means for sites to earn advertising fees by advertising and linking to Amazon.com.