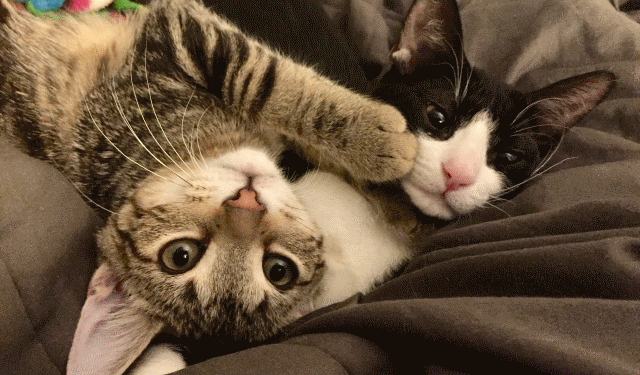 Happy Monday everyone and welcome to this week's Cats of the Week article! This week we have Comma and Dash. Comma & Dash were adopted from Chicago PAWS in June 2018 by Hayley and Lisa.
Comma is the male tabby and Dash is the female that is black & white. Although they are not litter mates they struck up an immediate friendship in the kitten room and are best friends today.
Comma was saved by the Chicago Fire Department and was lovingly cared for by his foster mom, Terri. Terri, Hayley, & Lisa met at PAWS and still keep in touch to share photos and updates about Comma and Dash and talk "cat stuff."
Hayley & Lisa are mother and daughter and so Comma & Dash happily split their time between their two homes. They get to go for lots of rides in their cat carrier and sometimes even want an astronaut backpack! They have learned this early which ensures they won't be afraid of it later in life.
Comma is a fearless explorer. He never hesitates to jump in a box or purse or greet a new visitor. He is fascinated with water--from the sink to the bathtub to his own water dish--and would happily bat at or splash around in water all day. Sounds to me like Comma wants a water fountain to play with!
He loves to cuddle--specifically curling into the crook of someone's neck or laying on their chest--and has a sweet, loud purr.
Dash loves to play. She's a great leaper and will proudly walk around with her recent "catch" (aka feather toy) in her mouth. Her favorite times are breakfast and dinner. She also loves cuddling, curling up in the tallest part of the cat condo, and spreading out her paws when she kneads.
Her coloring is just beautiful--her pink little nose and dip of white at the end her tail are adorable--and her coat is incredibly sleek and soft.
It is obvious how loved they are by the family Christmas card! You can see that Comma and Dash got a huge feature there and are now getting featured here! They live a pretty charmed life, lucky fur balls!
Comma & Dash are very loved and Hayley & Lisa are very appreciative to PAWS (and all the foster parents out there!) for helping pets find their forever homes. We thank Hayley and Lisa for submitting Comma and Dash as cats of the week.
And we at StuffCatsWant also thank all our fellow PAWS volunteers and of course the wonderful Chicago Fire Department that saved Comma!
Please submit your cat as cat of the week by emailing StuffCatsWant@gmail.com with 5 pictures of your cat(s) and a short description of him or her or them!
StuffCatsWant.com is a participant in the Amazon Services LLC Associates Program, an affiliate advertising program designed to provide a means for sites to earn advertising fees by advertising and linking to Amazon.com.