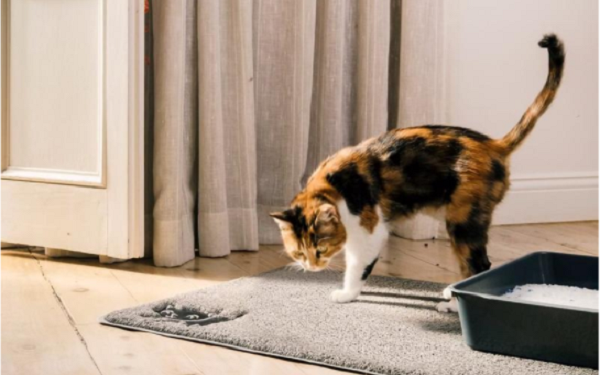 Product: Smiling Paws Pets Cat Litter Mat
Cheapest Place to Buy: Find the Best Deal
StuffCatsWant Rating: 5 out of 5


---
Smiling Paws Pets Cat Litter Mat Product Overview
This Smiling Paws Pets Cat Litter Mat is a top of the line mat designed to help control litter tracking in the house. Not only does it work like a charm, but it comes with several other benefits that most other mats don't combine into a single mat. I've featured as the top mat in my top 10 best cat litter mats article for exactly this reason.
The mat covers a large surface area and is made of a very durable material that is specifically designed to  lightly grab at litter and other "stuff" that might be stuck to your cat's paws. It does a great  job of this and successfully stops the bulk of litter from being tracked all over.
It also doesn't have a rough feeling to it that will cause a lot of cats to avoid walking on it like many mats do.
Smiling Paws also comes fully equipped with a built in non slip backing AND it is waterproof. So not only will it not slide around, but in case of any accidents it also won't be letting the urine drain through to the floor. Since you can easily spray it down with a hose or shower head as well it is easy to clean.
CatGenie owners have also indicated that this product successfully captures CatGenie granules and ensures they don't get far!
---
The Pros:
It is large in size to cover a wide area outside of the litter box (or boxes).
It is quite affordable coming in at the middle of the road price wise.
It comes in a nice variety of colors (though as of now only Grey/Black are on Amazon).
It has a no-slip backing built into it, it won't slide all over.
It is very durable and easy to shake the litter out of and wash the litter out with a hose or shower head.
It is waterproof, nothing will leak through it if your cat has an accident.
It is BPA & Phthalate free.
---
The Cons:
It isn't nearly as easy to empty the litter out of as mats like the Blackhole Litter Mat. You'll have to shake it or vacuum it.
If you have an older cat or special needs cat that pees constantly on the mat it may still pick up a scent (any mat will in that situation).
---
How to Use It Best:
When you first get it you might have to apply a hair dryer to it so it'll flatten out, this is a side effect of the material during rolled up shipping.
Clean the mat frequently to keep it from getting gross, soaking it in water & dish soap will make it easy to rinse most things off.
A vacuum works great to clean up initial layers or bits of litter.
---
Frequently Asked Questions:
Will it slide around on carpet and wood floors?

No, it specifically has a slide proof backing built into it to prevent this.

Do things get stuck in the fibers?

Yes, from time to time things will get stuck in the fibers. The mat is easy to beat out against a wall though and that will remove most of them. You can also wash it with a hose or shower head without any problem.

Is the mat waterproof?

Yes, it is waterproof so liquids (urine and vomit) can't soak through to the floor below.

Could you cut this mat to fit a smaller space?

Yes, using a utility knife or a pair of very sharp scissors you could cut the mat to fit a specific size or shape.
Just note that after you cut it the mat won't hold liquids as well so things might leak out the side.

Is the mat easy to clean in case of an accident or vomit?

Yes, soap and water can be used to clean the mat, a shower head or shower sprayer on a hose will help clean the small holes out.

How big is it?
---
Compare Smiling Paws To Other Top Mats
---
Wrapping It up:
The Smiling Paws Pets Cat Litter Mat is another excellent mat if you've got a litter tracking problem at home. The biggest differentiator for this particular product is that it combines all of these features into a single mat: size, no slip backing, waterproof, BPA free & more. The biggest drawback I've noted is that it can take some time to vacuum the litter out of the fibers if they're really suck in there.


If you've used the Smiling Paws Pets Cat Litter Mat and have any addition experience or info you'd like to share please comment below or shoot me a note at Craig@StuffCatsWant.com so I can update this article to reflect your thoughts.
StuffCatsWant.com is a participant in the Amazon Services LLC Associates Program, an affiliate advertising program designed to provide a means for sites to earn advertising fees by advertising and linking to Amazon.com.
References: Smiling Paws Website