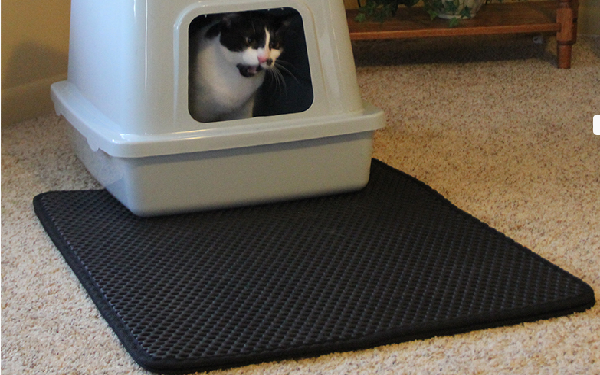 Product: iPrimio Cat Litter Trapper
Cheapest Place to Buy: Find The Best Deal
StuffCatsWant Rating: 4.5 out of 5

---
iPrimio Cat Litter Trapper Product Overview
This iPrimio Cat Litter Trapper is a top of the line mat designed to help control litter tracking using a unique two layer design. If you've got a cat or cats that are prone to dragging litter all over the place then consider an iPrimio mat. Cats that jump out of the litter box will have a lot of their litter trapped by this mat. I've featured it in my top 10 best cat litter mats article for exactly this reason.
If you have a cat that has urine accidents from time to time this model is designed to allow for the insertion of an absorbent pad that can easily soak up urine. The base is also water proof so nothing will leak through onto the floor below.
The mat covers a large surface area and is made of a very durable material called EVA.  It is easy to wash with a hose or a shower head, but do note that the edges are not made to reflect water and will absorb it. This means it may take time to dry if you soak it down.
Another item worth noting is that this is not the type of material that is often used to "grab" at litter from the paws of your cat. This means it is nice and smooth and less prone to irritate your cat's feet ensuring they won't try to avoid the mat.
The extra large design of the holes also make it a perfect pairing with the CatGenie and since it is easy to dump the granules out of the mat it is easy to retain them.
---
The Pros:
Large size and extra large holes make it excellent at trapping litter.
Two layer design keeps the litter in place and enables you to dump the litter out quickly.
The surface is designed specifically to be cat paw friendly.
Designed to let you place an absorbent pad in the bottom in case urine is a consistent problem.
---
The Cons:
On the pricier side of litter mats.
Doesn't come with a non-slip bottom included so it can slide around.
The edges can get saturated with urine and stink.
There are only two colors, beige and black, pretty boring compared to the Easyology Cat Litter Mat.
---
How to Use It Best:
Empty litter from this daily to ensure it doesn't pile up inside of it, be sure to have your litter box or garbage can handy.
Keep an absorbent pad in the middle of the mat if you have a cat that has urine accidents constantly.
Set the edge of your litter box on it to keep it in place or get a no slip rug pad to keep it in place.
---
Frequently Asked Questions:
Are the holes really bigger than other mats?

Yes, the holes are larger than those on the Blackhole Mat, maybe by about 20-25% or so.

Does the material encourage cats to try to scratch it?

No, the material is not one cats would be inclined to scratch/claw.
It is specifically designed to be smooth so it doesn't irritate your cat's paws.

Is the mat waterproof?

It is waterproof, but it is also recommended to place an absorbent pad inside so when you pick it up it doesn't dump all over.

Is the mat easy to clean in case of an accident or vomit?

Yes, soap and water can be used to clean the mat, a shower head or shower sprayer on a hose will help clean the small holes out.
Note you'll have to let the edges air dry off as they absorb liquid.

How big is it?
---
Compare The iPrimio Mat To Other Top Mats
---
Wrapping It up:
The iPrimio Cat Litter Trapper is an awesome mat, especially if you've got a cat that tends to miss the box with urine or with vomit.  The biggest differentiator for this product is that it is completely waterproof on the bottom, so anything that lands on it will not leak through onto your wood/tile/carpet below.
The other major benefit is the holes are larger than that of the Blackhole Mat so even with larger formats of littler you won't run into problems.
The biggest drawbacks I've noted is that similar to the Blackhole Mat in that it is easy to accidentally dump litter all over the place when emptying it and it is on the pricier side.
If you've used the iPrimio Mat and have any addition experience or info you'd like to share please comment below or shoot me a note at Craig@StuffCatsWant.com so I can update this article to reflect your thoughts.
StuffCatsWant.com is a participant in the Amazon Services LLC Associates Program, an affiliate advertising program designed to provide a means for sites to earn advertising fees by advertising and linking to Amazon.com.
References: iPrimio Cat Litter Trapper Website